Feds investigating former Cook County assessor, Madigan rainmaker Joe Berrios
The probe potentially opens up a new front in authorities' investigation of House Speaker Mike Madigan: the property tax appeals game from which he has made millions.
In 2018, voters ran then-Cook County Assessor Joe Berrios out of office on a wave of frustration with insider political dealings.
He now faces federal authorities interested in the same.
A federal grand jury has subpoenaed the former chairman of the Cook County Democratic Party and several of his former employees in the assessor's office, according to a Dec. 17 report from the Chicago Sun-Times.
The subpoena demands information regarding contributions to Berrios' retirement party; documents related to his 31st Ward Democratic Organization, the Friends of Berrios campaign fund, and the Mexican American Political Action Committee; and items "related to any official action taken in exchange for a benefit." Among those official actions are "assessor recommendations, certificates of correction, certificates of error, property valuations and re-reviews."
What sort of benefits are authorities looking into, exactly?
Airplane tickets, alcohol, barbecue grills, boat access, books, cigars, golf outings and event tickets, among other items, according to the Sun-Times.
Investigative reporting from the Chicago Tribune and ProPublica Illinois found the Cook County property tax system headed by Berrios disproportionately harmed lower-income residents, due in part to the appeals process.
One of the biggest beneficiaries of that system was Illinois House Speaker Mike Madigan.
From 2011 to 2016, Madigan's law firm, Madigan & Getzendanner, appealed property taxes for more than 4,200 parcels totaling more than $8.6 billion in assessed value, according to the Tribune. No other firm handled more value in commercial and industrial properties over that time.
On those parcels, Madigan's firm won $1.7 billion in assessed value reductions from the Cook County assessor, a 20% reduction overall. That tax burden was then shifted to other property owners throughout Cook County.
While Madigan has never fully disclosed his sources of income, the House speaker gave a clue regarding his earnings in 2015, when a reporter asked him whether he'd be subject to a proposed millionaire's tax.
"Do I make a million dollars in a year? … In a good year I would be subject to this [tax]," he said.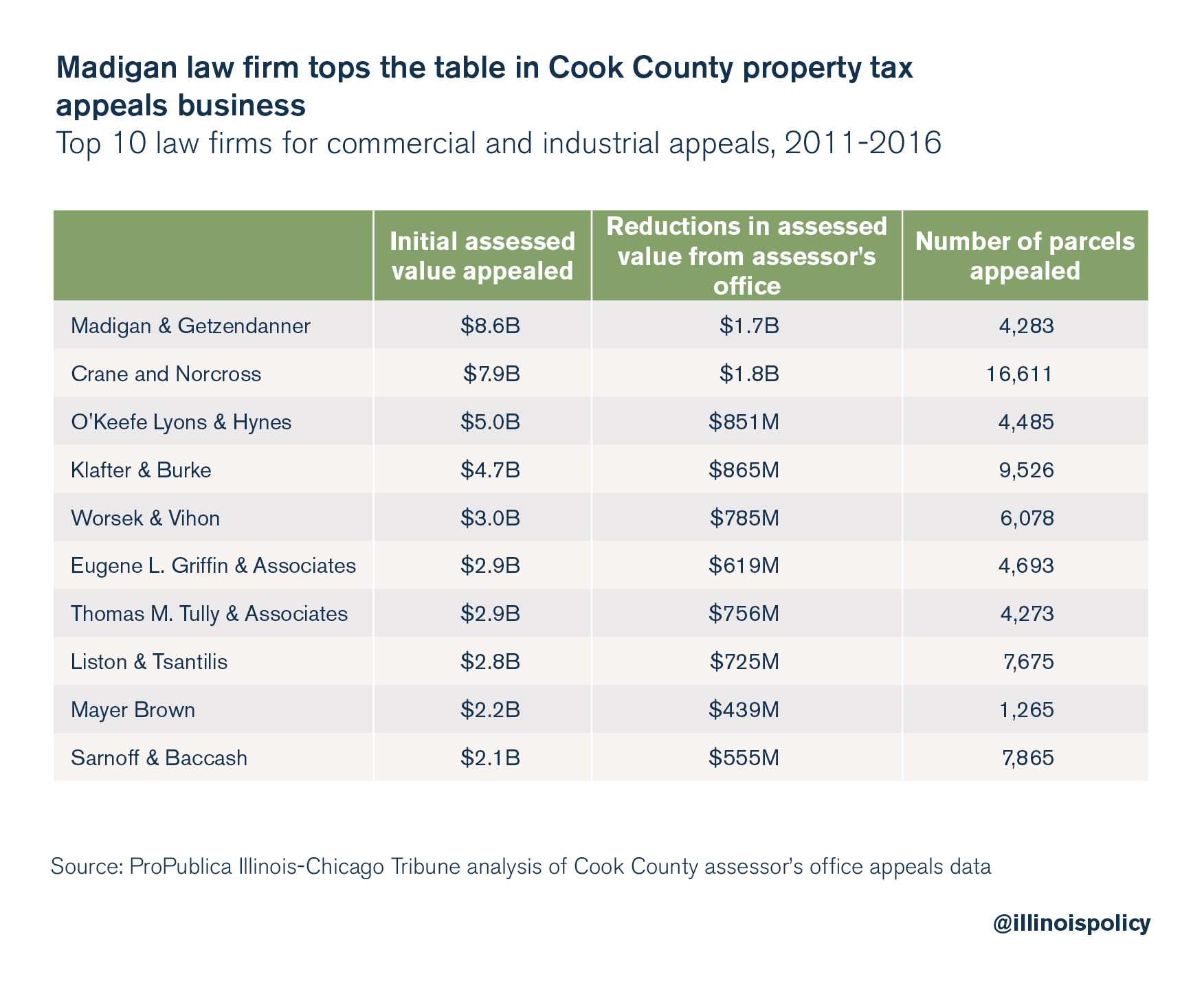 No. 4 on the list of biggest players in the property tax appeals game was Chicago Ald. Ed Burke's law firm, Klafter & Burke. Burke pleaded not guilty on a 14-count corruption indictment in June and stepped down from his law firm earlier in the year.
Federal authorities are investigating Madigan's money trail and political clout, according to reporting from the Chicago Tribune. But Gov. J.B. Pritzker on Dec. 16 said he has not spoken to Madigan about the federal anti-corruption investigations blanketing the state.
"The speaker knows where I stand on all of these matters related to corruption," Pritzker said, according to NPR Illinois.
Illinois is the second-most corrupt state in the nation, costing its economy at least $550 million a year, according to Illinois Policy Institute analysis. But Pritzker has not championed or signed any major ethics reforms in his first year in office. In fact, the governor as of April was under federal criminal investigation for a scheme to avoid property taxes by taking toilets out of one of his Chicago mansions.
Like Madigan, Berrios rose through the ranks of the Cook County Democratic Party decades ago, with a string of corruption convictions paving the way.
Berrios first became the 31st Ward Democratic committeeman after the previous committeeman, Berrios' close friend and mentor state Sen. Edward Nedza, D-Chicago, was convicted on federal extortion charges in 1987. Nedza originally received that political post from his mentor, Chicago Ald. Thomas Keane, who in 1974 orchestrated the handoff from a federal prison cell in Kentucky. Keane was serving time for mail fraud and conspiracy charges.
Berrios was the first Hispanic American to serve in the Illinois General Assembly. He worked as an Illinois state representative with Madigan from 1982 to 1988, after which he was slated by the party organization to run for commissioner of the Cook County Board of Review, then known as the Cook County Board of Appeals. That's where for more than 20 years, Madigan's law firm lobbied Berrios to gain property tax reductions for its clients.
With Madigan's backing, Berrios became chairman of the Cook County Democratic Party in 2007 and Cook County assessor in 2010. Among other ethics concerns, Berrios faced constant criticism for hiring family members to high-paid positions in the assessor's office.
In addition to knowing the faces of corruption, Illinoisans should understand the structural factors that give rise to misconduct in government, and know that the state could go a long way toward shedding its corrupt image by adopting policies that are common in other states.
The following anti-corruption reform measures, many of which were recommended in a 2009 state report released following the indictment of former Gov. Rod Blagojevich, would be a good place to start:
Adopting revolving door restrictions on state lawmakers becoming lobbyists.
Empowering the Illinois legislative inspector general to investigate lawmaker corruption. As is, this muzzled watchdog office must seek approval from a panel of state lawmakers before opening investigations, issuing subpoenas and even publishing summary reports.
Mandating state lawmakers recuse themselves from votes in which they have a conflict of interest. There is no current state law or even parliamentary rule requiring Illinois lawmakers to disclose a conflict of interest or to excuse themselves from voting on issues where they have personal or private financial interests.
Reforming the Illinois House rules, which grant more concentrated power to the House speaker than any other legislative rules in the country.
Using objective scoring criteria for capital projects, akin to Virginia's Smart Scale This ensures infrastructure dollars are directed by need rather than clout.
Passing a bipartisan constitutional amendment to end politically drawn legislative maps in Illinois.
Illinois state lawmakers should act immediately to pass substantive anti-corruption reforms. Until then, residents can only expect more federal raids, indictments and convictions.