Gas prices soar higher in Chicago than other Midwestern cities
Multiple layers of taxation make gas sold in Chicago more expensive than in other cities across the Midwest.
Chicagoans saw the average price of a gallon of gas drop below $3 during the week of Aug. 10. But by Aug. 17, prices had soared to $3.63.
The cost of gas rose across the region after the Midwest's largest refinery shut down on Aug. 8 due to an equipment malfunction, and prices are only expected to continue going up.
On Aug. 10, the average price per gallon in Detroit was $2.55, according to AAA. On Aug. 17, Detroit's gas prices were up by more than $0.50, at $3.03. Gas prices shot up by $0.62 in Indianapolis over the same time period: The average price per gallon in Indianapolis as of Aug. 17 is $2.96.
Even after other major Midwestern cities saw their gas prices skyrocket, however, their costs are still much lower than those found in Chicago.
Why? The disparity is driven in large part by Illinois' gas sales-tax burden.
Traditional motor fuel taxes are a fixed amount per gallon. These federal and state taxes generally pay for road maintenance and other transportation expenses – motorists in all states pay these taxes. Illinois, however, is one of only seven states that tack on additional gas taxes beyond the motor fuel taxes. But most consumers don't realize that, because these costs don't show up on their receipts – they're built into the price.
Combined, all federal, state, county and Chicago taxes total $0.77 per gallon at Aug. 17's price. Of this $0.77 in taxes added on to each gallon of gas in Chicago, only $0.37 comprise federal and state excise taxes. The remaining $0.40 is composed of: Illinois' 6.25-percent sales tax, which adds $0.18 per gallon; county and city sales taxes, which add an additional $0.11 per gallon to the price; an Illinois environmental tax; additional county and other home-rule sales taxes; and regional transportation authority taxes.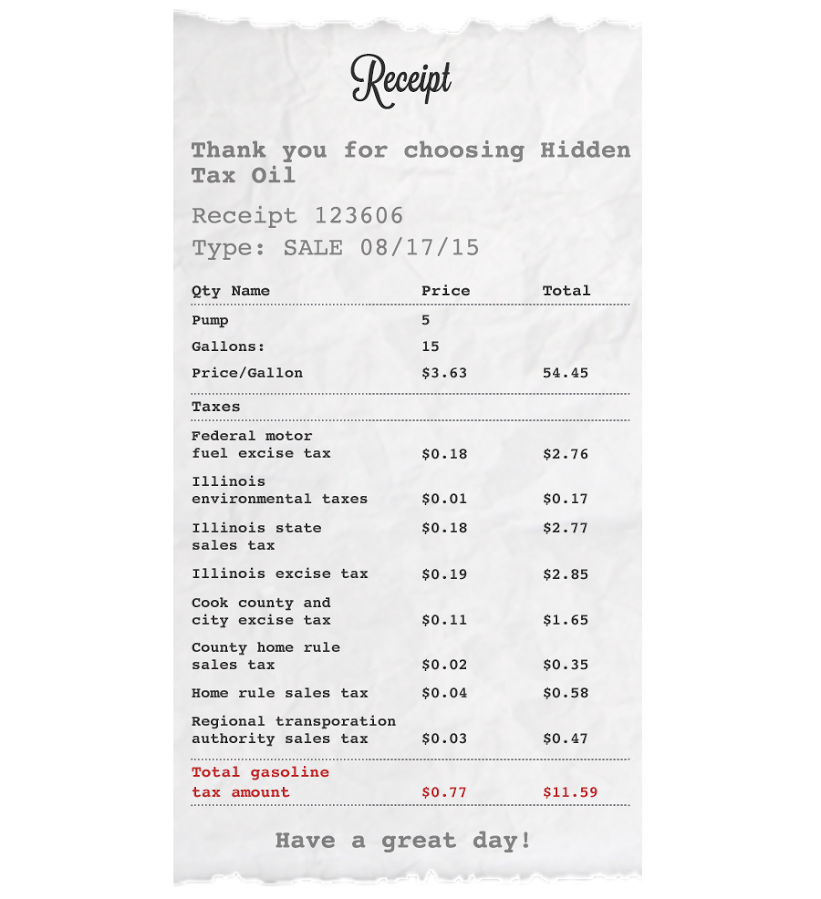 And unlike most states, where gas-tax dollars fund roads and transportation services, the revenue generated by Illinois' sales taxes goes to the state's General Fund.
Even when gas prices go up for everyone in the Midwest, they increase the most in Chicago.