Illinois is No. 3 for most state regulations, report finds
A new report confirms what many Illinoisans already knew: the state is one of the most heavily regulated in America, with nearly 260,000 state rules.
A new report shows Illinois is the third-most regulation heavy state in the nation, with 259,832 state restrictions delineated in 15.1 million words.
It would take about 21 full work weeks for a fast reader to go through all of Illinois' regulations.
The Mercatus Center at George Mason University collected regulations from 46 states and Washington, D.C., during a five-year period and recently analyzed the different states' regulations. That analysis shows Illinois at No. 3 for regulations behind only California and New York.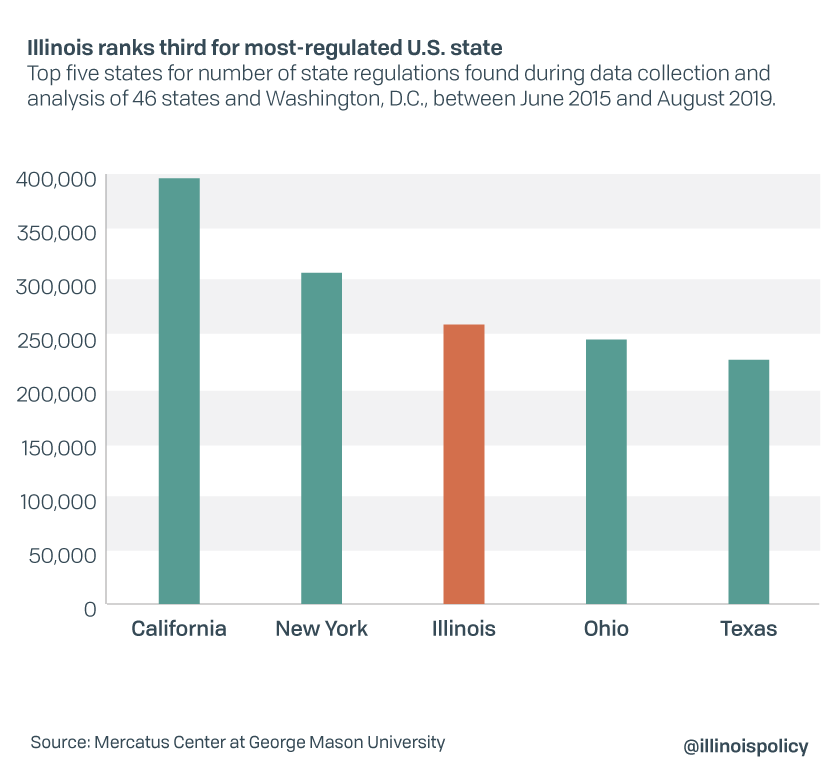 California leads the nation with just shy of 400,000 regulations. South Dakota had the fewest with 44,000 regulations.
But none of the states come close to the federal government: 1.07 million regulatory restrictions captured in 103 million words. It would take three years to read them all.
The Mercatus analysis showed Illinois regulates chemical manufacturing far more than any other industry with 22,128 restrictions. Food manufacturing was next at 12,001 regulations. By comparison, nursing homes have 3,070 Illinois rules and hospitals have 1,903.
Illinoisans have seen and felt the regulations impact their personal lives. State lawmakers have tried to regulate things such as frozen pizzas, fireworks, youth football and smoke detectors.
Over-regulation will hurt any business, but it most hurts small businesses through higher costs and less freedom to run their enterprises. Small business owners ranked Illinois the worst state in America for business friendliness in a 2018 survey. They also gave the state an "F" for taxes, labor and licensure.
One of the main reasons for the state's less-than-friendly economic climate is the abundance of taxes. Lawmakersin 2017 hikedincome taxes by 32% – from 3.75% to 4.95% – and raised the corporate income tax rate to 7%. Then in 2019, the General Assembly passed 20 new taxes and fees on to Illinoisans as part of a record $40 billion budget and $45 billion infrastructure bill.
State lawmakers realize there is a problem, at least with regulation and licensing of occupations. Both houses of the General Assembly passed Senate Bill 1756 on Nov. 14. If signed by Gov. J.B. Pritzker, a system would be created to decide whether new proposals to license or regulate occupations are necessary to protect the public. If a group proposes professional regulations, they would be required to pay a $1,000 fee and the proposal would be studied. Known as the Regulatory Sunrise Review Act, the bill is intended to reduce the regulatory load on workers as well as the state's regulatory agencies, while improving job opportunities for Illinoisans.
It's nearly impossible for anyone to keep track of 260,000 state regulations, let alone have the flexibility to efficiently operate their small business. It's time Illinois reins in its regulations and makes the state's economic climate friendlier.