Illinois' neighboring states boast better credit ratings, economies
Illinois' credit rating spirals downward while residents flee to surrounding states with stronger economies and lower taxes.
While Illinois is on track to become the first state to receive a "junk" credit rating, its neighbors are not only more prosperous, but also have higher credit ratings. Illinoisans are taking notice – and they're moving across state lines.
It's no secret Illinois' finances are in shambles. For decades, Illinois has spent more than it can afford, borrowing to plug budget deficits and delaying pension payments instead of enacting true reform. The state's rising expenses from its massive pension system and years of reckless borrowing combined with stagnant revenues from a weak economy leave it with as much as $130 billion in unfunded pension liability and more than $14 billion of unpaid bills. Illinois' debt burden is so severe that the pension debt's interest alone costs $9.1 billion each year.
Illinois' financial failures are reflected in its credit rating, which Moody's and S&P recently downgraded to one notch above junk. Illinois already had the worst credit ratings out of any state, and Moody's specifically cited Illinois' pension problem in its announcement as a driver of the downgrade. While credit rating agencies have not yet rated Illinois' credit as junk, the credit markets have not waited. Illinois bonds are already trading at junk bond levels, indicating a lack of faith in Illinois' ability to repay its bonds and the market's expectation that the agencies will soon downgrade Illinois bonds to junk bond status.
Illinois' neighbors enjoy far higher credit ratings, with Indiana's credit rating nine notches better than Illinois'. This gives them cheaper access to credit, while Illinois' poor rating makes continued borrowing extremely expensive. As Illinois' financial situation continues to worsen, Illinois borrowing costs will rise further as fewer investors will be willing to take on the additional risk.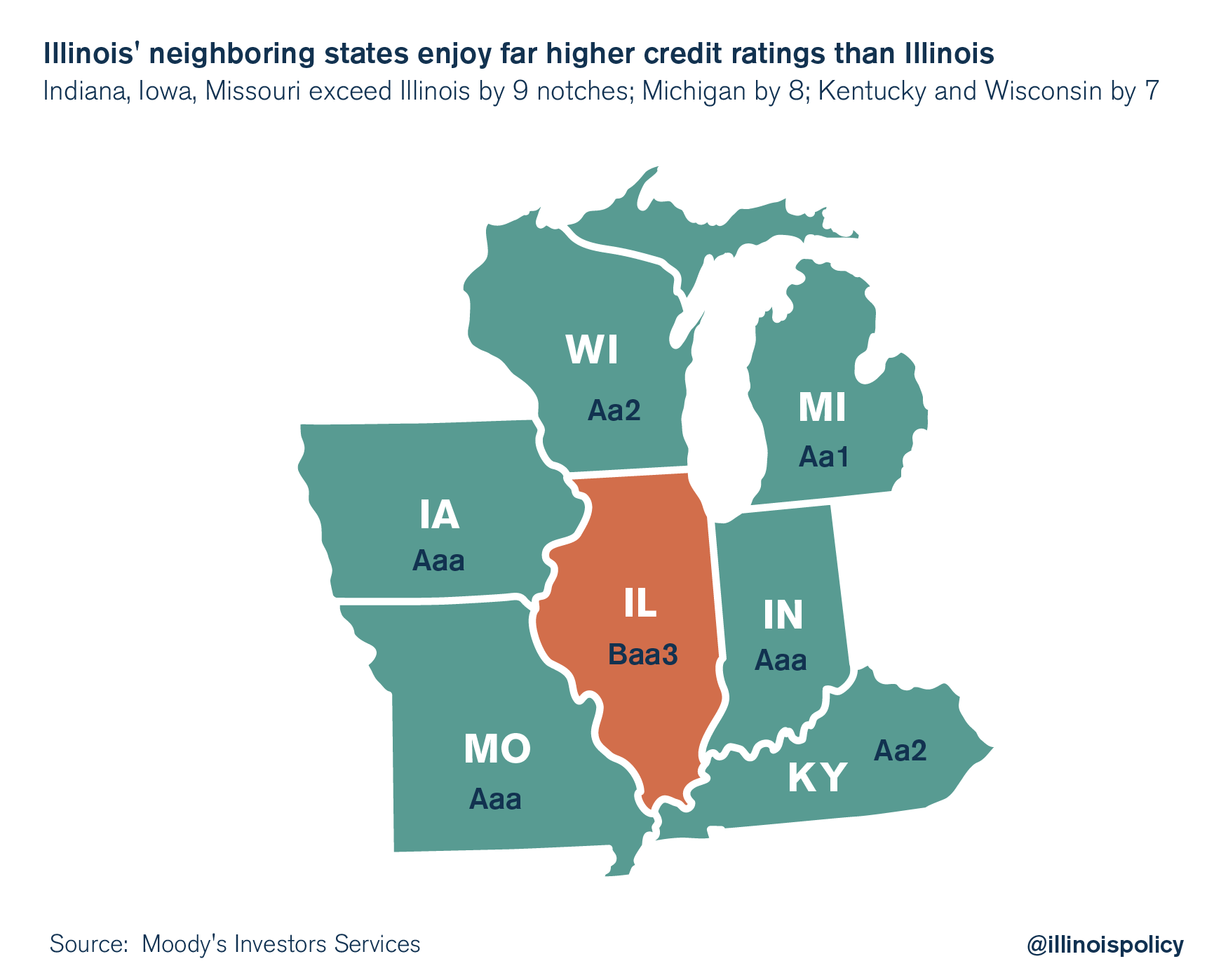 Illinois taxpayers have faced a higher and higher tax burden as the state's debt and financial condition has spiraled out of control. Illinois' near-junk bond rating reflects the state's deteriorating financial situation, and helps make sense of why so many people are leaving.
Illinois residents are voting with their feet and leaving Illinois for states with lower taxes, better job opportunities and much more stable finances. From 2006-2015, Illinois lost 329,000 residents on net to its neighbors including many residents that make up its core tax base. The single biggest reason out-migrants cite for leaving is Illinois' high taxes. The departure of Illinois' tax base simply increases the per capita tax burden on the residents that remain.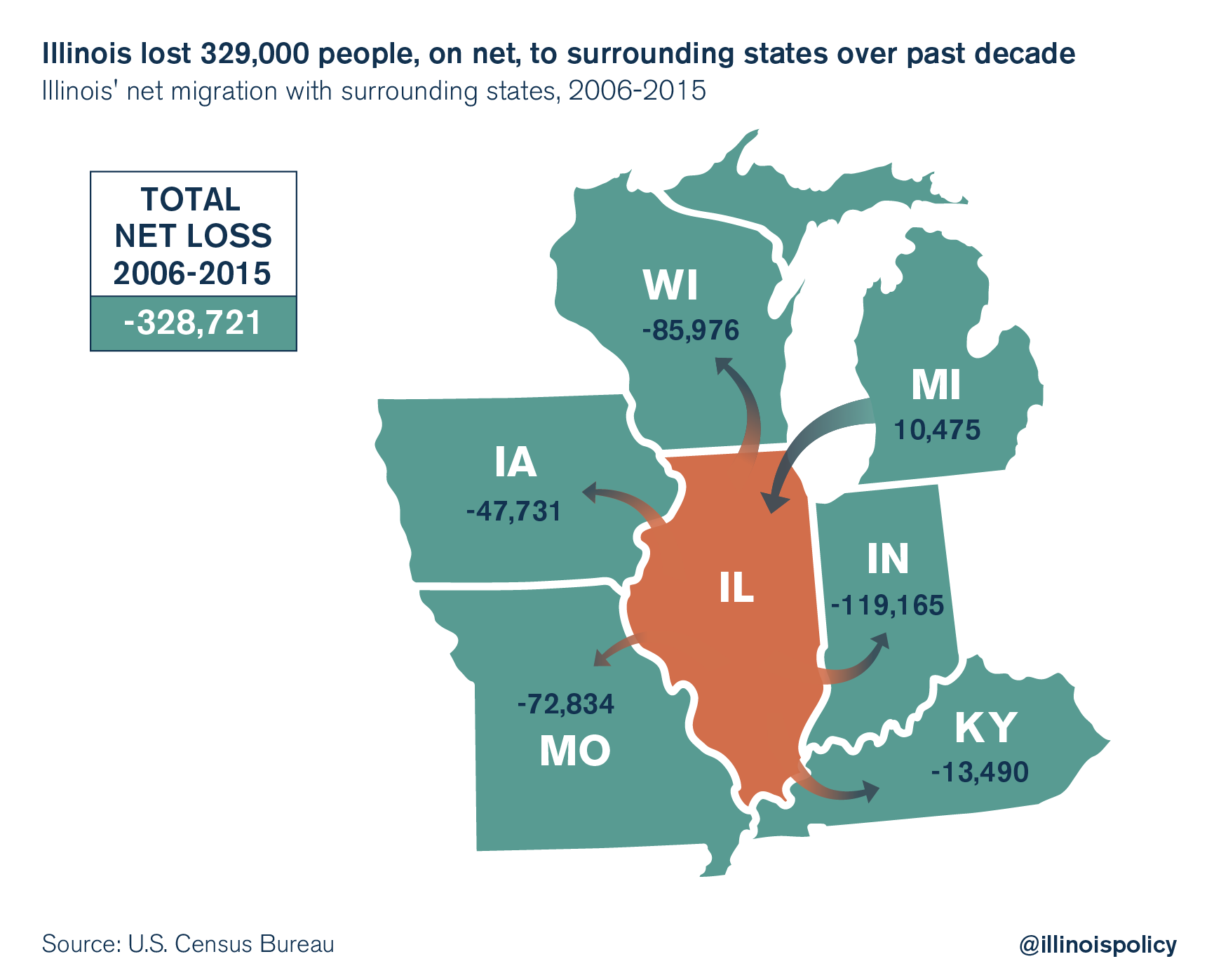 To stimulate economic growth and stop losing residents, Illinois needs to repair its finances without raising taxes. Sixty-four percent of Illinois residents favor balancing the budget through cutting spending and not raising taxes. Illinois should do so by enacting the pension, property tax and public sector reforms detailed in Illinois Policy Institute's Budget Solutions 2018. These reforms balance the state budget without raising taxes and improve Illinois' financial position while promoting a better business climate and reducing resident flight.