Moody's warns Illinois budget proposal may not be enough to avoid junk rating
Moody's Investors Service said simply passing a budget won't be enough to avoid junk because it doesn't address Illinois' many crises.
During the era of the last Illinois tax hike, from 2011 through 2014, the three major credit rating agencies downgraded Illinois' credit five times.
Yet in 2017, Illinois lawmakers thought that by passing any budget – even one without reforms – they could keep the state from the disgrace of a junk rating.
It seems they may be wrong.
The tax-hike, no-reform budget House Speaker Mike Madigan is pushing – and some Republicans have blessed – might not be enough to prevent a downgrade to junk, according to Moody's Investors Service.
The rating agency warned in a press release July 5 that it was placing Illinois "under review" for a possible downgrade – even after acknowledging the impact of additional tax revenues.
Illinois is only one notch above junk status. If Moody's decides to downgrade Illinois, Illinois will be the first state in the nation to ever fall to junk status.
The agency decided to put the state under review despite the fact that it expects lawmakers to override Gov. Bruce Rauner's veto of the $4.8 billion tax hike, saying the review "incorporates our expectation that the legislature will implement revenue increases."
That revenue isn't enough to counterbalance the "further deterioration" of the state's unpaid bills and pension crisis.
That means the bad budget lawmakers are pushing to enact is very likely a "junk" budget.
In fact, Illinois has already been trading at junk levels ever since the state was ordered to property fund its Medicaid obligations last month.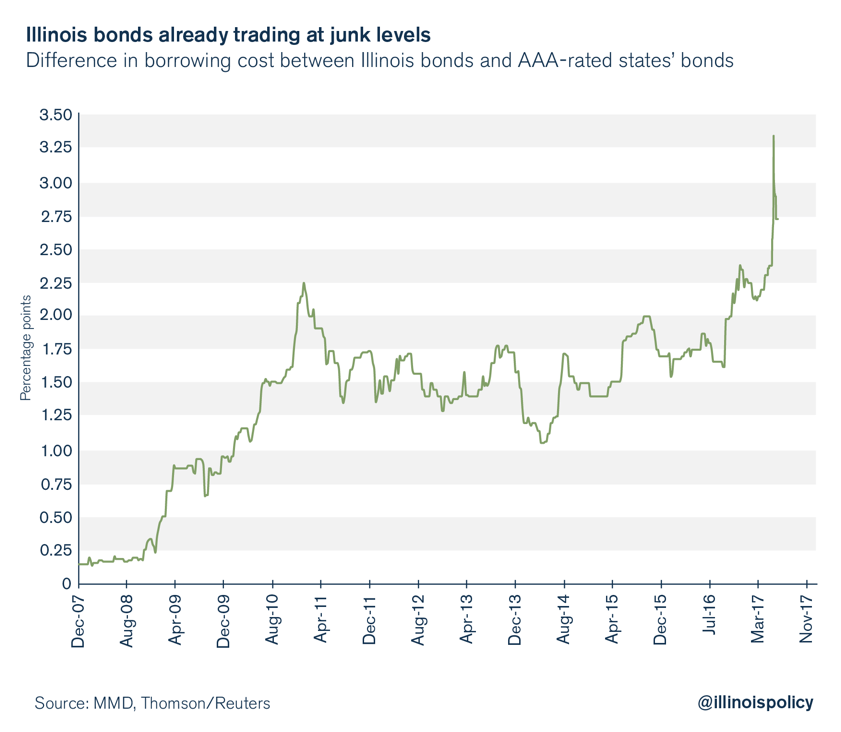 Moody's reasoning
Moody's said simply passing a budget won't be enough to avoid junk because it doesn't address Illinois' many crises.
The agency warned that the plan "lack(s) concrete measures that will materially improve…its unfunded pension liabilities."
In addition, the agency said the budget itself has "substantial implementation risk" in part because it lacks "broad bipartisan support."
And Moody's also pointed out that the budget itself could be unbalanced, citing the governor's concern that the budget had a $2 billion deficit.
Moody's also said the new tax increase could bring in less money than lawmakers expect because the state's tax collections are actually down this year – a fact the Illinois Policy Institute previously highlighted.
And it pointed out that a recent court ruling that forces the state to accelerate its payment of Medicaid bills "cast(s) doubt on the state's immediate ability" to pay for Medicaid, pensions, debt service and school funding.
Deja Vu
The nearly $5 billion in tax hikes lawmakers are attempting to foist on struggling Illinois won't prevent Illinois from getting downgraded.
The 2011 temporary income tax hike certainly didn't.
The tax hike took an additional $32 billion from taxpayers' wallets from 2011 through 2014, yet the three major credit rating agencies downgraded the state five times.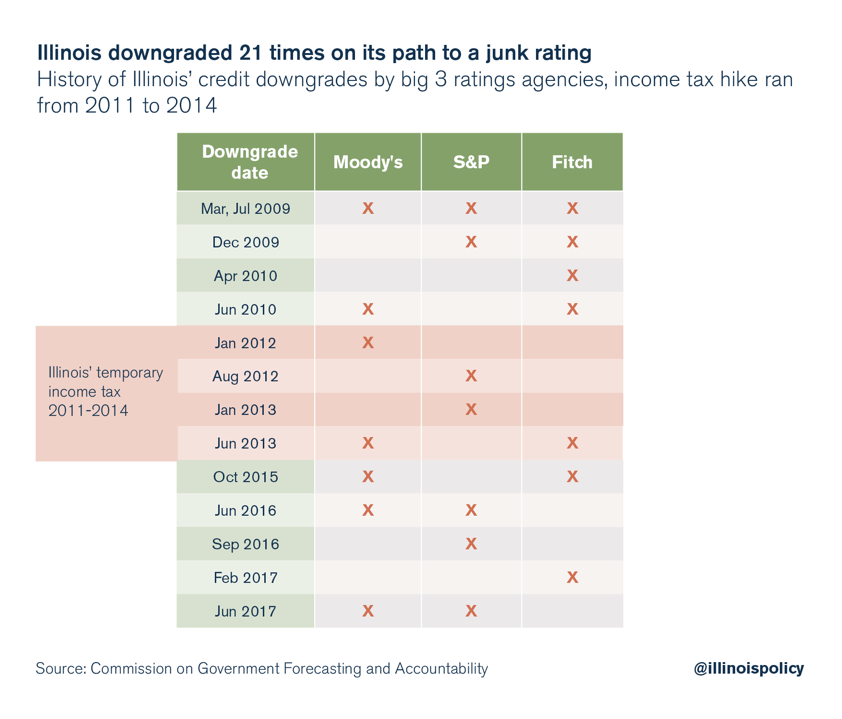 Illinoisans shouldn't be fooled by the no-reform budget their politicians are trying to pass. Moody's certainly hasn't been.
Illinois politicians need to get back to passing what Illinoisans need – a balanced budget without a tax hike.