More manufacturing losses highlight Illinois' mixed February jobs report
Illinois still ranks last in the country for putting people back to work over the Great Recession era.
The Illinois unemployment rate fell to 6.0 percent in February from 6.1 percent in January, according to today's economic release from the Bureau of Labor Statistics. Unemployment fell because 7,300 unemployed Illinoisans dropped out of the workforce on net, resulting in a lower count of unemployed, according to BLS household survey. However, business payroll jobs jumped up for a strong gain of 13,800 jobs statewide, according to the business establishment survey. February's jobs report, like January's, shows mixed results for Illinois' jobs market.
The household survey showed that the workforce shrank by 10,000 Illinoisans. The dropout was made up of both employed and unemployed Illinoisans. The monthly survey showed that 7,300 formerly unemployed Illinoisans dropped out of the workforce, while 2,700 formerly employed Illinoisans dropped out of the work force, month-over-month.
Month-over-month changes in business payroll jobs showed a strong net gain of 13,800 payroll jobs. Areas of strength were trade, transportation and utilities (+5,800); professional and business services (+5,500); and leisure and hospitality (+3,000). Losses came in government (-1,600); education and health services (-1,400); and manufacturing (-800).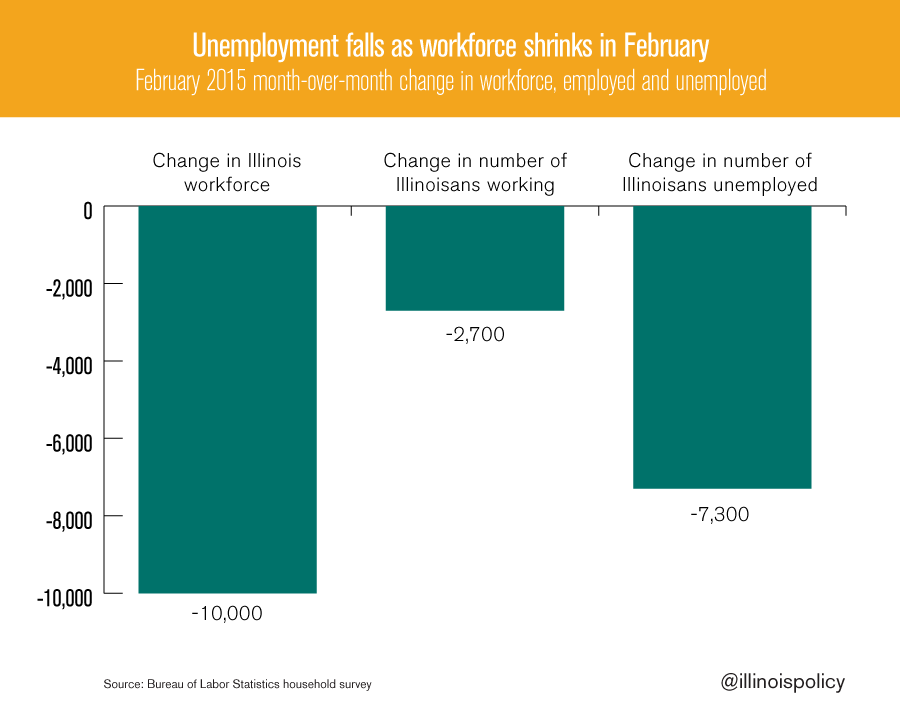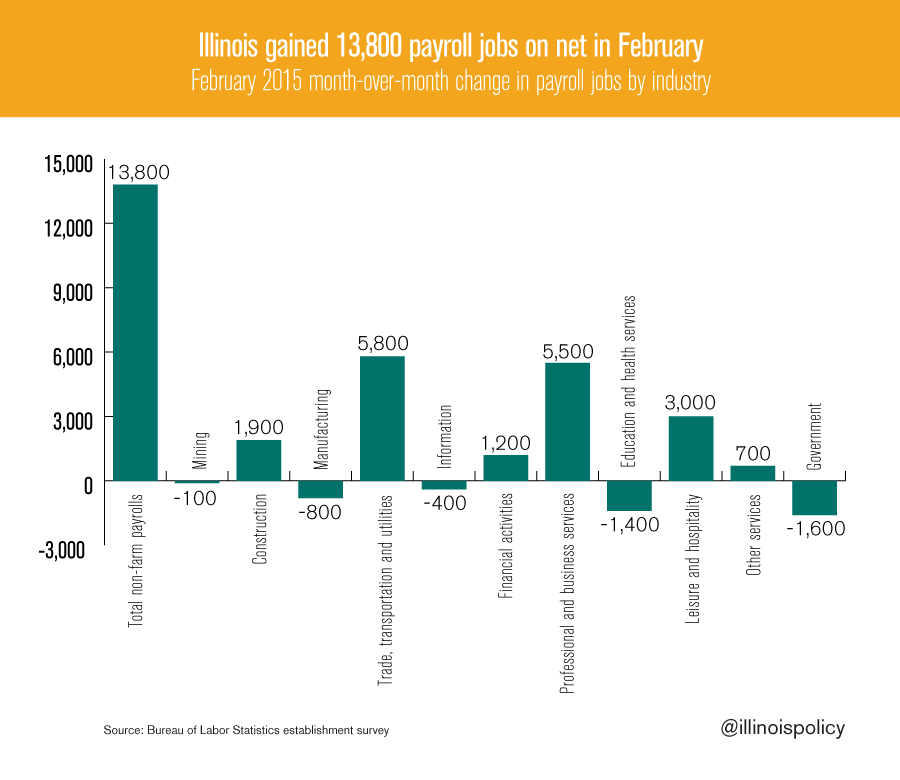 With a weak showing on the household survey compared to a strong business payroll survey, Illinois' February report showed mixed results that are the opposite of the January jobs report. Illinois policy leaders should look for strong and steady gains over time across both surveys. Unfortunately, no matter which survey one looks at, the Rauner administration inherited the nation's worst recovery from the Great Recession in terms of putting Illinoisans back to work. There are 217,000 fewer Illinoisans working today than when the Great Recession began, the worst recovery of any state.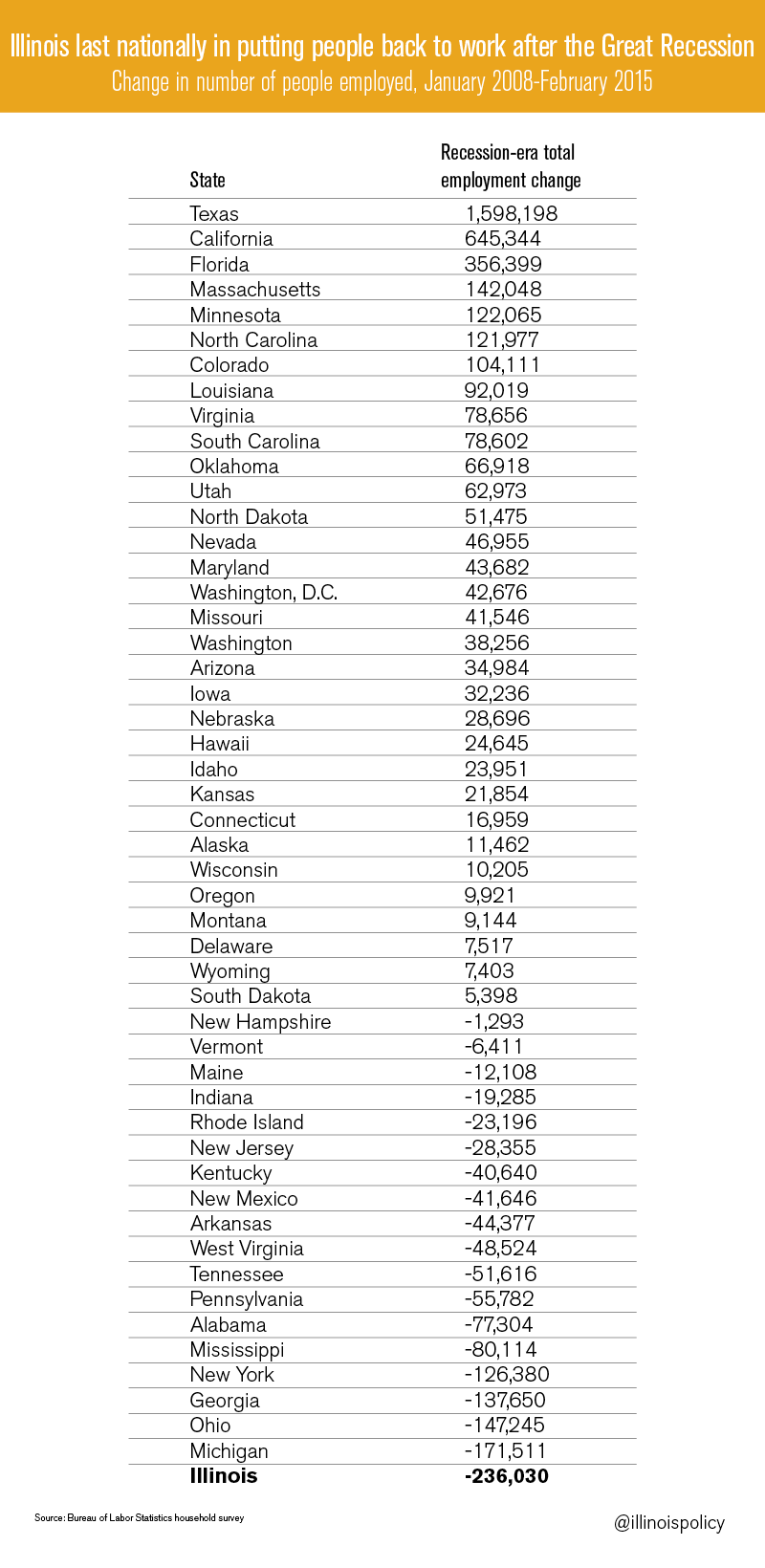 One of the leading concerns for the state economy is Illinois' steady loss of manufacturing jobs over the last two years. Manufacturing jobs make up the industrial backbone of the Illinois economy, and that backbone has been eroded in no small part because of policy errors. In February, Illinois lost another 800 manufacturing jobs while Indiana added 600, Michigan added 3,400, Wisconsin added 300 and Ohio added 1,500.
Since Illinois' manufacturing recovery peaked in the summer of 2012, the Land of Lincoln has seen a loss of 7,600 manufacturing jobs. More bad news came on March 25 when U.S. Steel Corp. sent out pink slips to 2,080 steelworkers in Granite City, Illinois, ensuring more manufacturing losses in coming months. In the meantime, Michigan passed a statewide Right-to-Work law and the Wolverine State's manufacturing sector has come roaring back. In the same time that Illinois lost 7,600 manufacturing jobs, Michigan has gained 52,400 and surpassed Illinois for total manufacturing jobs.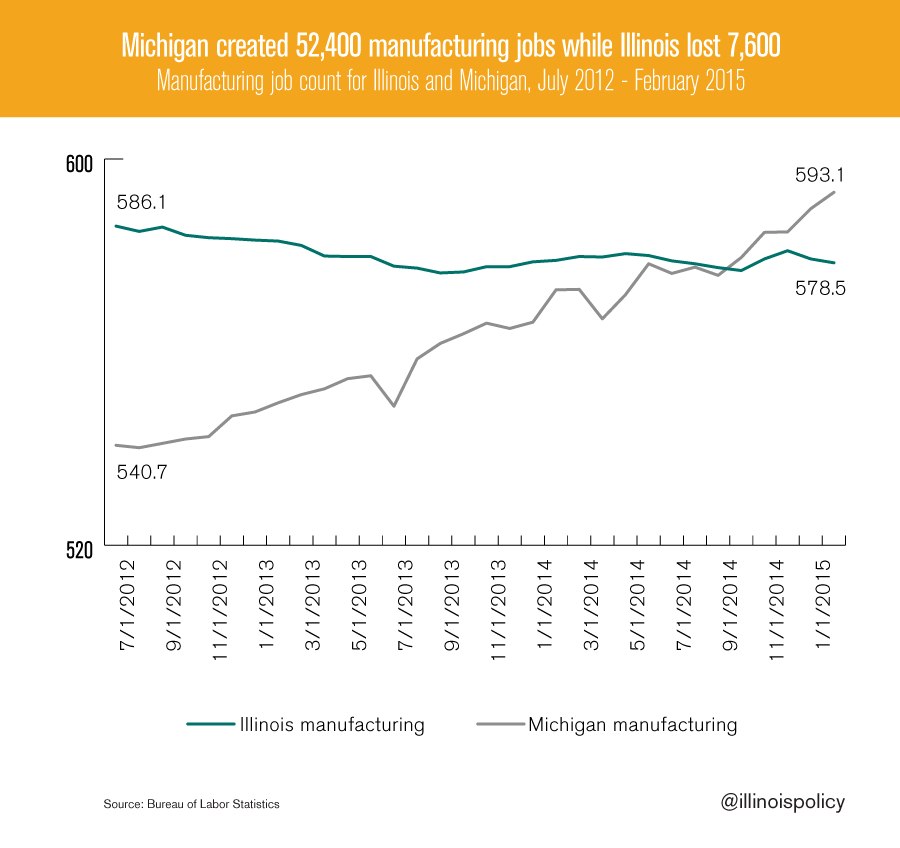 Not only is Michigan gaining more manufacturing jobs, but personal income in Michigan is growing faster there than in Illinois. From 2013 to 2014, personal income grew by 4 percent in Michigan compared to Illinois' 2.4 percent, the worst of any Great Lakes state, according to the Bureau of Economic Analysis.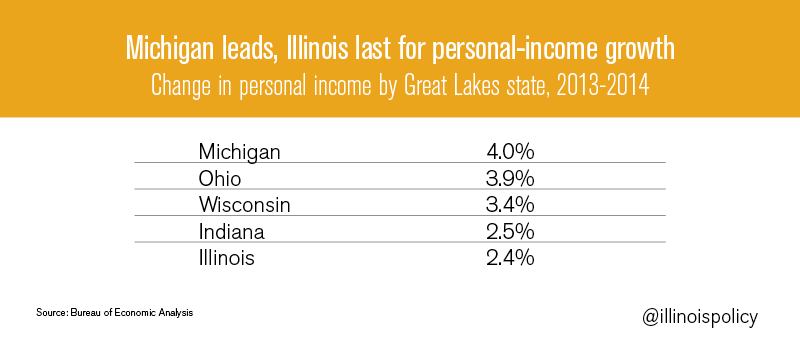 Illinois policymakers need to create a policy framework to engineer a manufacturing comeback. The framework should include an overhaul of the state's workers' compensation system and unemployment insurance, along with municipal solutions such as creating Right-to-Work municipalities in places like Granite City, where the risk of losing manufacturing work has become all too real.
Broader state reforms can help revive entrepreneurship across the Land of Lincoln. State lawmakers in the General Assembly have taken to championing pro-entrepreneurial policies, including reforms to taxes and fees for entrepreneurs, embracing crowdfunding and abolishing the death tax. This legislative agenda to foster entrepreneurship along with structural reforms to the state's business climate will provide a tremendous spark for creating opportunities in Illinois.