Nearly $2.5B in Illinois public pension payments flow to 70K out-of-state retirees
Florida is the top destination for Illinois retirees collecting a public pension.
Illinois' six state-run pension systems this year will pay retired government workers nearly $14 billion in combined benefits, but a good chunk of that money will leave Illinois.
More than 71,000 retired public employees have moved out of state and taken their benefits with them. That amounts to $2.4 billion in benefits received from Illinois but spent outside of Illinois.
Those 71,000 moves represent nearly 20% of all retirees collecting pension benefits from the six state-run retirement systems, according to an analysis by the Daily Herald.
Where are Illinois' state pensioners fleeing? Florida by far is the top destination, according to the Herald. Over 14,000 Illinois public pensioners – and $530 million – resettled in the Sunshine State. Next is Arizona, where nearly 5,700 pensioners and more than $200 million in benefits have moved.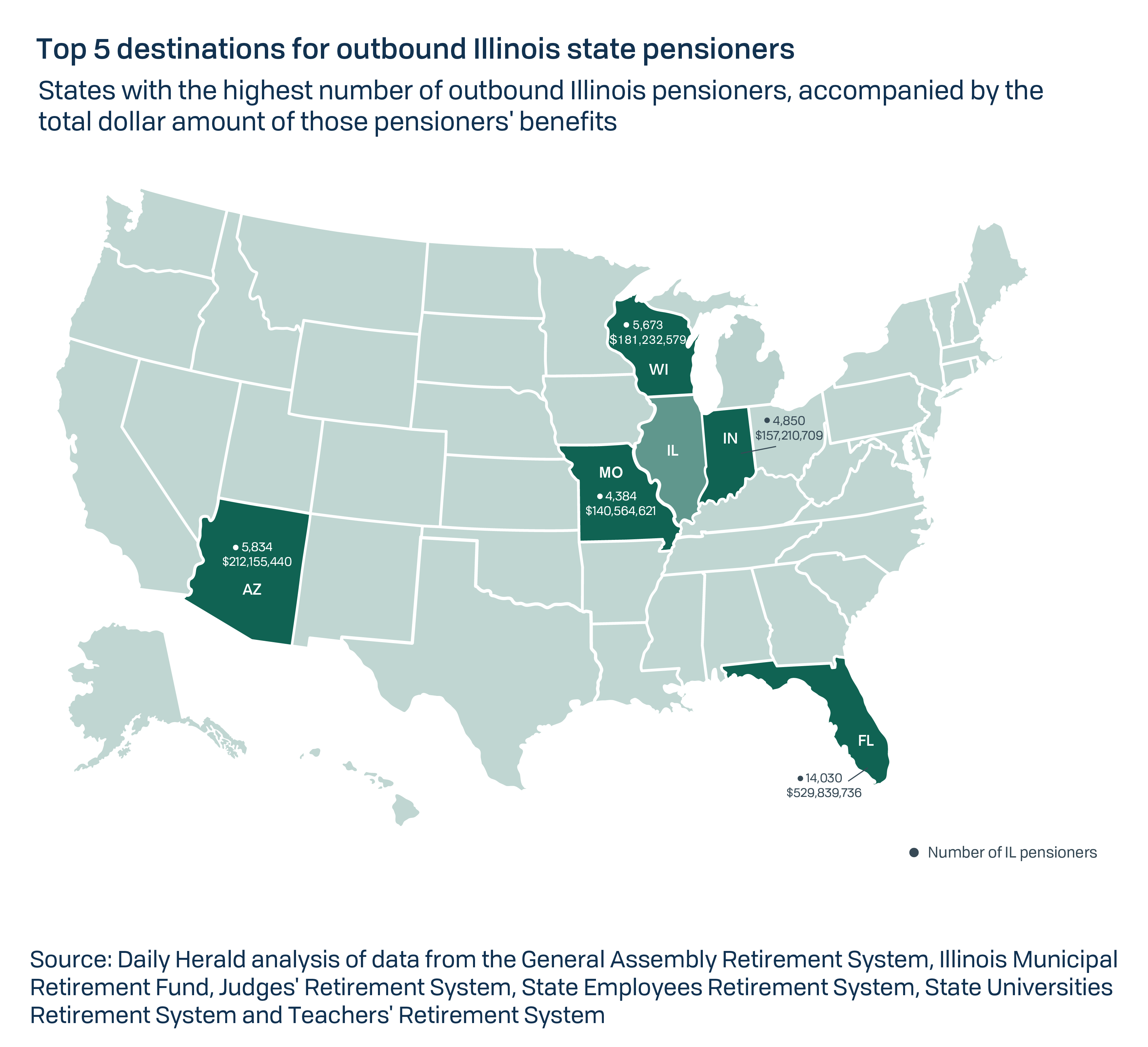 But it isn't just warmer climates attracting Illinois retirees: The destinations rounding out the top five are neighboring states Wisconsin, Indiana and Missouri. Collectively they cost Illinois nearly 15,000 public retirees and $480 million in pension benefits.
The Daily Herald cites a National League of Cities report that found 90% of the nation's public pensioners remain in the state in which they finished their career before retirement. According to that report, states benefit when retirees spend their pension dollars at home, boosting the local economy and generating tax revenue.
The analysis used data from payouts made to nearly 400,000 recipients through the General Assembly Retirement System, Illinois Judges' Retirement System, Illinois Municipal Retirement Fund, Illinois Teachers' Retirement Fund, State Employees' Retirement System and State Universities Retirement System.
Those systems do not cover some local government retirees, such as police and firefighters, or pensions in Chicago and Cook County. Those systems could be paying benefits to many more expatriate pensioners.
Illinois is one of a handful of states that does not tax retirement income, which should encourage retirees to stay in the state. Unfortunately, all the other taxes imposed on Illinoisans at the state and local levels pile up to top the nation for tax burdens. There's little doubt the state's heavy tax load drives the exodus: Polling from the Paul Simon Public Policy Institute consistently finds high taxes at the top of the list of reasons Illinoisans give for wanting to leave.
It's not just retirees: Illinois has seen net population loss for five years in a row. In December 2017, the U.S. Census Bureau revealed Illinois had dropped to sixth- from fifth-largest state, losing its spot to Pennsylvania.
Ironically, pension recipients fleeing Illinois' high tax burden are fleeing a failure of Illinois' defined- benefit pension system itself. The state's pension debt towers at $136.8 billion as this fiscal year ends, or may be greater than $250 billion according to one analysis. Payouts consume more than 25% of general fund revenues. And despite hiking the state's income tax in 2011 and again in 2017, Illinois' pensions systems are among the worst-funded in the nation. At the local level, unsustainable pension costs have pushed the state's property tax burden near the nation's highest, and are squeezing out current public services.
Unfortunately, the failure of past tax hikes to fix anything has not stopped state lawmakers from aggressively pushing for a progressive income tax hike they tout as the next cure for the state's poor fiscal health. Connecticut, the only state in the past 30 years to switch its income tax system from flat to progressive, did so under similar conditions in 1996. Middle-class income taxes have risen by 13% since then, and today Connecticut has the worst-funded pension system in the country.
Illinois' hostile tax climate will continue pushing out retirees and young families until there is meaningful pension reform. Lawmakers put Gov. J.B. Pritzker's progressive state income tax plan on the ballot with the cry to "let voters decide." If lawmakers believe voters should decide that question, they certainly should give them a voice on pension reform that could rescue Illinois from its reputation as the "Land of Leaving."