Southern Illinois taxpayers spend $124.5M since 2002 to keep airport open
An underused airport near Belleville, Illinois, has required local taxpayers to chip in $124.5 million since 2002 to keep it operating.
St. Clair County taxpayers had to add $5 million from other county resources to keep MidAmerica St. Louis Airport open during 2021, according to a new audit. That brings the grand total since 2002 to $124.5 million in fund transfers needed to fill the airport's deficits.
The $5 million subsidy was down from the $8.18 million needed in 2020 and  $7 million needed in 2019. Despite a nearly $17.4 million increase in revenues and a nearly 50% increase in passengers as air service recovered from the pandemic, taxpayers still needed to fork over $5 million to keep the airport solvent.
MidAmerica experienced more growth as a gas station than an airport. The majority of new revenue came from an $8.8 million surge in fuel sales spurred by a special Boeing project to produce U.S. Navy drones and the passenger flight increase.
Auditors stated "interest continues to be a major expense of the Airport" and totaled $3.2 million in 2021. The interest is on debt from building the airport.
MidAmerica won't fully pay off its construction debt until 2045 because St. Clair County leaders in 2015 refinanced the remaining $40 million and stretched out repayment. That move more than doubled taxpayers' debt burden to $88 million.
Airport expenses increased by nearly $4.7 million last year.
The airport was built for $300 million in 1995 to provide passenger and cargo service as well as serve neighboring Scott Air Force Base with a longer runway than the parallel base runway. It also has cargo operations, a corporate jet renovation and maintenance business and a Boeing production facility. Boeing is spending $200 million so it can produce the Navy drones at MidAmerica, expected to create hundreds of jobs.
Allegiant Air is the sole airline operating at the airport on the outskirts of Belleville, Illinois. It currently offers 12 destinations, down from 13 in 2021 and only seven the year before. There were 161,562 people last year who got on or off a plane at the airport, up from 108,765 in 2020 during the pandemic, according to Federal Aviation Administration data.
Resources flowing to a project unable to exist without drawing $5 million from other county needs should concern St. Clair County homeowners. They should also ask how bailing out the airport is affecting their property taxes and home values, especially the value of a rural home where they rarely see a sheriff's deputy on patrol because that money is keeping an airport staffed.
Since the Great Recession, St. Clair County home values fell by 23% after adjusting for inflation, according to data from the Bureau of Economic Analysis. Also from 2007-2017, Illinois Department of Revenue data shows property tax bills in St. Clair County grew 5%, after adjusting for inflation.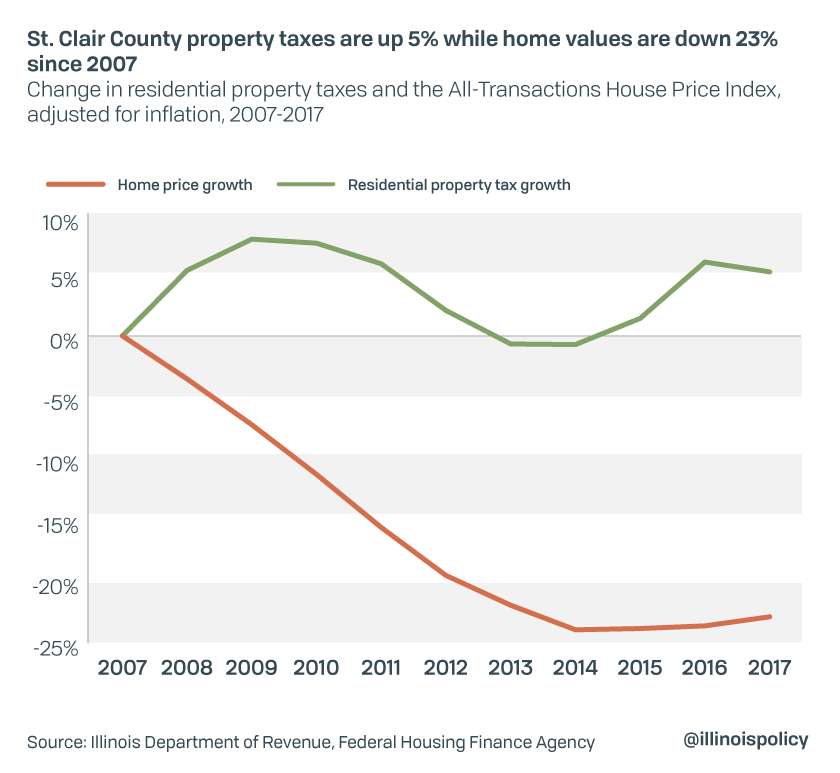 Shortly after the airport opened in 1997, it was the subject of a segment on NBC News' "The Fleecing of America." NBC returned in 2010 and again in 2015 to find the airport in sad shape.
In the 25 years since it opened, the airport has suffered a string of failed passenger carriers and unsuccessful attempts to build its cargo business, earning monikers such as the "Gateway to Nowhere" and "Glass Palace on the Prairie."
While the Boeing expansion is a major benefit to southwestern Illinois, the question remains: "Why can't MidAmerica Airport exist without taxpayers bailing it out every year?" After 25 years and $124.5 million in subsidies, taxpayers should push MidAmerica from the nest.