State's record-breaking budgets make Illinoisans poorer
For each percentage point drop in the private sector's share of the state economy, Illinois household incomes fall by over $3,000 on average. Unfortunately for Illinoisans, the private sector's share of the Illinois economy has dwindled as government's share – enabled through tax-funded spending – has risen to 25 percent.
Illinoisans are fleeing the state in record numbers, and millions more may follow. A poll released by the Paul Simon Public Policy Institute in October found that 47 percent of Illinois respondents said they want to leave the state, with taxes as their No. 1 reason.
But many Illinois politicians ignore this reality. They continue to push tax hikes and record-breaking budgets as a solution to the state's crumbling finances. Those lawmakers disregard the fact that for the government to spend billions more, it must first take those billions from taxpayers, squeezing out private-sector jobs, small businesses and growth in the process.
And that, in the end, will leave everyone poorer.
Tax-funded government spending crowds out private-sector jobs and growth
Illinois' growing government has already been crowding out the state's private sector for decades.
Today, the private sector makes up just 74 percent of Illinois' total economy, according to data from the Bureau of Economic Analysis.
That's down from more than 85 percent in 1960 and nearly 90 percent in 1940.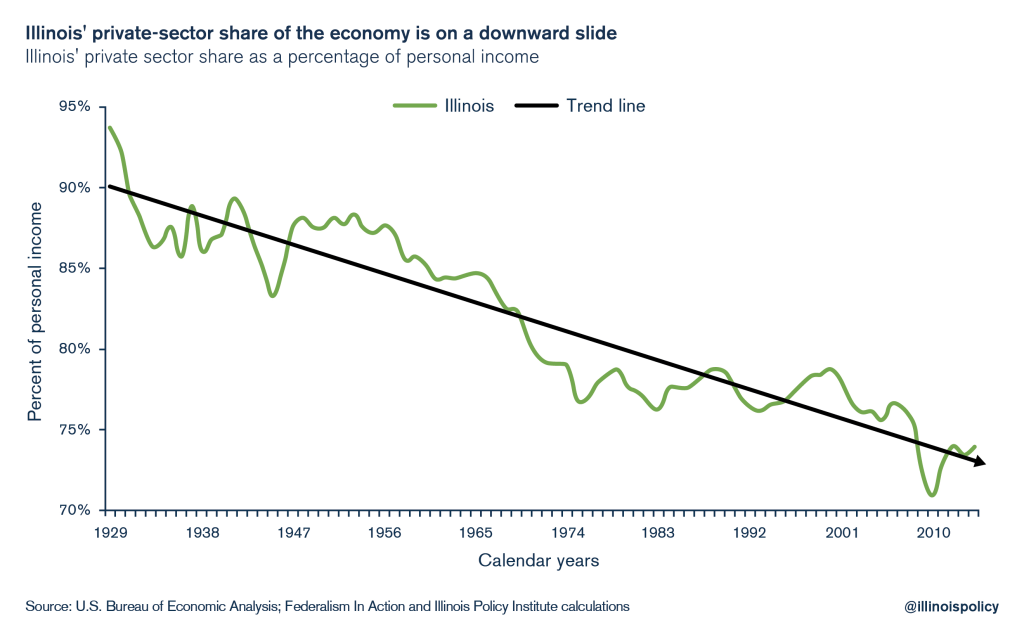 And yet, even though the government now controls one-fourth of the state's economy, there are still policymakers and politicians who clamor for even more government spending. They have produced Illinois' record $39 billion state budget and called for multibillion-dollar tax hikes.
But government spending comes at a price, according to a 2014 Illinois Policy Institute analysis of household incomes and the private-sector share of each state. The analysis found that for every one-percentage-point drop of the private sector's share in the economy, per-household incomes on average fall approximately $3,300, everything else equal.
That's evident in the states that squeeze out their private sectors the most. They have the lowest household incomes in the nation.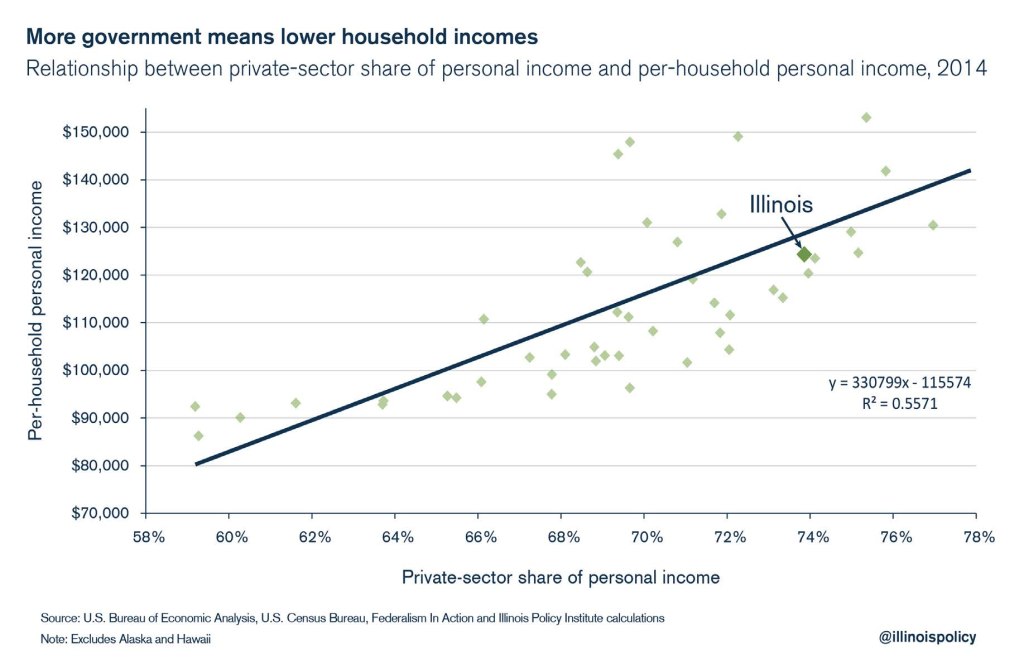 And while correlation does not equal causation, Illinois' record-busting budget should alarm its residents.
Case study: 2011 income tax hike failed to improve Illinois' finances
Just look at how the state's most recent spike in government spending – enabled by the record 2011 income tax hike – failed as an economic driver.
Politicians who pushed the hike promised it would improve the state's economy, pay down Illinois' unpaid bills, and solve the state's pension crisis.
But the tax hike did none of those things. Despite taking an additional $32 billion from residents' pockets, Illinoisans suffered under one of the nation's worst economic recoveries, the state's stack of bills remained unpaid, and Illinois' pensions siphoned even more funds away from the state's social services and its classrooms.
High-tax, big-spending policies drive jobs and people out of Illinois
Nevertheless, politicians, social institutions and think tanks in Illinois continue to push for ever-higher taxes and spending. That includes a broad range of groups, from the left-leaning Innovation Illinois to the fiscally oriented Civic Federation, among others.
This has inspired record property tax hikes and utility tax increases in Chicago, increased sales taxes and soda taxes in Cook County, and statewide proposals for a progressive income tax, a millionaire tax and higher gas taxes, just to name a few.
Those additional taxes will only inflict further harm on Illinoisans – especially blue-collar workers and middle-class residents – still struggling in one of the country's worst jobs recoveries.
Illinois has the worst unemployment rate in the Midwest at 5.6 percent, according to the Bureau of Labor Statistics. It has lost more than 300,000 manufacturing jobs since 1998, the most in the region. And Illinois has created no net new jobs since before the millennium.
But perhaps the most telling condemnation of Illinois' failed policies is that Illinoisans are voting with their feet.
Illinois suffered record outmigration in 2016. More than 300,000 Illinoisans left the state for good and only 200,000 new residents moved in, resulting in a net loss of 114,000 Illinoisans. That's nearly the equivalent of losing an entire Springfield in just one year.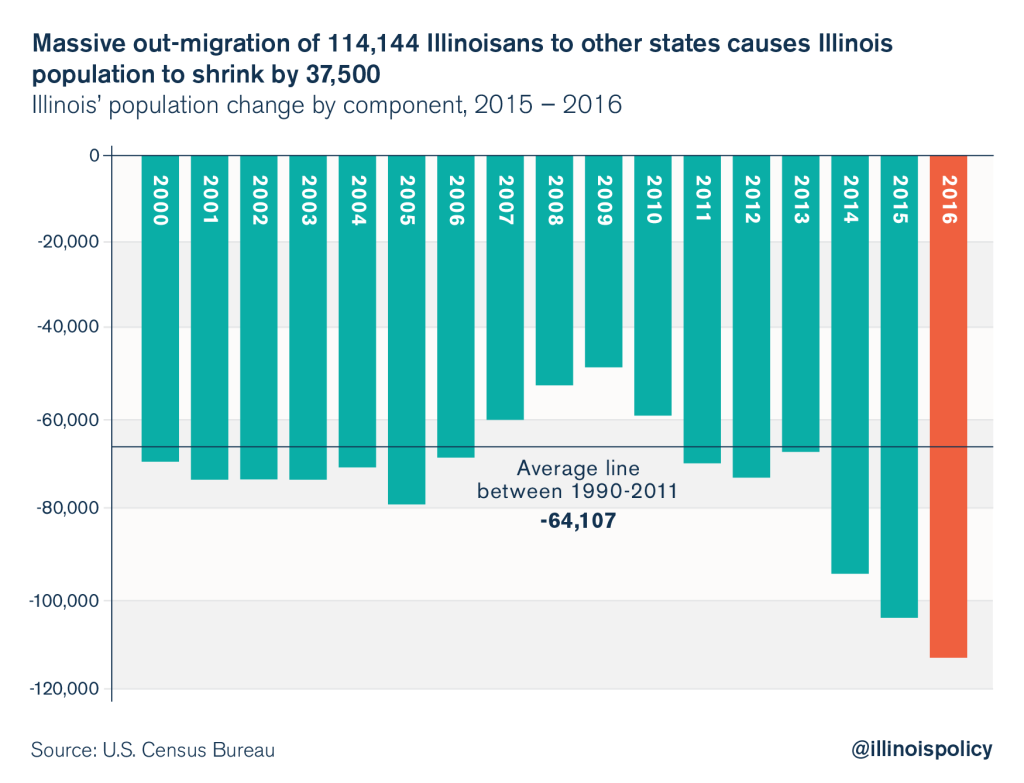 Illinoisans can't afford another tax hike.
Anyone who pitches the benefits of tax hikes and more government spending isn't telling the full story.
The truth is we'll all be a little poorer.