Caterpillar to move corporate headquarters to Deerfield
The industry giant's move comes amid continued disinvestment in Illinois manufacturing.
Caterpillar Inc. will move its global headquarters to the north Chicago suburb of Deerfield, the company announced April 19. The company will house 300 employees at the office. This news follows the company's decision in January to move its corporate offices to the Chicago area from Peoria.
"Following a thorough site selection process, we chose this location because it is approximately a 20-minute drive to O'Hare airport and convenient to the city of Chicago via commuter train, achieving our goal to be more accessible to our global customers, dealers and employees," said Caterpillar CEO Jim Umpleby.
In late March, Caterpillar announced plans to shutter its production facility in Aurora, laying off nearly 800 workers.
Downstate despair 
The Caterpillar relocation will not affect a majority of its Peoria workforce in the near term. But it signals continued disinvestment in the area. And it echoes a disturbing trend in the Land of Lincoln.
Illinois jobs data reveal a tale of two states.
While the greater Chicago area has added more than 110,000 jobs compared with before the Great Recession, the rest of the state has lost nearly 43,000 jobs over the same time. Peoria is a case study in what's driving this divergence: Blue-collar opportunities are disappearing statewide as white-collar jobs emerge in Chicago and the collar counties.
Moody's Investors Service recently named Peoria as one of four downstate metro areas now experiencing a recession. The Peoria metro area has lost nearly 30 percent of its manufacturing jobs in the last 10 years, according to the Bureau of Labor Statistics. The area's labor force is at a 12-year low.
Manufacturing meltdown
For years, Illinois lawmakers have ignored Illinois manufacturers' cries for reform – an insult to more than half a million manufacturing workers who rely on a healthy industry to forge the state's middle class.
One of those workers is Rick Schock. He's been on third shift in assembly at Caterpillar's Aurora plant for 12 years. But he will soon lose his job as part of the company's plans to shutter production facilities there.
"When I first started you'd go in to a local bar on a Friday morning at 7 a.m. [after your shift ended] and it was like a Friday night. It was nice, the camaraderie," Schock said. "We were a big family."
"But now with the layoffs my stress level has been so high. When I look at the people at work, everyone looks defeated."
One of the most straightforward pleas from one of manufacturing's largest players came five years ago in February 2012, when Caterpillar's then-CEO Doug Oberhelman penned an op-ed outlining how Illinois government must act in order to bring back manufacturing jobs.
His recommendations included real workers' compensation reform and a balanced state budget that would provide long-term tax certainty and tax relief.
The mass layoffs at Caterpillar's Aurora plant offer a chance to reflect on Oberhelman's plea and how the state has fared since.
The results are in: Illinois is the only state in the region to suffer a net loss of manufacturing jobs in the last five years.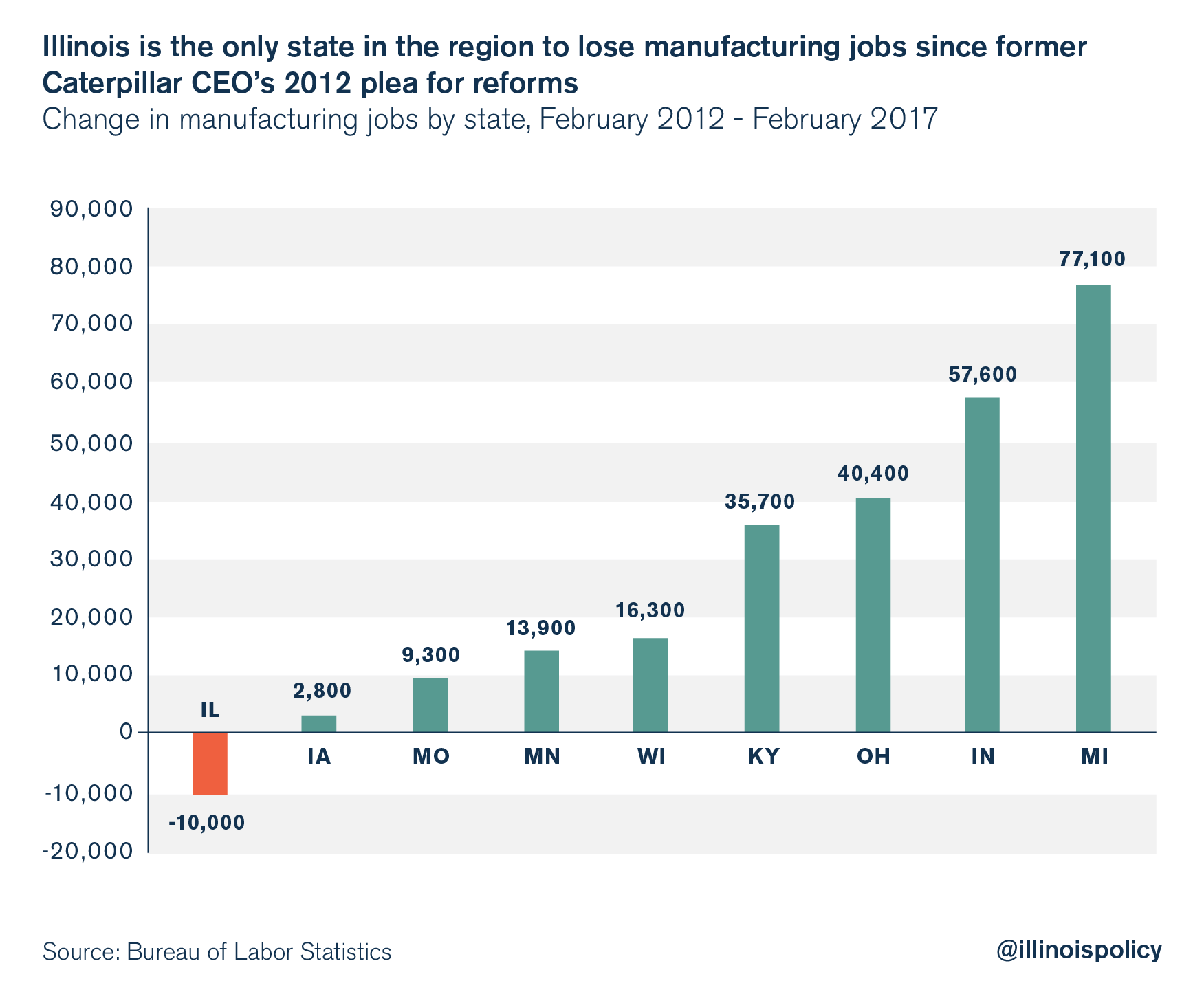 "Business leaders are making decisions today on where to invest in the future," Oberhelman wrote in 2012. "Illinois must act now, with a bipartisan sense of urgency, to position itself for future job creation that is being discussed in boardrooms all across this country.
"When Caterpillar and most other companies look to locate a new factory in the United States, Illinois is not in the running for such projects. It doesn't have to be that way."
Illinois' high property taxes and high workers' compensation costs hit manufacturing harder than any other sector of the state economy, discouraging investment and even pushing manufacturers out of Illinois to other states.
The Illinois Policy Institute has put forward a state budget plan that addresses both of these major cost drivers, while balancing the budget without tax hikes.
Until politicians focus on tackling foundational reforms, Illinois will continue to bleed jobs – and hardworking men and women will suffer.