Chicago bailout puts downstate and suburban students at risk of missing school
In trying to force a Chicago bailout, proponents of Senate Bill 1 are throwing hundreds of thousands of downstate and suburban students into limbo.
Half a million Illinois children are in danger of having their school year disrupted.
That's because state lawmakers purposely made school funding dependent on the separate passage of Senate Bill 1, a bill that rewrites the state's education funding formula. Included in SB 1 is a bailout of Chicago Public Schools worth hundreds of millions of dollars – and that's where the problem lies.
Illinois politicians are using downstate and suburban students and their dependence on state funding as leverage to force a bailout of CPS.
Not only is that bailout unfair – it's a repeat of the bailout Chicago got two decades ago – but also the new education funding formula makes promises it can't keep. Illinois would be forced to pour billions of extra dollars into education the state doesn't have, meaning even higher taxes on struggling residents.
SB 1 needs to be scrapped. Until real reforms can be enacted, the legislature should amend the budget to fund schools under the current formula.
A dangerous game
More than 350 of Illinois' poorest school districts depend on the state for more than 30 percent of their education funds. Most of those districts are downstate.
Without that money, many districts may not have enough cash to properly open when the school year begins in August. Many districts are warning of delayed openings or only being able to remain open for a few months.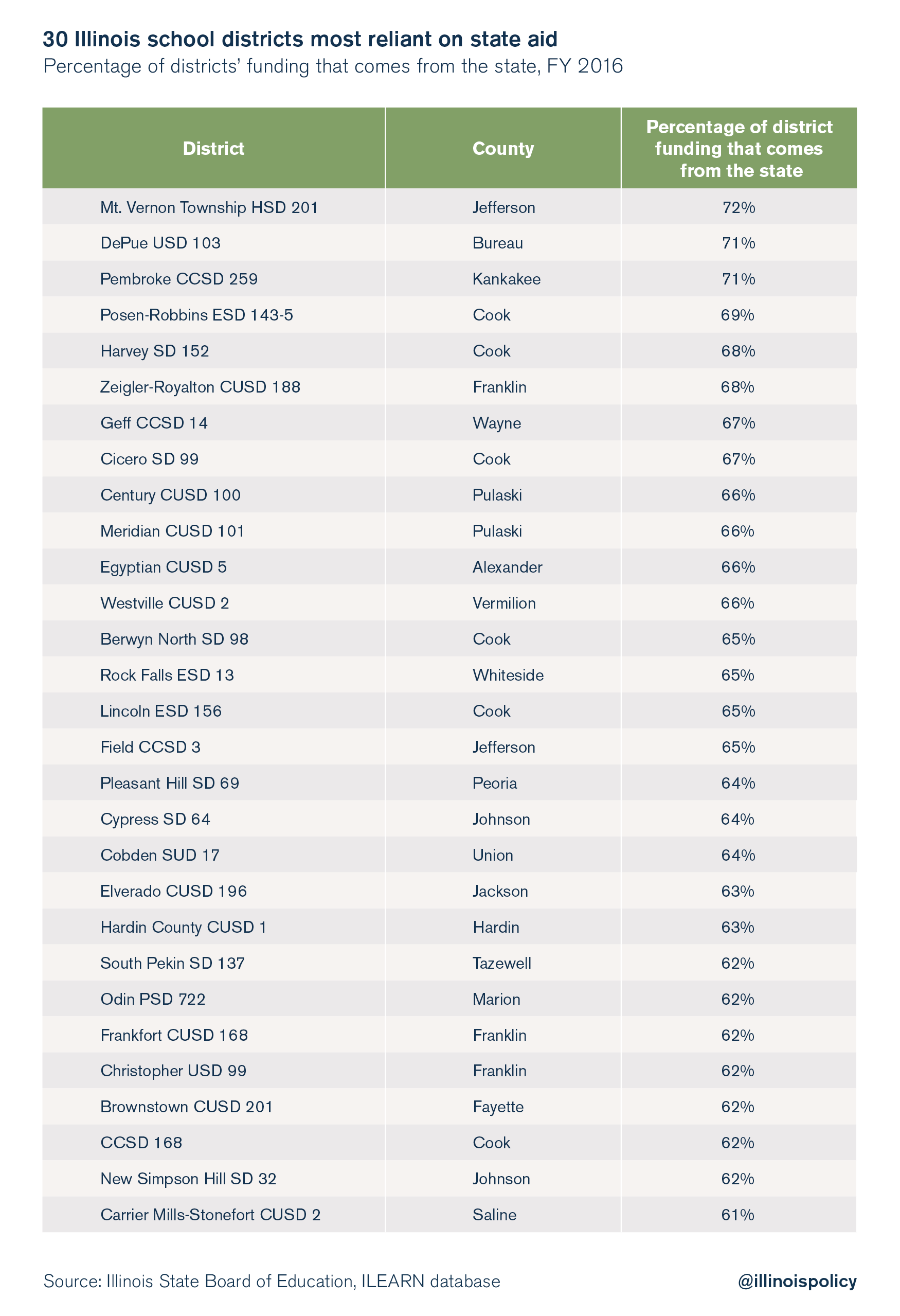 It's not that the state has no budget. The Illinois General Assembly passed a new budget for fiscal year 2018 earlier this month. And it's not that the state doesn't have the money. The budget included the largest permanent tax increase in Illinois history, which will bring in an additional $5 billion.
School districts are only in danger because politicians are playing games with state money for education.
This record-spending budget for fiscal year 2018 funds state departments. It funds universities. It funds health care. And it funds social service agencies.
Lawmakers only withheld funding for K-12 education. More than $7 billion is being kept from local school districts.
House Speaker Mike Madigan and Senate President John Cullerton want Gov. Bruce Rauner to sign the bill with the Chicago bailout included, but the governor has said he will issue an amendatory veto that cuts out the Chicago bailout when he receives the bill.
The General Assembly passed SB 1 two months ago, but Cullerton has avoided sending the bill to the governor since then.
That delay has been all about increasing pressure on the governor. The closer the new school year gets, the more pressure there is on Rauner to sign SB 1 – and approve the Chicago bailout – or veto the bill and leave schools unfunded.
It's a classic game of chicken, but it's not lawmakers who will be hurt if things go wrong.
Instead, hundreds of thousands of downstate and suburban children are at risk of seeing their school year delayed or disrupted because of Illinois lawmakers' gambit to bail out Chicago yet again.
According to Illinois State Board of Education data, more than 350 of Illinois' poorest school districts rely on the state government to supply 30 percent or more of their annual revenues. More than 350,000 downstate students are enrolled in these heavily dependent districts. In the collar counties and Cook County suburbs, more than 180,000 students are enrolled in such districts.
With much of their budgets missing, these districts are at risk of being unable to open on time or only staying open for a few months.
At the same time, Chicago Mayor Rahm Emanuel has vowed CPS will open as planned, regardless of the outcome of SB 1.
Cullerton recently announced he'll be sending SB 1 to the governor's desk on July 31.
It's an open question as to whether that will actually happen. But even if Cullerton does send the bill, the funding situation for downstate districts still won't be resolved. 
Real education funding solutions
SB 1 is not a solution to the woes of Illinois' education system.
It includes hundreds of millions in extra payments to bail out CPS officials' decades-long mismanagement of the district.
The new "evidence-based" education funding formula it introduces is overly complicated and has failed to improve student outcomes in other states where it's been tried.
And it demands $3.5-$6 billion in additional funding for school districts, all from taxpayers who have just been hit with the largest permanent income tax increase in Illinois history.
Lawmakers should scrap SB 1 and change the budget so education funding can be distributed under the existing formula. That will allow all schools in Illinois to open as planned.
Once that's done, lawmakers should start working on a new set of educational reforms that include a new set of priorities.
If lawmakers want to make sure more education dollars reach students, they should focus instead on freeing up the waste in Illinois' sprawling, inefficient education bureaucracy.
Reforming expensive pensions, consolidating unnecessary school district bureaucracies, and eliminating duplicative administrators are far more effective solutions than the expensive, ineffective new funding formula that lawmakers are currently pushing.
For additional reading on Illinois' education funding formula and evidence-based funding, see the following:   
Special report: Illinois education finance solutions
Illinois school district consolidation provides path to efficiency
Understanding Illinois' broken education funding system
CPS pensions: From retirement security to political slush fund 
Evidence-based education funding doesn't work, would cost Illinois taxpayers billions