CPS' 2017 budget: More taxes, more borrowing, no accountability
Chicago Public Schools officials had an opportunity to enact serious reforms addressing the district's dire financial condition, but they instead opted to further burden Chicago taxpayers without offering any change.
The Chicago Board of Education's 2017 budget shows that Chicago Public Schools, or CPS, and city officials know only one way to deal with the city's fiscal crises: more tax hikes, more borrowing and no accountability.
The $5.4 billion budget, which the board approved on Wednesday, relies on over $1.55 billion in borrowing, $945 million in bonds for infrastructure improvements, a $215 million pension bailout from the state, and $250 million in property-tax hikes.
In other words, the budget burden falls entirely on taxpayers' backs. Chicagoans will be hit with property-tax increases now, will have to pay for the high cost of CPS' borrowing later, and will have to pay even more for teachers' pensions directly if the pension bailout from the state doesn't come through. (And as Illinois taxpayers, Chicago residents pay a portion of that state-funded bailout as well.)
CPS hasn't offered anything to Chicagoans in exchange for this latest budget burden – no new measures to improve fiscal accountability and no major reforms to stabilize the school system's long-term finances and relieve taxpayers. Instead, CPS resorted to borrowing and gimmicks to pass a seemingly balanced budget.
CPS' growing debt
The latest proposed borrowing follows decades of mounting debt. Between 1998 and 2015, the district tripled its outstanding debt burden to over $6 billion.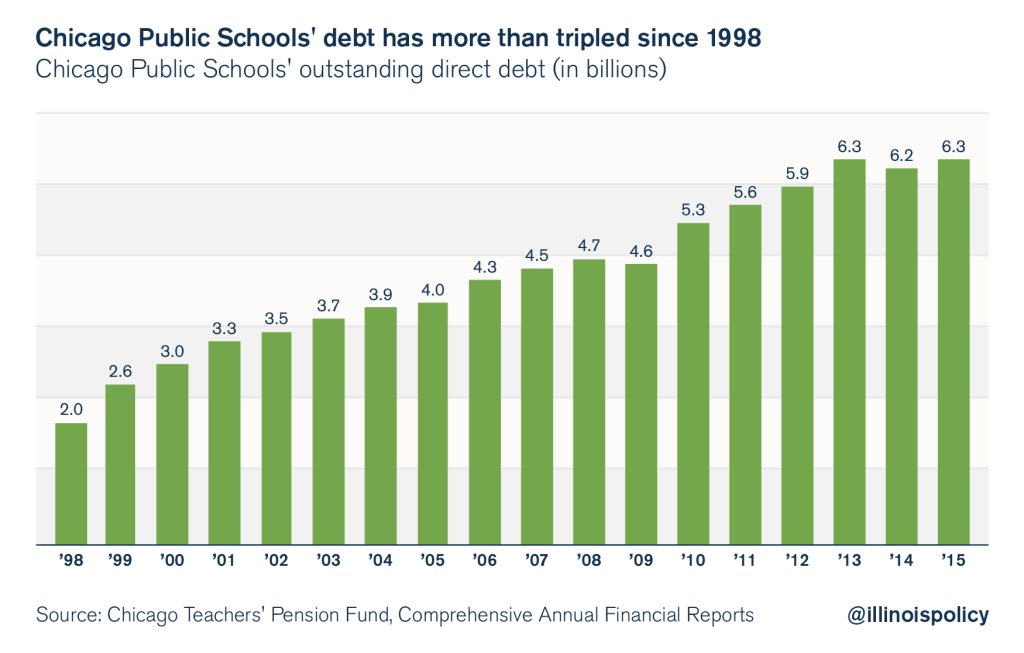 The cost of that borrowing is enormous. Nearly 10 percent of all CPS revenues are dedicated to paying the district's yearly debt service.
Rating agencies have noticed and punished CPS for borrowing beyond its means. All three major agencies – Moody's Investors Service, Fitch Ratings and Standard & Poor's – have given CPS bonds a junk rating. That burdens Chicagoans even more as CPS now has to pay an extremely high rate of interest on the debt it issues.
Overly gradual implementation of pension pickup reform – with minimal effects
The 2017 budget does purportedly begin the process of ending the district's practice of paying for, or "picking up," a majority of Chicago teachers' employee pension contributions. Since 1981, CPS has paid 7 of teachers' required 9 percent annual employee contribution as a benefit – meaning teachers only contribute 2 percent of their annual salaries toward their own pensions. Over the past decade, pension pickups have cost CPS and taxpayers $1.3 billion.
If pickups were eliminated all at once, having teachers pay the full amount of their mandated employee pension contributions would save CPS and taxpayers at least $130 million a year.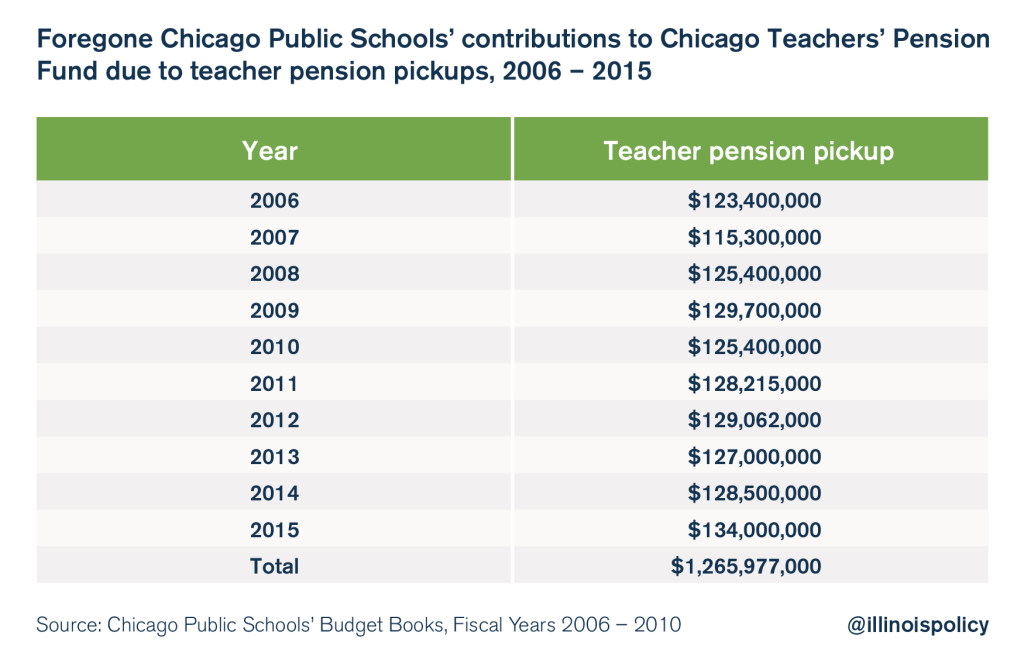 Unfortunately, the Chicago Teachers' Union, or CTU, is opposed to teachers paying their full employee contribution. In fact, CTU has threatened to strike if teachers are required to contribute their fair share.
Instead of ending pickups all at once, CPS is proposing to phase out the pension pickup over a number of years. That means any savings obtained from ending the pickup will likely be offset by salary increases to appease the union, likely not saving Chicago taxpayers much money.
The 2017 budget's lack of significant financial improvements is bad news for Chicagoans – especially considering the district's biggest single crisis, the nearly insolvent teachers' pension fund, is in desperate need of major reforms.
Politicians use teachers' pension system as slush fund to hand out promises to teacher-supporters
CPS officials seem content to pour more and more taxpayer dollars into teacher pensions and not acknowledge that the debt, now at nearly $10 billion, is insurmountable without reforms. The pension fund is in crisis due to city politicians treating the system as a slush fund for decades – overpromising benefits to buy support from teachers and skipping payments to fund other projects.
Total owed benefits have grown 6 percent annually over the past three decades, to $20 billion in 2015 from $4 billion in 1987, far faster than CPS' revenues or Chicagoans' incomes. That rate is simply unaffordable for CPS or taxpayers, and the district's 2017 budget does nothing to change that.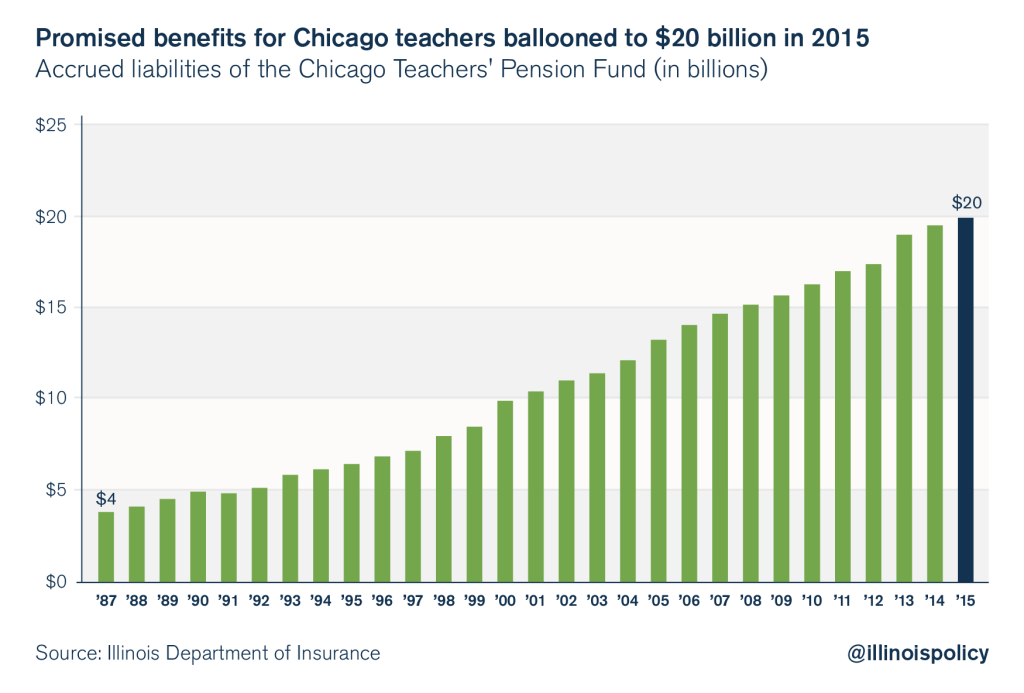 2017 budget relies on still more tax hikes   
CPS' budget also includes a $250 million property tax increase the city would need to pass.
That tax increase will come on top of the yearly $540 million property tax hike the city enacted last year to pay for police and fire pensions. That property tax came with another set of increases, from garbage collection fees to ridesharing taxes. Combined with the property tax hike, those increases will cost Chicagoans over $700 million a year when fully phased in by 2018.
And if that weren't enough, the mayor has proposed a new $240 million utility tax hike to pay for laborer and municipal worker pensions.
Each tax hike is onerous on its own, but added together, the multiple tax increases impose an intolerable burden on Chicagoans already struggling under the highest city tax burden in Illinois.
The city subjects taxpayers to over 30 individual taxes and a multitude of fees – far more than any other major Illinois municipality. Residents pay the fourth and 18th highest commercial and residential property taxes. And Chicagoans also pay the highest combined sales tax rate of any major city in the country thanks to Cook County's 2016 rate hike.
Unless the city and CPS get serious about enacting real reform, more tax hikes are inevitable.
2017 budget: Missed opportunity for real reforms
CPS' 2017 budget is a wasted opportunity. Instead of creating a budget with real reforms, CPS officials continued their failed borrow-and-tax strategy that does nothing but further burden Chicago taxpayers.
To avoid raising taxes even higher than they are today, CPS must address the imbalances in its fiscal situation by focusing on the other side of the ledger. CPS officials must find ways to reduce expenditures and seriously reform the way the district operates.
Moving new teachers into 401(k)-style retirement plans, offering optional 401(k)-style plans to current workers and negotiating additional reforms with CTU is a vital first step in that process.