Decatur jobs loss in 2017 among the worst in Illinois
Decatur is the fastest-shrinking city in the state since 2010, and saw some of the heaviest jobs losses among metro areas in 2017.
Update: Revised jobs data from the Bureau of Labor Statistics show Decatur gained 400 jobs in from January 2017 to December 2017, putting it in 7th place for growth in nonfarm payrolls over the year among Illinois' 13 metro areas.
Decatur lost 700 jobs from December 2016 to December 2017, according to preliminary data released Jan. 25 by the Illinois Department of Employment Security.
Decatur's 1.4 percent jobs decline was the second-worst in the state behind Danville. Along with Springfield, Decatur and Danville were the only three metro areas to see jobs loss over the year.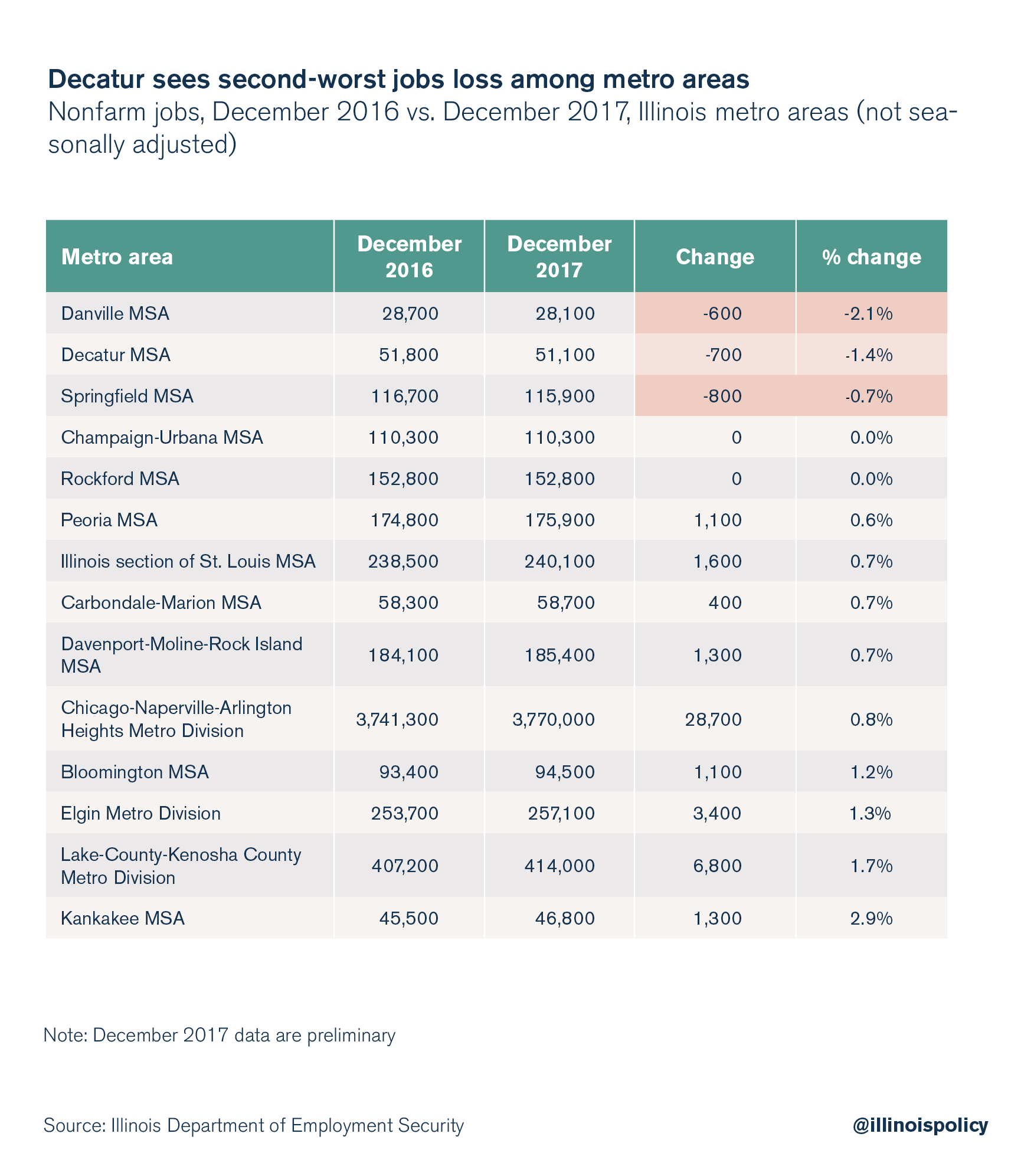 Illinois as a whole is experiencing sluggish economic growth in the wake of policy failures, such as repeated, punishing income tax hikes. And that's not doing Decatur any favors.
While the Soy City saw its unemployment rate dip to 5.3 percent from 6.3 percent over the year, residents should not rejoice. Decatur's jobs loss means the decline in the unemployment rate was due to workforce dropout, not more people finding work.
A declining workforce is inevitable in a shrinking city. And there isn't a city in Illinois shrinking as fast as Decatur, according to the most recent available data from the U.S. Census Bureau.
Decatur's population declined by 3,400 residents from 2010 to 2016, or 4.5 percent. Among Illinois cities with populations over 50,000, Decatur's losses were the worst in the state on a percentage basis.
Decatur has been especially hard-hit by Illinois' unfriendly manufacturing climate.
Companies continue to reduce operations and some have even pulled out of Decatur completely. Meda Pharmaceuticals, for example, announced plans to close its Decatur plant in March 2017. Residents of Decatur have seen manufacturing jobs grow scarcer and scarcer. Meanwhile, manufacturing workers in neighboring states have seen much stronger recoveries.
Policy mistakes make it harder for Illinois to compete for coveted manufacturing jobs. The Prairie State has the highest workers' compensation costs in the Midwest and some of the highest property taxes in the nation.
Research from the nonpartisan Tax Foundation shows the median property tax bill for a Macon County homeowner is $2,004 annually. Macon County's median property tax bills are above the state median.
Despite these hardships, there's no sign help is going to come from the Statehouse. On the contrary, lawmakers passed the largest permanent income tax hike in Illinois history in July 2017, raising the state individual income tax by 32 percent, to 4.95 percent from the previous rate of 3.75 percent.
Increasing state and local tax burdens along with stagnant economic growth are going to hurt residents wherever they reside. Decaturites know this firsthand.