Illinois Corruption Watch: April 2014
45.  April 30, 2014 Sun-Times: Criminal probe of Quinn anti-violence plan rocks governor's race A criminal grand jury has launched a probe into Gov. Pat Quinn's troubled anti-violence program —  once likened to "a political slush fund" — delivering a major blow to the Democrat as he seeks re-election this fall. On Tuesday, the Quinn...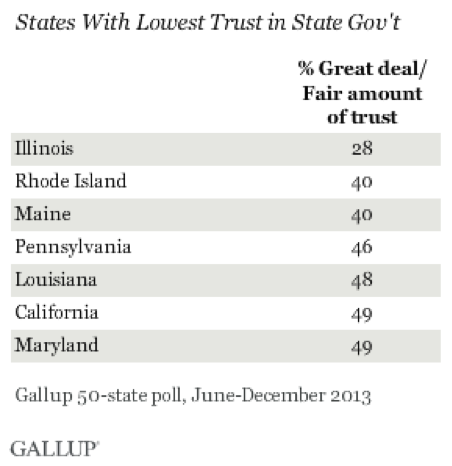 45.  April 30, 2014
Sun-Times: Criminal probe of Quinn anti-violence plan rocks governor's race
A criminal grand jury has launched a probe into Gov. Pat Quinn's troubled anti-violence program —  once likened to "a political slush fund" — delivering a major blow to the Democrat as he seeks re-election this fall.
On Tuesday, the Quinn administration turned over 1,000 documents pertaining to the Neighborhood Recovery Initiative to Cook County State's Attorney Anita Alvarez following a subpoena from her office.
The request was issued to the Illinois Department of Commerce and Economic Opportunity on March 19 and sought records tied to the Neighborhood Recovery Initiative — including those for the Chicago Area Project, a program tied to the husband of Cook County Circuit Court Clerk Dorothy Brown.
44.  April 30, 2014
Chicago Tribune: Chicago Alderman fill ballot with advisory questions to block citizens
The Chicago City Council today filled the November general election ballot with enough referendums to prevent any citizen questions from being placed on all ballots in the city.
Aldermen voted to place three questions on the Nov. 4 ballot — the limit for questions to be asked of voters in all the city's precincts — just as they have done in previous elections.
That effectively prevents citizens from gathering enough petition signatures to place on the ballot other questions, such as whether the Chicago Public Schools Board of Trustees should be elected instead of appointed by the mayor — a question that Mayor Rahm Emanuel opposes.
---
43.  April 29, 2014
Daily Herald: Second of three former Schaumburg cops sentenced to 26 years in drug scheme
The second of three former Schaumburg police officers accused of skimming drugs from police seizures and then using an informant to sell the narcotics on the street pleaded guilty Tuesday and was sentenced to 26 years in prison.
Because of various sentencing guidelines, however, he could serve as little as 13 years.
---
42.  April 28, 2014
Better Government Association: Pension free-for-all trustees and staff members accepting gifts and freebies from vendors
For some Wall Street money managers, picking up the tab at dinner or giving away hot concert tickets can be a small price to pay to curry favor among public officials in charge of multi-billion-dollar retirement accounts.
But when it comes to tracking these kinds of gifts, public pension plans in the Chicago region have displayed an alarming lack of transparency and record keeping, the Better Government Association found.
41.  April 28, 2014
U.S. Department of Justice: Former Illinois State Rep. Keith Farnham charged with possession of Child Pornography
Former Illinois State Rep. Keith Farnham was charged today with possession of child pornography in a criminal complaint filed in U.S. District Court in Chicago. Farnham allegedly possessed two videos depicting child pornography on a computer that was seized from his state office in Elgin in March.
Farnham, 66, of Elgin, was not arrested and no date has been set yet for him to appear voluntarily for an initial appearance in Federal Court.
On March 13, agents with U.S. Immigration and Customs Enforcement's (ICE) Homeland Security Investigations (HSI) executed a federal search warrant at Farnham's office and residence in Elgin. Several computers and electronic storage devices were recovered that contained child pornography images, including the two charged videos, according to the complaint affidavit. The office computer that contained the videos was labeled "PROPERTY OF THE STATE OF ILLINOIS HOUSE OF REPRESENTATIVES."
40.  April 28, 2014
Chicago Tribune: Suburban father, son charged with $33M education fraud
A father and son who run two Niles–based education companies stole more than $33 million in federal grants from school districts across the country by misrepresenting the tutoring services they were purportedly providing to low-income students and bribing school officials with cruises and "services" at strip clubs, federal prosecutors announced today.
Jowhar Soultanali, director of operations for Brilliance Academy Inc., and his son, Kabir Kassam, who is president, allegedly obtained between $8 million and $13.6 million for themselves and their families from the more than $33 million they fraudulently obtained from about 200 school districts around the country, including in Illinois, according to the U.S. Attorney's Office in Chicago.
---
39.  April 26, 2014
Chicago Tribune: Former ethics officer for Harvey police accused of brutality
A onetime top ethics officer for Harvey police was accused in a lawsuit Friday of breaking a suspect's legs and then trying to frame him for crimes that were not committed.
Officer Marcus Patterson was one of several officers featured in February in a Tribune series that documented how officers with questionable backgrounds policed a suburb with rampant, largely unsolved violent crime and millions in legal payouts for police misconduct.
The federal suit filed Friday accuses Patterson of responding to Larry's Lounge in April 2013 over a complaint of an unpaid bar tab, handcuffing Sandreano Green and beating Green as he lay on the ground. The lawsuit says Green was beaten by Patterson, and possibly other officers, until Green urinated on himself. The lawsuit says he was dragged into a cruiser, taken to jail and dragged into a cell. A sergeant later called for an ambulance, which took Green to a hospital, where doctors found broken bones and other injuries, the suit says.
---
38.  April 25, 2014
Chicago Tribune: State agency ex-director to pay $100,000 in revolving-door case
The former head of an Illinois government agency has agreed to pay the state $100,000 in a settlement after being accused of violating a so-called revolving-door clause regulating officials who leave and take jobs with state contractors.
Barry Maram, former director of the state's Department of Healthcare and Family Services, resigned from his state post in 2010 and took a job a week later with the law firm Shefsky & Froelich, after the administration had contracted with the firm to handle a legal dispute over the expansion of health insurance coverage for children, according to settlement documents released Friday.
36.  April 25, 2014
Chicago Tribune: City could pay $5 million for lost leg accident
Chicago taxpayers could end up shelling out millions of dollars to settle a lawsuit filed by a man who lost his leg after being hit by a car that skidded on ice caused by a leaky water main.
A $5 million settlement will be considered Monday by the City Council Finance Committee in the case filed by Edwin J. Hill, who lost a leg as a result of the Nov. 20, 2008 accident.
Hill was standing on the sidewalk on the southwest corner of 95th Street and Indiana Avenue waiting for public transportation to attend night classes at Chicago State University, according to the complaint in his lawsuit. A car heading east on Indiana hit a patch of ice caused by the leaky main, jumped the curb and hit Hill, the complaint states.
35.  April 25, 2014
Chicago Tribune: Ex-Chicago Comptroller arrested on warrant in Ohio
An arrest warrant has been issued for former Chicago Comptroller Amer Ahmad for allegedly violating the terms of his bail in a federal fraud case in Ohio.
Ahmad pleaded guilty in federal court in December to charges stemming from a kickback scheme while he was deputy state treasurer in Ohio.
---
34.  April 23, 2014
Lake Forest Patch: Former LFHS staffer pleads guilty to sexual abuse of students
A former Lake Forest High School employee has pleaded guilty to two counts of aggravated criminal sexual abuse for inappropriate contact with two female students, who were 17 at the time, according to an article in the Daily Herald.
Benjamin Davidson, 31, was charged last summer with criminal sexual abuse, child pornography and aggravated criminal sexual abuse after a two-month investigation by Lake Forest police after they received a complaint from a parent. He was the advisor for the drama department's audio/visual services, supervising a staff of students and volunteers.
33.  April 23, 2014
Chicago Tribune: Quinn taken to court over patronage hiring at IDOT
A Chicago attorney who has long crusaded against patronage is asking a federal judge to investigate hiring under Gov. Pat Quinn, alleging the Democratic governor has continued to stack the Illinois Department of Transportation with political hires.
Michael Shakman argues that Quinn has violated rules that prevent certain employees from being hired for political reasons.
The attorney points to an investigation by the Better Government Association, a watchdog group that found Quinn has continued practices first put in place by impeached ex-Gov. Rod Blagojevich that it says improperly classified non-political positions as ones that could be filled by political appointees.
32.  April 23, 2014
Chicago Tribune: Ex-top aide to Stroger gets 6 ½ years for theft, money laundering
A onetime top aide to former Cook County Board President Todd Stroger was taken into custody Wednesday immediately after a judge sentenced her to 6 ½ years in prison for stealing more than $300,000 in public funds.
Carla Oglesby, 44, who was convicted last summer of theft and money laundering charges, had nothing to say before Judge James Linn handed down the sentence that was just 6 months above the minimum punishment.
Oglesby becomes the second former high-level Stroger aide to be sentenced to prison since last month. Eugene Mullins, Stroger's friend since boyhood, was sentenced to 4 years and 3 months in prison for steering county contracts to cronies in return for $35,000 in kickbacks.
---
31.  April 22, 2014
Fox Chicago: High-paid officials using city-owned garage for free parking
Parking in Chicago's busiest neighborhoods can cost hundreds of dollars a month. So imagine how nice it would be to get free parking inside a city-owned garage.
FOX 32 Investigative Reporter Dane Placko found a prime piece of city-owned property is going to benefit just a handful of top city officials.
April 22, 2014
WCIA-3: Group accused of misusing tax dollars
An audit shows a law enforcement group misused tax dollars. The group is the Law Enforcement Training and Standards Board (LETSB). But, instead of training, the agency is accused of breaking the rules.
The audit found tens of thousands of dollars went toward office rent, catering and conference lodging; all things not covered by the particular grant at hand. An April audit by the Auditor General finds LETSB misused training money.
The audit found less than 8% of that dollar amount was spent on training; citing that the $10,000 that went to "handouts, application packets and awards," wasn't warranted.
---
30.  April 21, 2014
Belleville News-Democrat: Freeburg, O'Fallon high schools named in suit alleging sex assualt
The mother of a teen girl who allegedly was sexually assaulted in a high school bathroom at O'Fallon High School during a band competition is suing the school and Freeburg High School, claiming they didn't protect the girl.
The teen girl and the accused perpetrator were both students at Freeburg Community High School Dist. 77 at the time of the alleged assault.
29.  April 21, 2014
U.S. Attorney: Ten defendants charged in $1.27 million in Social Security fraud
Ten Chicago and area defendants were charged in separate federal criminal cases with stealing a total of more than $1.27 million from the federal government by fraudulently obtaining Social Security benefits. Six of the defendants allegedly engaged in the fraud by using false identities.
---
28.  April 20, 2014
Chicago Tribune: Chicago nonprofit investigated for questionable spending
A Chicago nonprofit that has received millions of public dollars to provide foster care and other social services is being investigated by state officials for using taxpayer funds to pay for its founder's condo, car and other personal expenses, the Tribune has learned.
State funds also were used to subsidize the former nonprofit leader's expenses related to riverboat casino ATM withdrawals, parking tickets, prescription medication and spa services, according to state officials and records.
27.  April 20, 2014
Daily Herald: State wants Island Lake to return $239,000 grant
State officials want Island Lake to return a $239,000 grant delivered 22 years ago, alleging village leaders misrepresented facts and misused the money, documents indicate.
"We're in the midst of a formal grant recovery process," said Chris Young, a spokesman for the Illinois Department of Natural Resources, the agency demanding the refund.
26.  April 20, 2014
NW Herald: Lawyer: No more appeals for ex-Dixon comptroller
A former comptroller who stole almost $54 million from a northern Illinois community has decided she won't further attempt to have her nearly 20-year prison sentence reduced.
Citing Rita Crundwell's lawyer, Sauk Valley Media reported Saturday that the imprisoned former Dixon bookkeeper has decided not to pursue other appeals options.
---
25.  April 19, 2014
ABC: Medicaid paid $12M for Illinois Dead
The Illinois Medicaid program paid an estimated $12 million for medical services for people listed as deceased in other state records, according to an internal state government memo.
The memo dated Friday, which The Associated Press obtained through a Freedom of Information Act request, says the state auditor compared clients enrolled in the Medicaid database last June with state death records dating back to 1970. Auditors identified overpayments for services to roughly 2,900 people after the date of their deaths.
---
24.  April 18, 2014
Illinois Mirror: AP's Obama library vote fail: When a unanimous vote isn't so unanimous
In a stunning violation of House rules, Illinois House Democrats used a subject matter only meeting today to advance legislation aimed at steering $100 million in public funds towards luring the Obama Presidential Library to Chicago.
"The legacy of the Obama Presidential Library shouldn't be kicked off in a cloud of controversy," stated State Representative Ed Sullivan (R, Mundelein).   "Not only was the meeting a misrepresentation, so was the false roll call taken."
23.  April 18, 2014
Chicago Tribune: Report: More firefighters gamed mileage system
Another group of Chicago Fire Department personnel has been suspended for falsifying thousands of dollars' worth of mileage reimbursement claims, according to a report released Thursday by the city's top internal watchdog.
In all, 17 firefighters and paramedics in the Fire Prevention Bureau and Public Education Unit were paid more than $35,000 in 2009 for mileage they never traveled on the job, Inspector General Joseph Ferguson's latest quarterly report states. Many allegedly falsified records to claim the maximum allowed $350 in monthly payments.
All but one, who retired, were suspended without pay for 30 to 45 days. Ferguson had recommended that all be fired, but the city noted a prior failure to make that punishment stick in a related case.
22.  April 18, 2014
Daily Herald: Watchdog asks for Metra-inspired reforms
Illinois' legislative watchdog today outlined ethics reforms targeted at a hiring scandal at Metra last year.
Legislative Inspector General Thomas Homer suggested lawmakers adopt the more strict practices that guide Congress when members want to help a constituent get a job.
Homer said he'd suggest ethics changes. He would like to see more transparency when a lawmaker gets involved with hiring, including putting requests in writing, not favoring politically connected candidates and making it easier for investigations like his to be made public.
21.  April 18, 2014
Chicago Tribune: Past government mole arrested on federal charges
A Chicago real estate developer who was a government mole in past federal investigations into commercial real estate fraud and political corruption was arrested today on charges he bilked taxpayers of more than $370,000 in a south suburban marina project.
John Thomas, 51, was arrested at his home on an indictment charging him with three counts of wire fraud in the development of the now-shuttered Riverdale Marina in Riverdale, according to the U.S. Attorney's Office. He will be arraigned later today at the Dirksen U.S. Courthouse.
Prosecutors alleged Thomas' company, Nosmo Kings LLC, was paid $900,000 in TIF funds in 2012 but fraudulently used $370,000 to repay personal loans, legal fees, rent and other personal expenses.
---
20.  April 17, 2014
Chicago Tribune: Judge to hear arguments on Rutherford motion to toss harassment suit
A federal judge today postponed a decision on state Treasurer Dan Rutherford's request to dismiss a lawsuit filed by a former aide accusing him of sexual harassment and political pressure.
U.S. District Judge Joan H. Lefkow instead gave lawyers for the former employee until May 22 to respond to the request to toss the case, saying she would rule shortly after that. The action unfolded during the first hearing for the lawsuit filed by Edmund Michalowski, which helped derail Rutherford's bid for the Republican nomination for governor earlier this year.
19.  April 17, 2014
Chicago Tribune: Emanuel defends Claypool's controversial CTA hires
Mayor Rahm Emanuel on Thursday defended CTA head Forrest Claypool's hiring of two men who gave up their Cook County jobs amid allegations of unethical conduct related to patronage, saying he wasn't concerned because Claypool knew the pair from the county.
The mayor's comments came in response to stories that detailed how Claypool, a former Cook County commissioner, made the controversial hires despite building his reformer credentials in part by railing against the "friends and family" patronage hiring practices of Cook County Board presidents John and Todd Stroger.
18.  April 17, 2014
ABC 7 I-Team: New misconduct allegations at US Marshal's office
An I-Team exclusive: allegations of recklessness and misconduct at the US Marshal's Service in Chicago. Those are among the claims by a veteran deputy marshal in an explosive, newly-filed lawsuit.
In this clash of the lawmen, Deputy Stephen Linder is suing his one-time boss, U.S. Marshal Darryl McPherson. Linder accuses McPherson of trying to railroad him in a brutality case. It's just the latest blot on the management of the Marshal Service, the oldest federal law enforcement agency in the land. Also named as defendants in the lawsuit are federal prosecutors from Washington and other government agents.
17.  April 17, 2014
Fox 32/BGA: Mystery surrounds pension fund in Stone Park
Former Stone Park Police Chiefs Seymour Sapoznik and Harry Testa have had run-ins with the law. So has former Mayor Robert Natale. All three were convicted of felonies, but they're still collecting taxpayer-supported pensions from an unusual village fund.
Sapoznik is also a member of the pension board, which oversees financial decisions for the fund. And if that's not enough, Natale and Sapoznik might have been stripped of their pensions if they belonged to almost any other publicly funded plan in the state. It's unclear if Testa would have lost his pension.
State laws say public officials or employees stand to lose their pensions if they're convicted of a job-related felony. Stone Park operates outside many other local retirement funds because municipalities with very small populations are allowed to manage their own pension plans, according to Dean Krone, attorney for the west suburb's pension fund.
---
16.  April 16, 2014
Illinois Policy Institute: Only 28% of Illinois residents trust state government, lowest in nation
The constant stream of government corruption stories in Illinois takes a dramatic toll on citizens' trust of government. A recent Gallup poll showed only 28 percent of Illinois residents trust their state government.
Illinois is the only Midwestern state where trust in state government is less than 50 percent.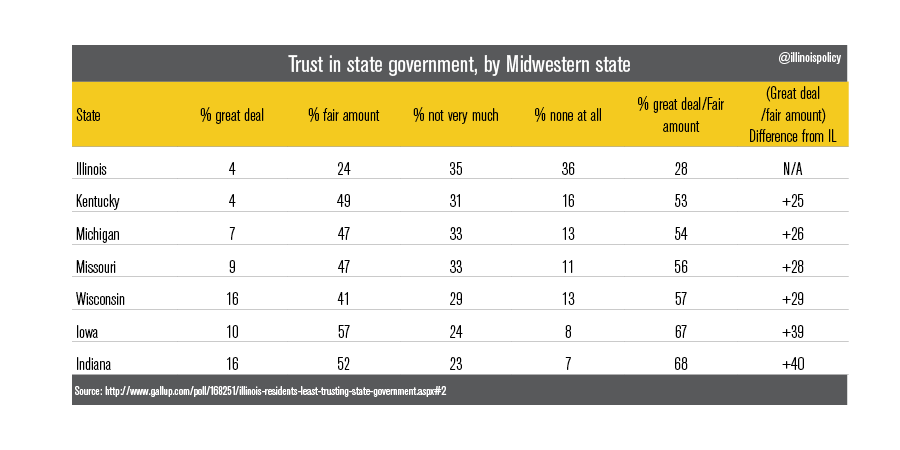 15.  April 16, 2014
U.S. Attorney's Office: Two former Cook County Board of Review analysts sentenced to prison for accepting a bribe to arrange property tax reductions
Two former analysts for the Cook County Board of Review were sentenced today for accepting $1,500 to facilitate reducing by more than $10,000 the property taxes on three residential properties. Thomas Hawkins was sentenced to 24 months in prison and John Racasi was sentenced to 18 months in prison after they were convicted of federal conspiracy, bribery, and fraud charges. They were captured scheming with others to facilitate reducing property tax assessments in exchange for bribes in undercover recordings that were played at their week-long trial last October in U.S. District Court.
---
14.  April 15, 2014
Chicago Tribune: Prosecutors detail admissions of bribery by state Rep. Derrick Smith
Shortly after his 2012 arrest on bribery charges, state Rep. Derrick Smith admitted to the FBI that he had pocketed a $7,000 kickback and even took agents to his home to retrieve some of the ill-gotten cash stashed in his bedroom, federal prosecutors said in a court filing this week.
An FBI account of the alleged confession – made public as part of the filing late Monday — portrayed Smith as desperate to win his first campaign for state representative and feeling under pressure to raise money to pay campaign workers.
"What I got to do to win?" Smith told agents he'd confided to a campaign worker who turned out to be working undercover for the FBI.
---
13. April 13, 2014
Chicago Tribune: State's new fleet of squad cars not on road
Row upon row of brand-new squad cars sit in a parking lot not far from the state fairgrounds in Springfield, waiting to be driven out onto state highways. Waiting. And waiting.
The cars, 85 model year 2013 Chevrolet Caprices that were delivered last summer, have never been used because they lack the police lights, two-way radios, computers and other electronics to be ready for patrol with the Illinois State Police.
Since 2010, the cost of renewing a license plate in Illinois has included a $1 fee that goes into a fund for new state police squad cars. So far, the fee has generated more than $18 million for new vehicles.
---
12.  April 10, 2014
U.S. Attorney's Office: Former chief of staff for Illinois Department of Health pleads guilty to bribery and taking kickbacks, obstruction of justice
A former Chief of Staff for the Illinois Department of Public Health, Quinshaunta R. Golden, pled guilty today to bribery and taking kickbacks related to $13 million in grant and contract funds awarded at Golden's direction and to obstructing justice in a federal grand jury investigation. Golden appeared before U.S. District Judge Sue E. Myerscough in Springfield. Sentencing for Golden has been scheduled for Aug. 18, 2014.
Golden, 45, of Homewood, Ill., served as Chief of Staff at the Ill. Department of Public Health from 2003 to early 2008. In that capacity, Golden had significant control over the agency's offices and had certain approval authority and control over the awarding of grants and contracts. In 2008, Golden left the Department of Public Health and took a position at the University of Chicago Medical Center.
During today's hearing and according to court documents, Golden admitted that from August 2006 to at least October 2008, she used her position to cause the agency to issue approximately $11 million in grant funds, for programs relating to breast, cervical and prostate cancer, HIV/AIDS, and emergency preparedness, to three not-for-profit organizations:  Broadcast Ministers Alliance, Access Wellness and Racial Equity, and the Medical Health Association. These organizations were then controlled by Leon Dingle, Jr., and his for-profit corporation known as Advance Health, Social and Educational Associates, Inc.
---
11.  April 9, 2014
U.S. Attorney's Office: Former Markham Deputy Police Chief sentenced to five years in prison for lying to FBI about raping woman in police custody
The former deputy police chief in south suburban Markham was sentenced today to the maximum of five years in federal prison after a judge ruled that he sexually assaulted a woman in police custody in 2010. The defendant, Tony D. Debois, pleaded guilty last September to lying to FBI agents in 2012 about having had sex in his office, but he contended at a lengthy sentencing hearing last month that the woman he had sex with was not the victim, and the sex was consensual.
"It is a case about lying about a rape that occurred under the most egregious circumstances that law enforcement could imagine," Assistant U.S. Attorney April Perry argued today before the sentence was imposed by U.S. District Judge Joan Lefkow.
"The seriousness should not be underestimated," Judge Lefkow said, adding that she found Debois' conduct "revolting."
10.  April 9, 2014
U.S. Attorney's Office: Chicago Transportation Department clerk arrested for allegedly embezzling over $741,000 from city permit fees
A clerk for the City of Chicago's Department of Transportation (CDOT) was arrested today for allegedly embezzling more than $741,000 from fees that were paid for certain city permits. The defendant, Antionette Chenier, a city clerk since 1990, allegedly diverted the funds from checks that were written by companies that applied for and received city permits to block public ways with dumpsters or moving vans.
According to the complaint affidavit, bank records show that Chenier opened a personal bank account in August 2008 and a business account at the same bank in March 2009 under the name "OEMC Chenier," and she was the sole signatory on both accounts. Between August 2008 and January 2014, she allegedly deposited several hundred checks, totaling $741,299, payable to OEMC and other city departments into her personal and business accounts.
---
9.  April 7, 2014
Chicago Magazine: Chicago police accused of cooking lower crime stats
This dramatic crime reduction has been happening even as the department has been bleeding officers. (A recent Tribune analysis listed 7,078 beat cops on the streets, 10 percent fewer than in 2011.) Given these facts, the crime reduction "makes no sense," says one veteran sergeant. "And it makes absolutely no sense that people believe it. Yet people believe it."
The city's inspector general, Joseph Ferguson, may not. Chicago has learned that his office has questioned the accuracy of the police department's crime statistics. A spokeswoman confirmed that the office recently finalized an audit of the police department's 2012 crime data—though only for assault-related crimes so far—"to determine if CPD accurately classified [these categories of] crimes under its written guidelines and if it reported related crime statistics correctly." (The audit found, among other things, that the department undercounted aggravated assaults and batteries by more than 24 percent, based on the sample cases reviewed.)
---
8.  April 4, 2014
Chicago Tribune: New teacher licensing system full of glitches, hitches
Just hours after the state launched a new, multimillion-dollar teacher licensing system last year, an educator logging in was shocked to find a serious security breach.
The security problems, which surfaced last July, spurred the state board to shut down the licensing system after just 26 hours online and notify the General Assembly of a breach. The agency initially characterized the breach as "extremely limited in scope," affecting fewer than a dozen educators, who were contacted. The agency did not notify all educators because the system was shut down, Fergus said.
In late January, the Illinois State Board of Education abruptly canceled its $3.6 million contract with the company hired to build the system. That sparked a dispute over unpaid bills that remains unresolved.
---
7.  April 3, 2014
U.S. Attorney's Office: Alton doctor sentenced on charges of Medicaid fraud
Viwathna Bhuthimethee, 69, a medical doctor who operated the Walk In Clinic, located on East Broadway Street in Alton, Illinois, was sentenced, today, in district court to twelve months and a day in federal prison on his guilty plea to the fifteen felony counts of an indictment which charged health care fraud against the Illinois Medicaid program and illegal distribution of Schedule III controlled substances (Hydrocodone) and Schedule IV controlled substances (Xanax) by prescribing outside the usual course of professional conduct and without legitimate medical purpose, Stephen R. Wigginton, the United States Attorney for the Southern District of Illinois announced. The Court also imposed a $5,000 fine, a $1,500 special assessment, restitution to Medicaid of $397.48, and two years of supervision following release from prison.
"Our evidence showed, for most patients, that Bhuthimethee did not operate a legitimate medical practice, but instead was engaged in a scheme to distribute controlled substances illegally, thereby defrauding Health Care Benefit Programs, namely, Illinois Medicaid, by running what was in essence a prescription service for drug addicts, commonly known as a 'Pill Mill'." said United States Attorney Wigginton. "As I have long noted – whether you are a doctor, a lawyer, a pharmacist, or an accountant, you cannot hide behind a license and a diploma. If you commit federal crimes, you will be prosecuted!" The illegal distribution charges involved four specific patients to whom Bhuthimethee continued to prescribe controlled substances in spite of the patients' out of control behavior, overdoses and failed drug screens.
6.  April 3, 2014
Chicago Tribune: Unemployment benefits manager who had employees do his homework
A state unemployment benefits manager who coaxed his subordinates and supervisor to do his college homework on taxpayer time has been fined $2,500 and no longer holds the job, officials said Thursday.
Clyde Redfield, 63, a former manager who made $71,000 a year at the Illinois Department of Employment Security, directed at least five of his employees to complete his school assignments as he worked toward a management degree from Benedictine University in Lisle, according to a report by Executive Inspector General Ricardo Meza.
5.  April 3, 2014
BGA: Beyond Burge: The city of Chicago has spent more than a half a billion dollars for police misconduct-related crimes over the past decade
Over the past decade, the City of Chicago has spent more than $500 million on police-related settlements, judgments, legal fees and other costs – a staggering sum that raises new questions about the adequacy of training and oversight in the Chicago Police Department, according to a months-long review by the Better Government Association.
In 2013 alone, the city shelled out $84.6 million – the largest annual payout in the decade analyzed by the BGA, and more than triple the $27.3 million the city had initially projected to spend last year.
4.  April 3, 2014
BGA: Not just a Chicago thing: Police misconduct allegations span suburban departments
The City of Chicago isn't the only municipality in Cook County with mounting expenses related to police misconduct.
The suburbs are seeing their fair share – with more than $40 million expended on misconduct lawsuits over five or so years alone, the Better Government Association found in a months-long survey of every community in Cook County.
In all, the BGA found those suburbs were sued 629 times and paid $29.4 million in damages, and $13.4 million for defense attorneys and other costs – for total payments of $42.8 million from 2008 through mid-2013.
---
3.  April 2, 2014
U.S. Attorney's Office: Former deputy chief of staff to former Mayor Daley pleads guilty to federal theft charges
A leader of two Chinatown charitable organizations, Gene Lee, pleaded guilty today to federal charges of theft and filing a false federal income tax return for misappropriating as much as $92,800 from one of the charities, which received federal funds as well as donations, and failing to report and pay taxes on the stolen funds.
Lee, 65, of Chicago, served as chairman of the Chicago Chinatown Summer Fair, which was sponsored and overseen by the Chinese Consolidated Benevolent Association, a charity that received federal funds. He was also president of the Chicago Dragons Athletic Association, which sponsored youth and adult basketball teams, traditional dancing and music, and in 2009 began overseeing the Summer Fair, a single-day event held in July in Chinatown. Between 2007 and 2010, Lee was responsible for soliciting and obtaining donations to the Summer Fair and the Chicago Dragons.
Lee, also a former deputy chief of staff to former Chicago Mayor Richard M. Daley during that time, pleaded guilty to one count each of theft of federal funds and filing a false federal income tax return. He remains free on his own recognizance pending sentencing on Aug. 28 by U.S. District Judge John W. Darrah. Lee faces a maximum sentence of 10 years in prison on the theft count and three years in prison on the tax count, and a maximum fine of $250,000 on each count. His plea agreement provides for an advisory sentencing guidelines range of 18 to 24 months in prison, according to the government's calculation.
---
2.  April 1, 2014
U.S. Attorney's Office: Former Washington Park Trustee and St. Clair County Probation Office sentenced on health care fraud charges
Stephen R. Wigginton, United States Attorney for the Southern District of Illinois, announced today that on April 1, 2014, Darron A. Suggs, 39, of Washington Park, Illinois, was sentenced on the one-count indictment charging that he engaged in a scheme to commit health care fraud in the United States District Court in East St. Louis, Illinois. The district court sentenced Suggs to serve five (5) years of probation. The district court also ordered Suggs to pay $64,867.00 in restitution to the Illinois Department of Human Services and pay a special assessment of $100.00.
Suggs admitted that he had submitted false and fraudulent bills in relation to his alleged performance of personal assistant services in the Home Services Program, a Medicaid Waiver Program designed to allow individuals to stay in their homes instead of entering a nursing home. Suggs admitted to falsely billing the program between June 30, 2006 and April 16, 2013, when he purportedly rendered personal assistant services to two individuals when he, in fact, did not. As a result, Suggs stole $64,867.00 in payments for services not performed.
1.  April 1, 2014
BGA: Swing sets and secrecy: The Chicago Park District approved a generous severence agreement for a top official, but won't discuss specifics
The Chicago Park District often cries poor, unable to find money to fix up recreation sites.
But the agency was able to scrape together nearly $65,000 for a generous severance package for the since-departed general counsel, Maria Guadalupe Garcia – an arrangement both sides wanted kept secret from taxpayers footing the bill, the Better Government Association has learned.
Chicago Parks Supt. Mike Kelly and the park board signed off on Garcia's exit package in June 2013, around the time Garcia left the agency after nearly 15 years of employment, according to records and interviews.