Illinois lost 150,000 university students from 2000-2014
Misplaced priorities in education funding have driven students out of the state and skyrocketed tuition costs.
The U.S. Census Bureau recently revealed that Illinois, in its third consecutive year of population decline, is losing more people than any other state in the Midwest.
The state has also been unpopular with students since at least the start of the 21st century. According to data from the National Center for Education Statistics, Illinois likely lost more than 150,000 students, on net, to other states from 2000 to 2014. The data, which look at the migration of freshmen or first-time degree seeking students at all institutions each even-numbered year, show that Illinois lost an average of more than 10,000 students per year. Only New Jersey, which significantly lacks enough universities to accommodate all of its students, lost more than Illinois.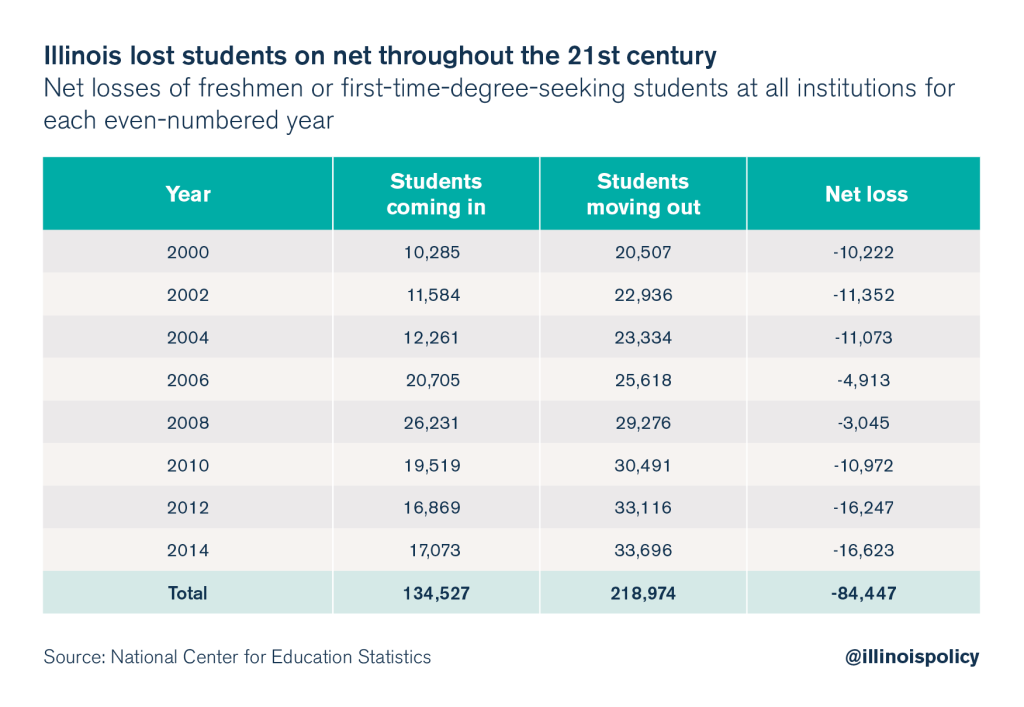 In addition, the New York Times reported that in 2014, 16,000 students left Illinois to attend public university in another state, while only 2,000 came to Illinois from out of state to attend public university. That means that for each public university student Illinois gained, it lost eight.
Illinois' public universities have drastically redirected state funding away from students in recent years, choosing instead to spend the bulk of tax dollars on administrators and pensions. Thus, prioritization of state funding, rather than a lack thereof, is largely responsible for diminished investment in higher-education operating costs over the years. The state now spends more than 50 percent of its public universities' budget for on higher-education retirement costs, up from 20 percent a decade ago.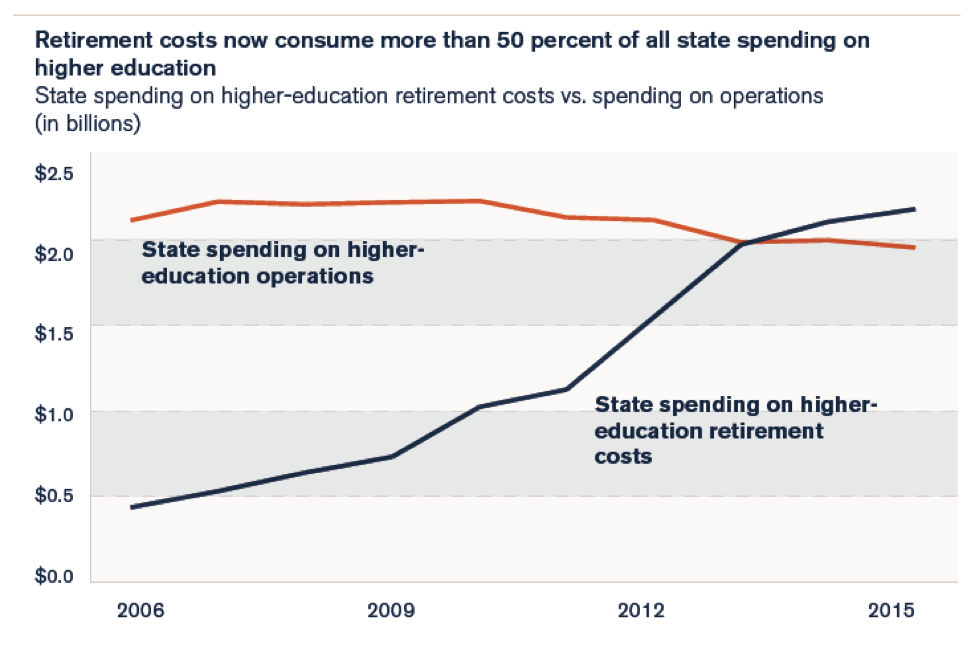 This same spending conundrum faces all educational funding in Illinois. Investments in students and institutions come second to retirement payouts. State spending on higher-education operations is decreasing while funds are being radically shifted toward higher-education retirement costs. If retirement payments weren't so out of control – in 2014, the highest-paid pension recipient received more than half a million dollars in annual retirement compensation – universities could perhaps afford to put more money into the classrooms.
Meanwhile, Illinois' tuition rates have skyrocketed almost 100 percent over the past decade. University of Illinois' in-state tuition is now almost $6,000 higher than both University of Indiana's and University of Wisconsin's, and $8,000 higher than University of Iowa's. And reciprocity agreements allow Midwestern students to attend certain universities in participating states at in-state tuition rates. It's no wonder students are leaving Illinois.
Students are no doubt contributing to Illinois' out-migration woes, but this is not a new phenomenon the budget impasse created. Insufficient state funding is not an adequate explanation for Illinois' student out-migration. The redistribution of higher-education funds over the past decade is also a major factor.
In order to bring students back to the Land of Lincoln, public universities need to make serious spending reforms, and Springfield must end the uncertainty by agreeing to a balanced budget.