Illinois' metro jobs report: Slow growth continues
Illinois' August metro jobs report came amid long-term trends of sluggish jobs growth.
You don't need to tell Illinoisans their state's economy is weak. They know the struggle all too well. And August's metro jobs data from the Illinois Department of Employment Security, or IDES, largely align with that struggle.
Over the year, most metro areas in Illinois saw a small but positive growth in employment. Two metro areas however, saw fewer jobs compared with last August. The Danville area lost 500 jobs while the Elgin area lost 900 jobs over the year. Every metro area also saw a decrease in its unemployment rate.
"More areas showed job gains in August, but the pace of growth is not where we would like it to be," IDES Director Jeff Mays said in a press release. "While it is encouraging that unemployment rates declined from last year, most areas in Illinois are still higher than the national average."
The largest gains came in the Chicago-Naperville-Arlington Heights Metro Division, which saw 18,700 new jobs over the year.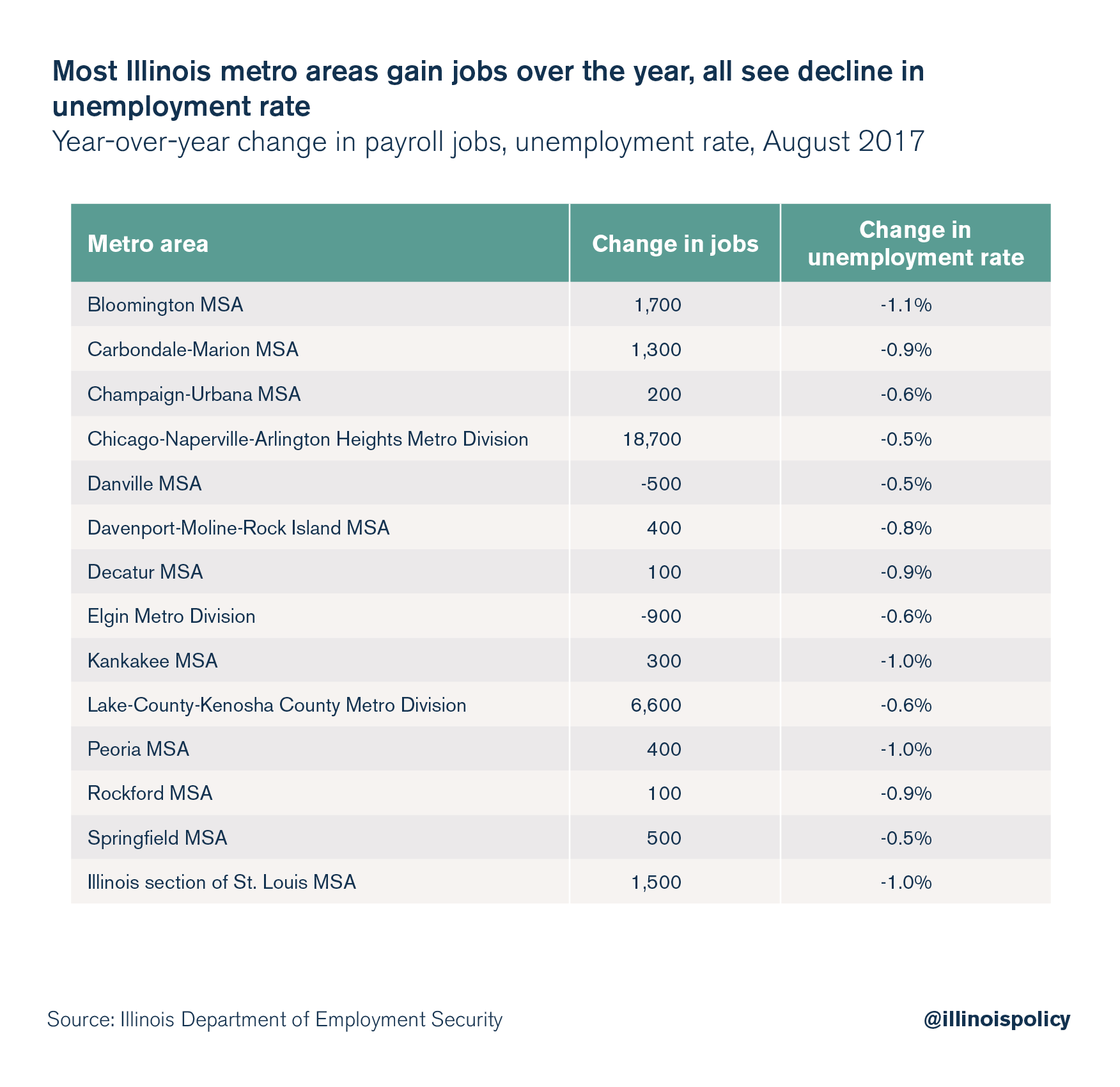 While a declining unemployment rate can be cause for celebration, it is not always the result of more Illinoisans finding employment. Indeed, many of Illinois' cities have experienced population decline, which could cause the unemployment rate to decrease due to labor force dropout.
Unfortunately, the state does not appear to be diverging from the path of weak growth to which it's become accustomed. Since January 2000, average monthly jobs growth in Illinois has been 0.02 percent. But so far in 2017, monthly jobs growth clocks in at just 0.008 percent.
Unfortunately, rather than embrace pro-growth policy solutions, Springfield lawmakers have raised costs for businesses and families without any substantial reform.
Causes for weak jobs growth
There are three possible explanations for sluggish employment growth. Either there are fewer new businesses, existing establishments are opening fewer new vacancies, or a large number of new vacancies stay idle because businesses can't find workers with the right skills to fill those vacancies.
What remains certain: Slow employment growth will eventually cause the unemployment rate to increase or discouraged job seekers will continue to leave the labor force and the state.
Neither outcome is good for Illinois.