Illinois' mountain of debt will be Madigan's fiscal legacy
Decades of institutionalized financial mismanagement left Illinois with the nation's worst fiscal health. Illinois House Speaker Mike Madigan has been at the center of nearly every bad decision along the way.
Illinois House Speaker Michael Madigan's decades at the height of political power may be coming to an end. A post-Madigan Illinois presents an opportunity to undo decades of corruption and financial mismanagement that stem from his rule.
No other person in Illinois, or any other state, has had as much influence over both elections and official legislative power as Madigan during the past several decades. That power binds him to the responsibility for unprecedented levels of state debt, primarily by helping secure for politicians and public union workers generous retirement benefits that have proved unaffordable for the private sector workers and businesses who fund Illinois government. In return, union leaders are one of Madigan's chief special-interest allies and political funders.
The results for Illinoisans have been disastrous.
Today, Illinois holds the nation's lowest credit rating from all three major ratings agencies –  just one notch above non-investment grade junk status and the lowest of any state in U.S. history. It ranks as at least the sixth-highest taxed state, the second-most indebted and the second-most corrupt.
These three problems – high taxes and debt combined with low levels of public trust resulting from corruption – have in turn resulted in consistently poor economic performance and an exodus of Illinois residents not seen since World War II.
Madigan's fingerprints can be seen on virtually every major piece of legislation that laid the foundation for Illinois' credit rating fall. Credit ratings represent an expert assessment of a state's overall fiscal health and ability to repay debt, and the lower the rating the higher the cost of borrowing to taxpayers.
Before Madigan became speaker in 1983, Illinois held the highest possible credit rating from both S&P Global Ratings and Moody's Investors Service. Illinois' poor credit now stands a notch above "junk" status, reflecting its immense debt, second only to New Jersey's – relative to the size of each state's economy. Retirement benefits for public workers account for more than 77% of the state's total debt burden. Looking at pension debt alone, Illinois' pension crisis is the worst in the nation measured by the state's debt-to-revenue ratio.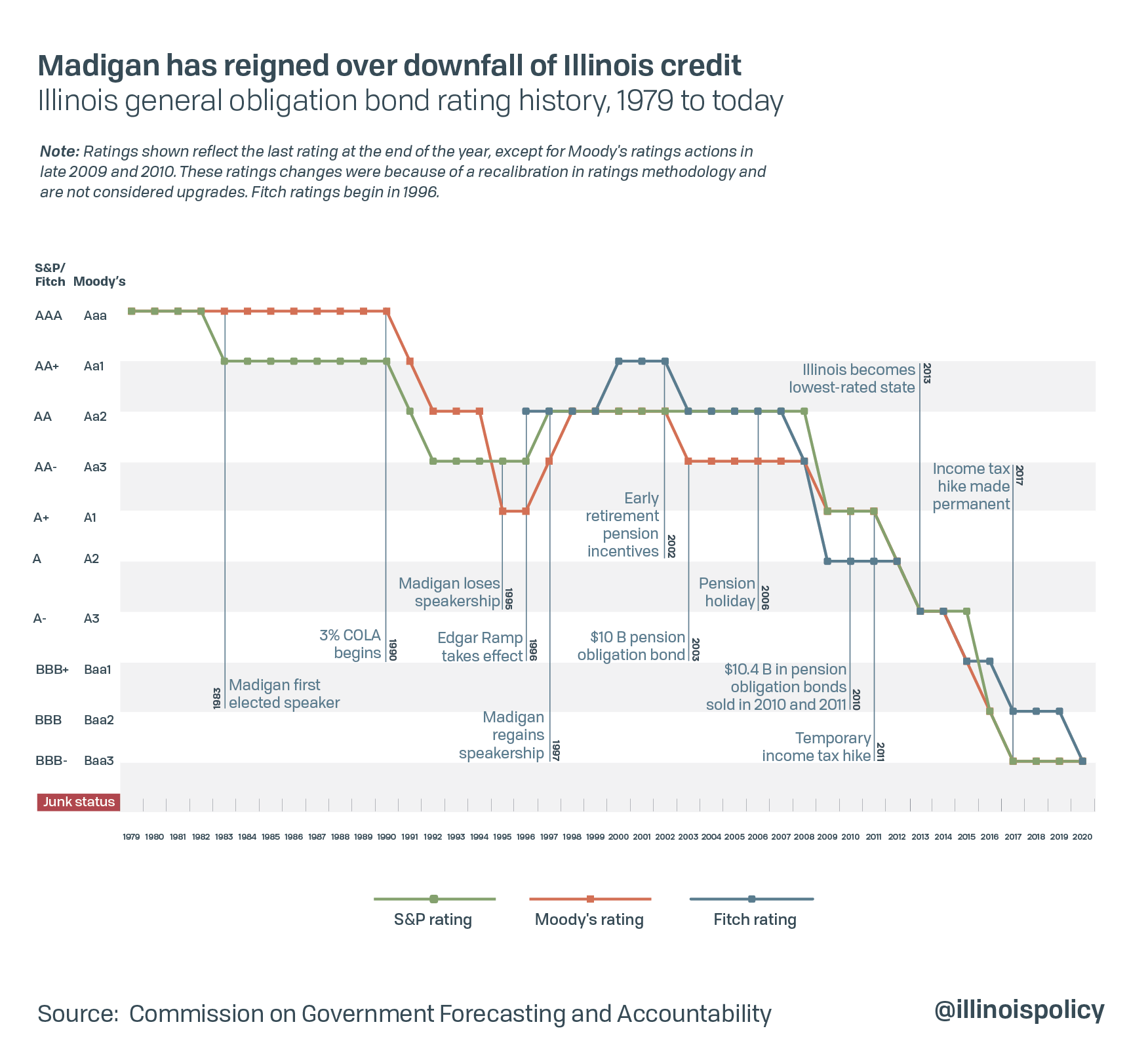 Madigan owns that debt more than any other politician. While various governors and other elected officials have played key roles, Madigan has been the sponsor of major contributing legislation or the gatekeeper allowing bad bills to pass at every step along the way.
Combined pension debt of the five state retirement systems has grown from $5.94 billion in 1982 to nearly $140 billion at the end of fiscal year 2019. That's a 753% increase after adjusting for inflation.
Pension contributions accounted for less than 4% of Illinois' general funds budget from 1990 through 1997, but have grown to consume more than 25% of the budget in recent years. Since the year 2000, pension costs have increased by more than 500% after adjusting for inflation while spending on all other services, including services for the poor and disadvantaged, have fallen by nearly one-third.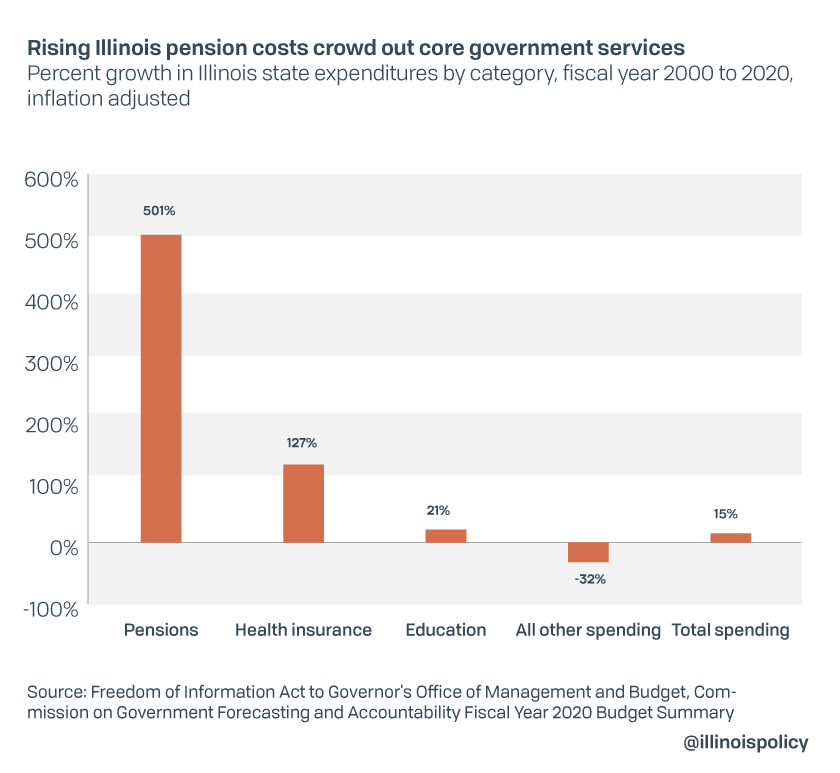 Madigan created a Springfield culture of supporting unaffordable benefit enhancements without reliable cost estimates and then financing those benefits with debt rather than responsible funding plans. The resulting pension crisis is the chief cause of Illinois' high taxes, poor credit and inability to fund core government services.
The recent federal probe into Commonwealth Edison's bribery scheme, in which it admitted to offering $1.3 million in patronage jobs and various other payments to the speaker's allies in return for his backing of favorable legislation, reminds Illinoisans they also pay a price for Madigan's culture of corruption. According to research from the Illinois Policy Institute, corruption costs Illinois' economy an estimated $556 million per year, for a total of nearly $10.6 billion from 2000 to 2018.
Just ending Madigan's reign will not solve these problems. Illinois must also implement targeted reforms to unravel the web of systemic mismanagement and corruption he's created, including:
Reform the House Rules to spread power more evenly through its membership
Implement budget process reform, such as a spending cap and strengthening the balanced budget requirement, to encourage fiscal responsibility
Amend the Illinois Constitution and implement true pension reform, fixing once and for all Illinois' most daunting public policy challenge and erasing the most glaring example of Madigan's legacy of failure
With these policy changes, Illinoisans can begin to responsibly eliminate Madigan's mountain of debt and begin to build a more prosperous future.