Illinois only state among neighboring and Great Lake states to lose jobs in 2015
Illinois lost 3,000 jobs on net in 2015, while other neighboring and Great Lakes manufacturing states all gained tens of thousands of jobs on net for the year.
Illinois was the only state of all bordering and Great Lakes states to lose jobs in 2015, according to new data released Jan. 26 from the Bureau of Labor Statistics. Illinois' net loss of 3,000 jobs in 2015 compares with tens of thousands of net jobs gained on the year in every surrounding state.
Illinois ended 2015 with a net loss of 16,300 payroll jobs in December, putting the Land of Lincoln in the red for overall jobs in 2015, according to December jobs data from the Illinois Department of Employment Security.
Neighboring Kentucky had the best jobs growth rate of surrounding states with 2.1 percent growth in 2015, while Michigan and Indiana led all states in the Midwest region with 1.9 percent jobs growth on the year.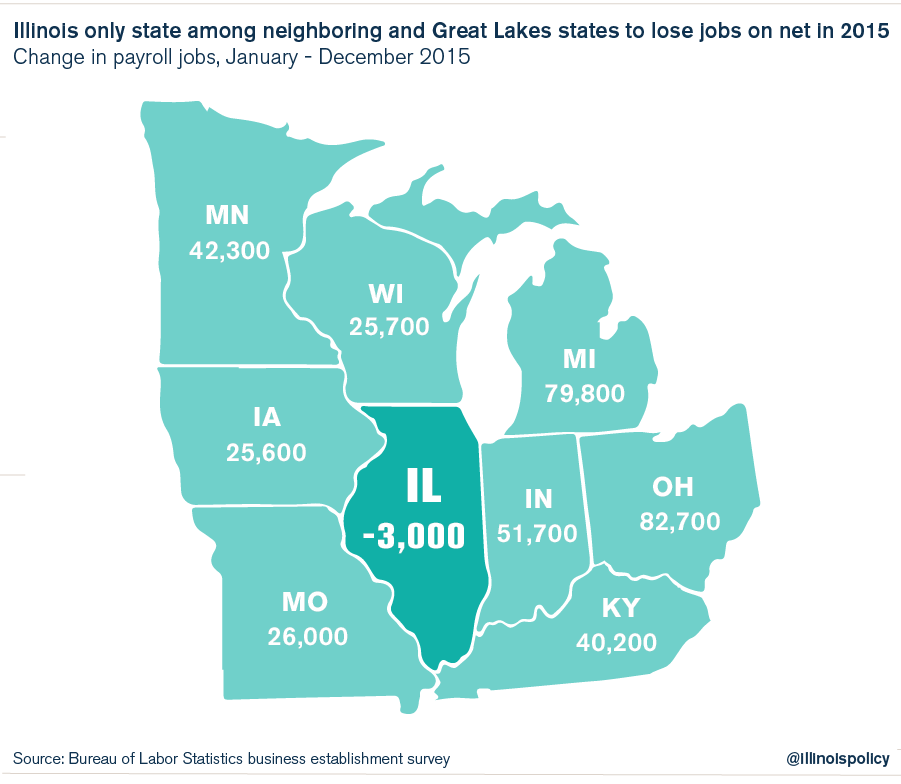 Illinois saw a small net gain of 500 manufacturing jobs in December, but ended up losing a total of 14,000 net factory jobs on the year. Illinois lost manufacturing jobs in 10 of the 12 months of 2015.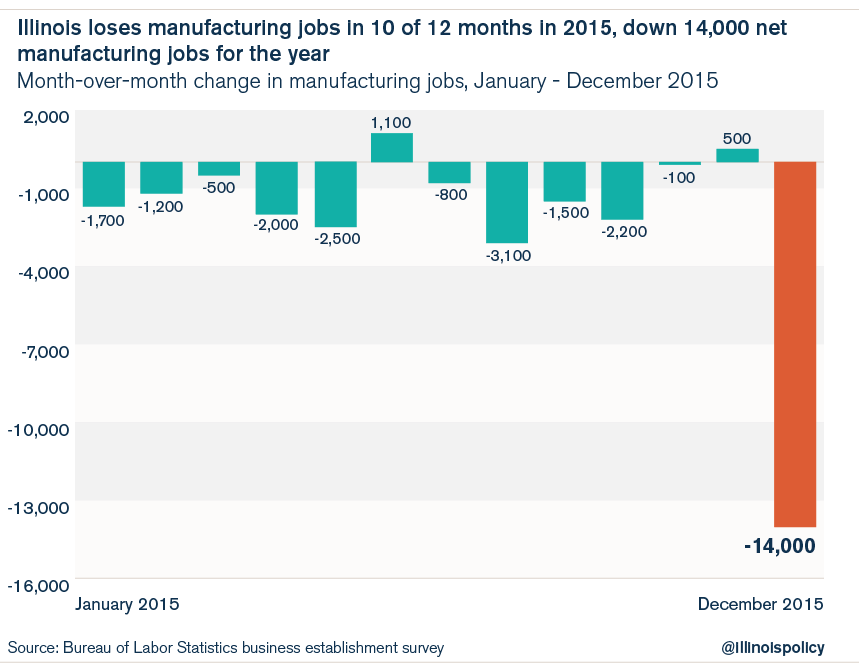 Once again, manufacturing job losses plagued only Illinois of the Great Lakes manufacturing states in 2015. Every other Great Lakes manufacturing state gained factory jobs on net in 2015; Michigan experienced an especially banner year.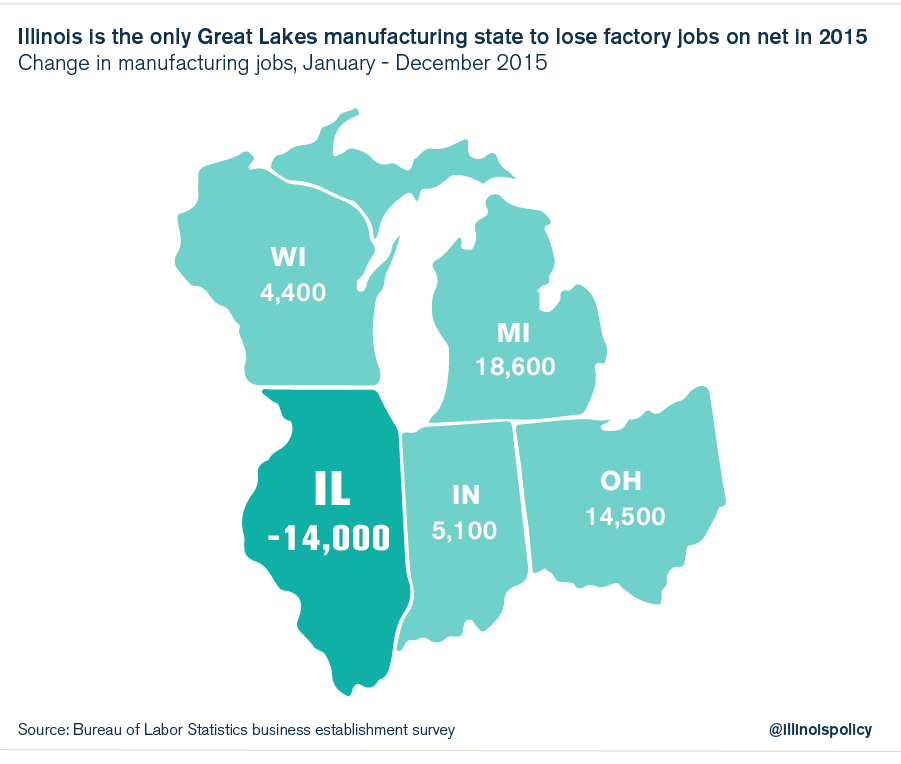 Illinois' manufacturing weakness, compared with Michigan's and Indiana's strength, is not just a 2015 story. Since the bottom of the Great Recession, Illinois has regained only 13,200 manufacturing jobs on net. Right-to-Work states Michigan (+162,900 jobs) and Indiana (+94,300 jobs), however, have led the Great Lakes manufacturing recovery.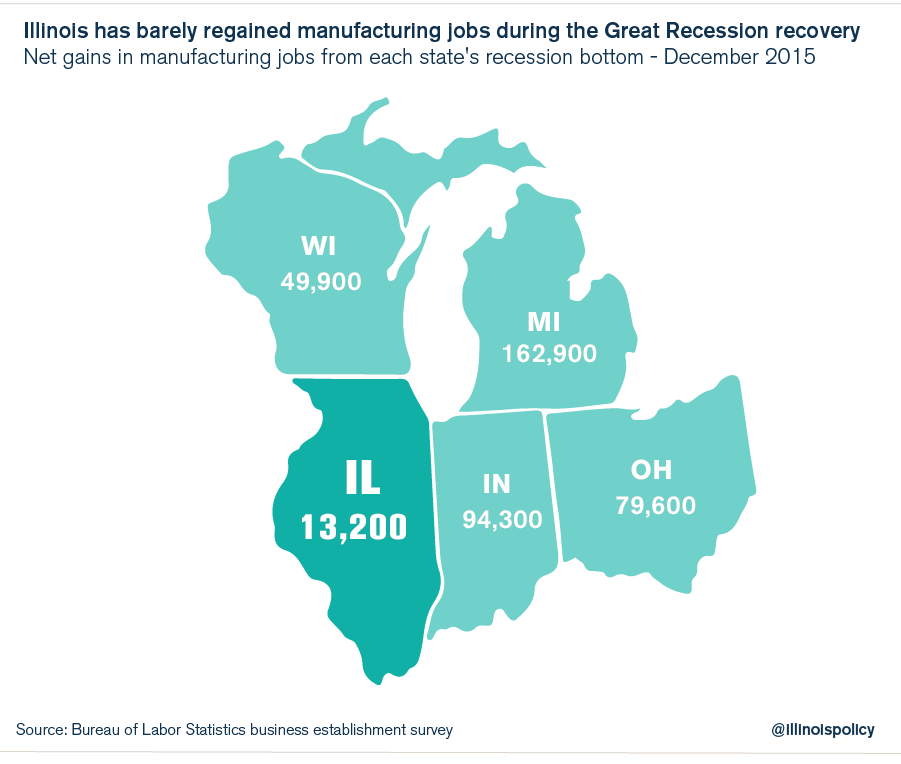 Illinois' economic performance lags behind those of the other states in the Midwest, especially in industrial sectors such as manufacturing and trades, transportation and utilities. Illinois lost jobs on net in both sectors in 2015.
As the sick man of the industrial Midwest, Illinois' troubles could indicate more widespread economic distress ahead. Just as the stock market begins to fall and the manufacturing sector contracts for months before a full-blown recession, so too can weak states begin to sputter earlier than stronger states. Significant economic weakness appeared in Michigan in 2005, years before the U.S. entered the Great Recession. Fragile economies such as Illinois' will likely shed jobs first when the broader economy starts to falter.
Illinois' overall economic sluggishness combined with its industrial sector's lack of vigor, weak national manufacturing indicators and a tumbling stock market could mean a general recession on the horizon.
Regardless of whether tough times are ahead for the U.S. economy, Illinois needs to get its fiscal house in order today. Illinois' jobs performance in 2015 reveals a state starved for tax relief and economic reform.
Policy reforms should target Illinois' manufacturing and industrial sectors, where businesses and residents have experienced the most economic pain and job losses. Those reforms should include:
In addition, more home-rule municipalities should follow the lead of the Village of Lincolnshire to enact local Right-to-Work ordinances. It's critical to lock in policy gains as soon as possible to enable the Land of Lincoln to better weather the next economic storm.