Moody's downgrades 7 Illinois universities, 5 are junk
Illinois universities have hiked tuition and relied on state subsidies to pay for exorbitant administrative salaries — and now credit rating agencies are punishing them for that destructive behavior.
Illinois public university's finances are suffering due to the state's current budget impasse. The impasse has exposed the poor financial decisions made by administrators at many higher education institutions.
The nation's credit rating agencies are taking note.
Moody's Investors Service announced sweeping credit downgrades for seven Illinois universities on June 9. Five of those seven – Southern Illinois University, Northern Illinois University, Governors State University, Northeastern Illinois University and Eastern Illinois University – now have junk credit ratings.
Moody's downgrades come less than a month after S&P's own mass downgrade of six universities in April.
Everybody wants to blame the downgrades on the state's current budget impasse. The stalemate of nearly two years has led to cuts in state appropriations to Illinois universities. But the universities' financial difficulties started before the state's budget gridlock and are largely of their own making. Illinois colleges and universities have long overspent on bloated bureaucracies and expensive compensation and benefits, prioritizing administrators over students.
For years, university and college officials across the state have hiked tuition to pay for administrative hiring sprees, generous executive compensation and out-of-control pensions. Their spending priorities distorted university finances long before the budget impasse began.
A combination of those actions has pushed tuition beyond the reach of Illinois' students and to levels much higher than in neighboring states.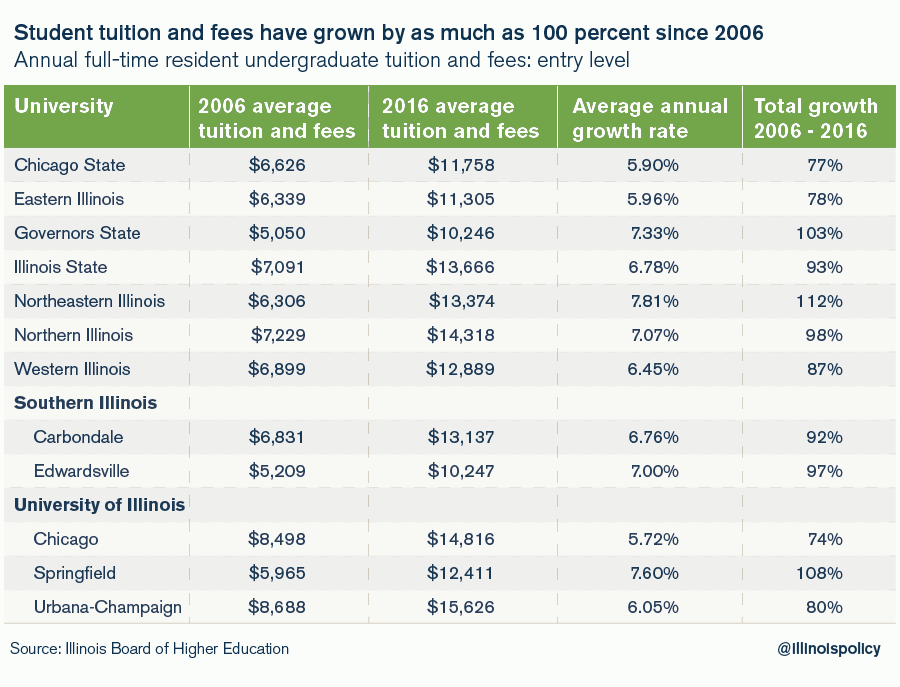 If this trend continues, students with means will continue to leave Illinois for neighboring states' colleges and universities, while lower-income students will increasingly be shut out of higher education. Illinois has already lost a net 150,000 students to other states since 2000.
Illinois universities don't need more money from the state.
In fact, it's quite the opposite. Colleges and universities should get less money from the state.
Cuts in state subsidies would force higher education institutions to roll back the costly administrative bloat and executive salaries they pass on to students. Only then can tuitions come down to levels Illinois students can afford.
More and more administrators
Over the past several decades, Illinois' public colleges and universities have gone on an administrative hiring spree. They've grown the size of the higher education bureaucracy in Illinois while hiking tuition and spending state money to offset the cost.
According to the Illinois State Senate Democratic Caucus' report, the rate at which colleges and universities across the nation are hiring administrators far outpaces the hiring of professors: "The disproportionate increase in the number of employees hired by colleges and universities to manage or administer people, programs and regulations has continued unabated in recent years, increasing 50 percent faster than the number of instructors between 2001 and 2011."
Illinois has followed that pattern. The number of administrators in Illinois' universities grew by nearly a third (31.1 percent) between 2004 and 2010. At the same time, faculty only increased 1.8 percent, and the number of students only grew 2.3 percent.
At community colleges in Illinois, the number of administrators grew 13.5 percent while the number of faculty and students grew 6.8 percent and 3.9 percent, respectively.
Growing administrative costs
Not only have colleges and universities massively expanded their number of administrators, but they have also been paying those administrators exorbitant salaries. According to the Illinois Board of Higher Education, over half of Illinois' 2,465 university administrators received a base salary of $100,000 or more in 2015.
Ninety-five percent of the University of Illinois system's top 126 administrators made $100,000 or more as a base salary.
Many top administrators also receive other perks such as housing allowances, cars, club memberships and generous bonuses that can cost universities hundreds of thousands of additional dollars per administrator.
The top-compensated administrator in 2014, University of Illinois Chancellor Paula Allen-Meares, received much of her total compensation in the form of a bonus. Allen-Meares received a base salary of $437,244 and a bonus retention incentive of $450,000, bringing her annual compensation to $887,244.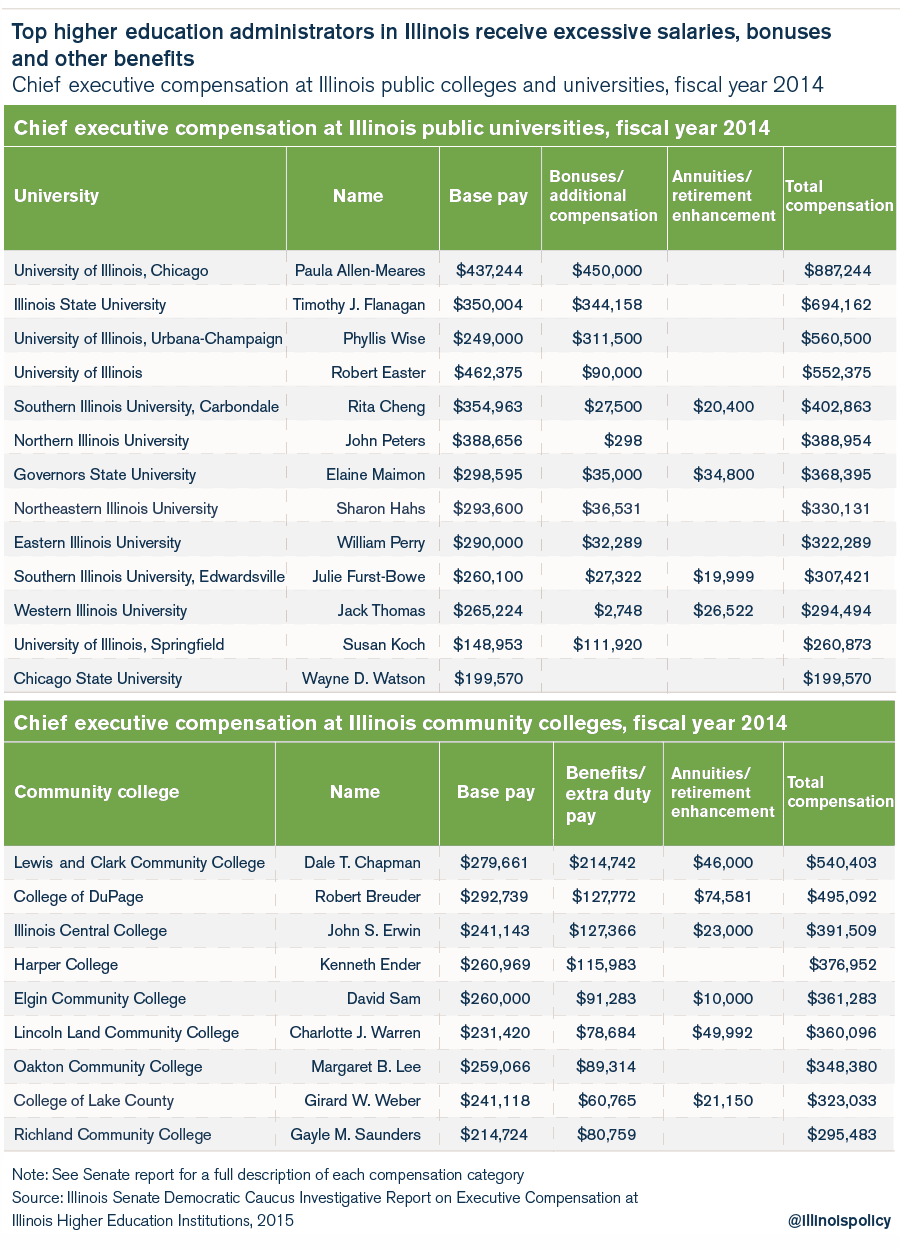 Growing pension costs
The enormous salaries university administrators and other employees receive not only increase expenses for colleges and universities, but directly contribute to the growing costs of university pension benefits for which state taxpayers are responsible.
A decade ago, retirement costs made up
 only 20 percent of the state's total higher education spending. Today, that figure has ballooned to 53 percent. As spending on retirement rose from 2006 to 2015, state spending on higher education operations fell by over $150 million. Higher education costs are out of control in many states, but Illinois adds an untenable pension crisis to the mix of too many administrators and too much budget bloat.
Because university retirees' annual pension benefits are determined in part by their annual average salaries, large salary increases coupled with generous pension rules have boosted the retirement benefits of university employees far beyond what state taxpayers can afford.
Of the over 52,000 current State Universities Retirement System retirees:
50 percent retired in their 50s, many with full pension benefits.
Almost half will see their annual pension benefits double over the course of their retirement, based on life expectancies.
The average pension for a recently retired career university worker is approximately $72,000.
Many top administrators will retire with six-figure annual pension benefits worth millions of dollars over the course of their retirement.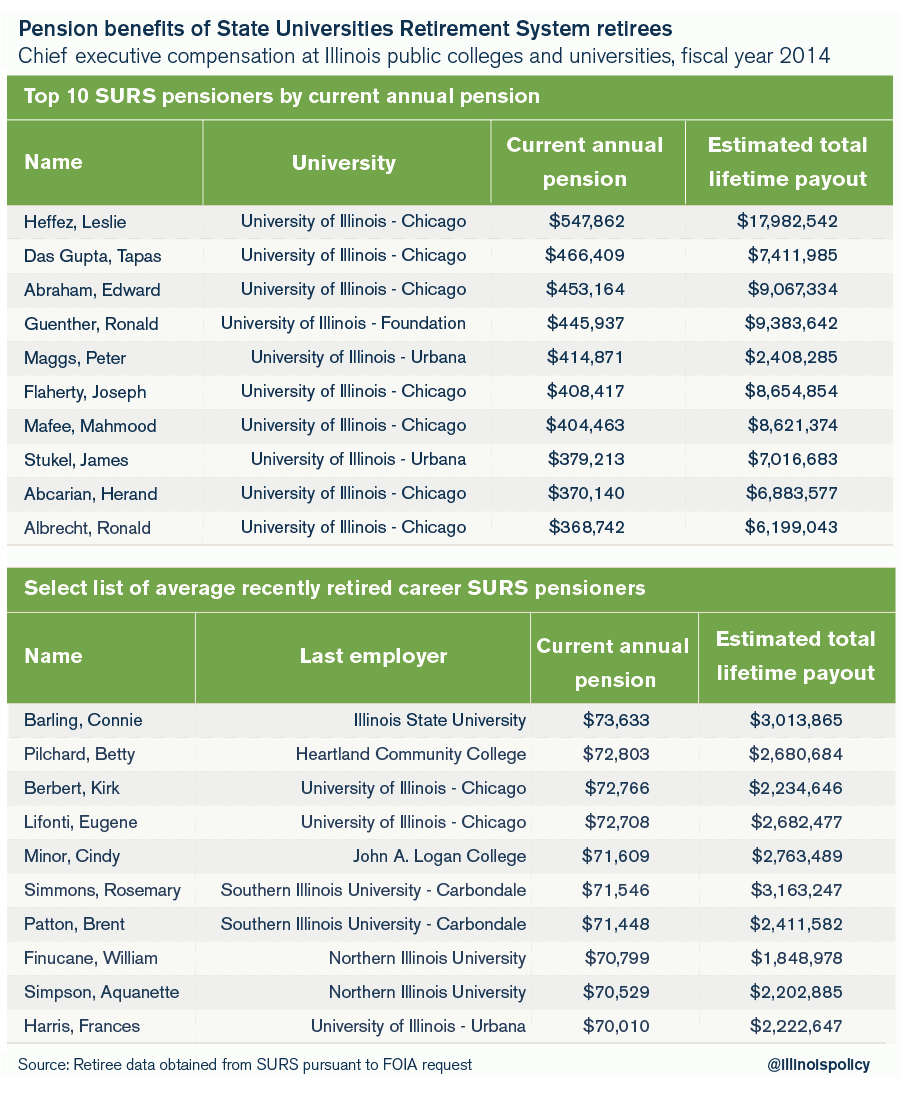 Pension costs consume state funding
While administrative costs have skyrocketed, university officials have complained for years about the state's lack of commitment to higher education, perpetuating a myth that the state's appropriations have been in steady decline.
But total state funding to higher education has increased by more than 60 percent over the last decade, growing to over $4.1 billion in 2015 from $2.5 billion in 2006. Unfortunately, a majority of that money has gone toward administrative salaries and retirement costs, not classroom instruction.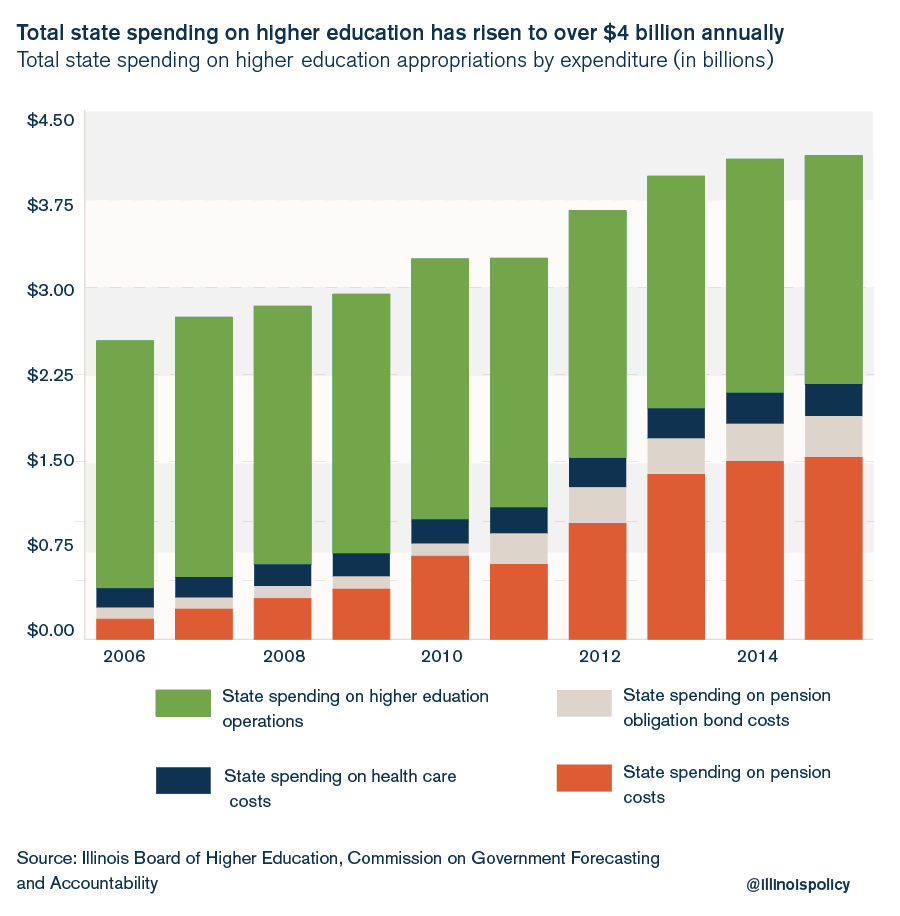 Tuition pays for too much administration
University officials have effectively barred the door for many of Illinois' college-bound students through alarming tuition increases to pay for growing executive salaries and benefits.
Faced with massive tuition hikes, students with the financial means choose to go to less expensive schools out of state while low-income families are stuck – unable to afford any college at all.
Overall enrollment for Chicago State University is down 25 percent from just last year. The 86 freshmen who registered in fall 2016 include both full-time and part-time students – smaller than the kindergarten classes at many Chicago public schools.
According to the Illinois Board of Higher Education, tuition has increased dramatically at Illinois' public universities for more than a decade. Combined student tuition and fees grew anywhere from 74 to 112 percent between 2006 and 2016, depending on the university.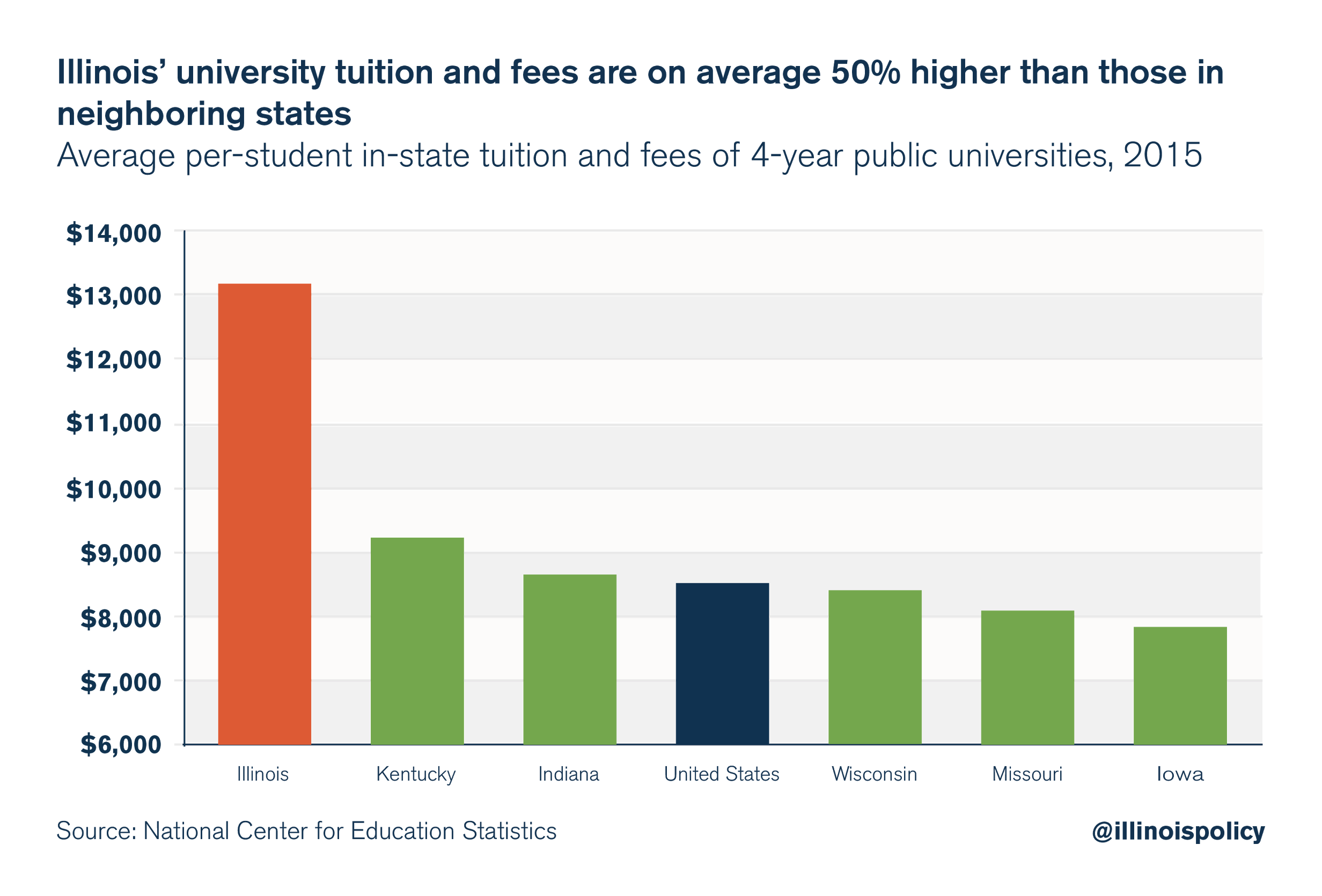 At the University of Illinois at Urbana-Champaign, the public university with the highest tuition and fee costs in the state, average tuition now costs $15,626 annually, up 80 percent since 2006.
And Illinois' average in-state tuition and fees for four-year public universities is over $13,000.
That's 42 percent to 67 percent higher than the tuition in neighboring states.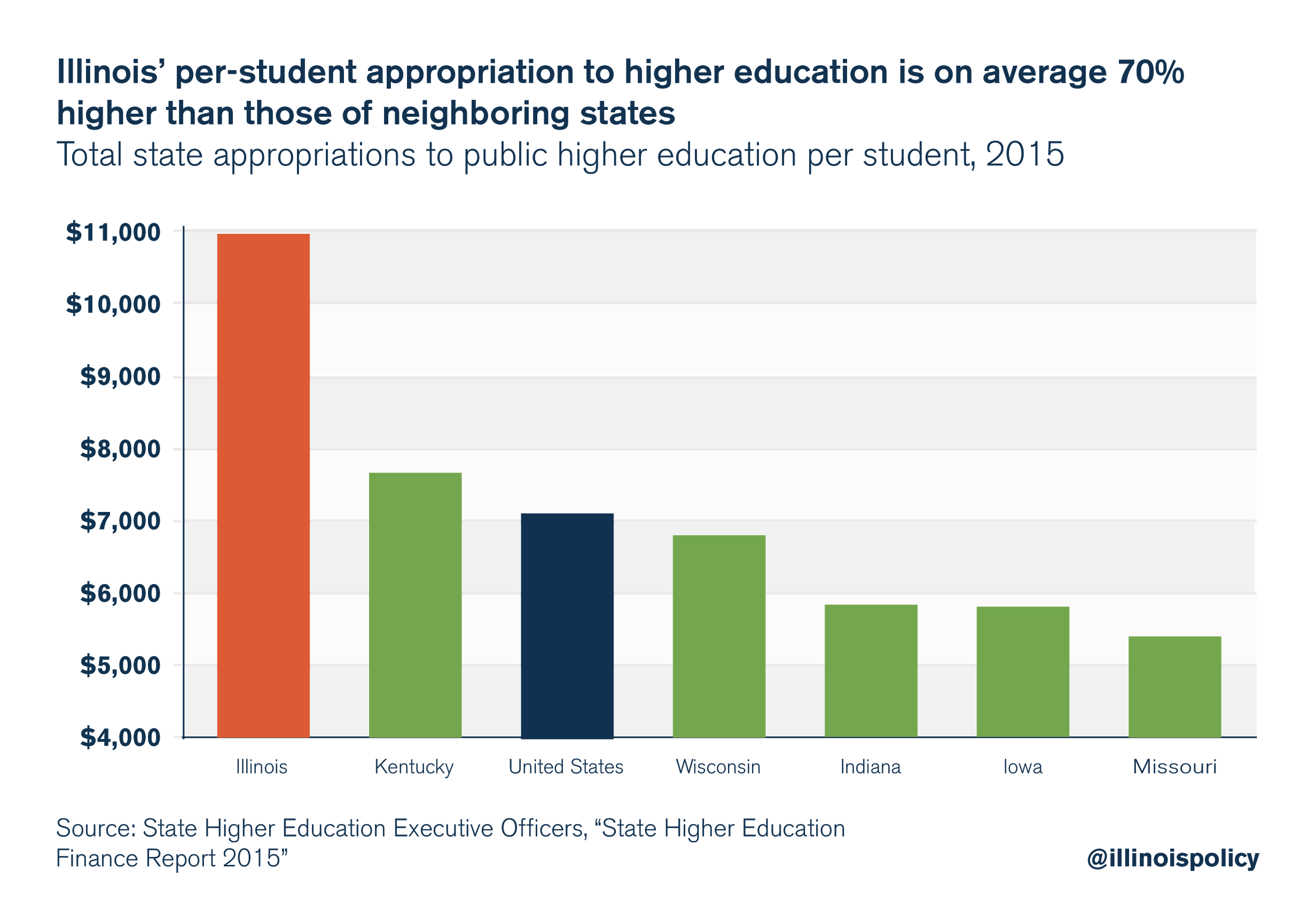 Illinois universities should rely less on state funding because of the high tuition they charge. But the opposite is true.
Illinois universities' massive increase in administrative positions and exorbitant executive compensation over the past few decades has made higher education more reliant on state-provided dollars compared with universities in neighboring states.
The state of Illinois' annual appropriation to higher education equals nearly $11,000 per student.
That's 70 percent higher than the average state-provided appropriations of Illinois' neighbors.
So not only do Illinois universities charge the highest tuition in the region, they are also the most reliant on the state for financial support.
This double burden on Illinois families – high tuition students pay and high taxes that subsidize universities – cannot continue.
The solution: Prioritize students
Instead of letting Illinois' higher education system deteriorate further, Illinois' colleges and universities must first freeze and then begin to reduce the cost of tuition. They must reform their operational spending, reduce the cost of salaries, reduce ineffective and duplicative programs and eliminate administrative bloat – then pass the resulting savings on to students.
The state should reduce appropriations to colleges and universities by $500 million, based off of the funds appropriated to higher education in FY 2015, the last year Illinois had a complete budget. That $500 million amounts to approximately 10 percent of projected payroll costs in 2018.
Until colleges and universities enact spending reforms, the destructive cycle of hiking tuition while relying increasingly on state subsidies will continue, making higher education less and less affordable for Illinois' students and more and more expensive for state taxpayers.
And the credit ratings of more Illinois higher education institutions will descend into junk territory.