S&P hits Chicago Public Schools with credit downgrade
Standard & Poor's sent Chicago Public Schools' credit rating deeper into junk territory in the wake of the new $9.5 billion teachers' contract. The ratings firm said the new contract will make the district's financial crisis worse.
Standard & Poor's downgraded Chicago Public Schools', or CPS', credit rating one notch further into junk territory on Nov. 9, to a rating of B from B+. S&P also assigned a negative outlook, meaning the ratings firm could downgrade the school system again in the near future.
This is more bad news for CPS and Chicago taxpayers, as the downgrade will only increase borrowing costs for the district and the burden on city taxpayers.
The ratings agency blamed the downgrade on the recently agreed-upon contract between CPS and the Chicago Teachers Union, or CTU. The firm said the agreement will only "exacerbate" the district's "structural imbalance challenges," according to an agency statement reported in the Chicago Sun-Times.
Not only does the new teachers' contract contain no major reforms, it's expected to cost CPS a total of $9.5 billion over the next four years – costing at least $100 million more in 2017 when compared with the last contract.
S&P also blamed the district's continued reliance on borrowing to pay its bills. As Moody's Investors Service noted in its own recent downgrade of CPS, the interest rates on some CPS debts are now a sky-high 9 percent. As a result of those borrowing costs, nearly 10 percent of all CPS revenues are dedicated to paying the district's yearly debt service.
The fact that CPS is spending so much money on debt costs is not surprising. CPS has borrowed irresponsibly for decades. Since 1998, the district has tripled its outstanding debt burden to over $6 billion.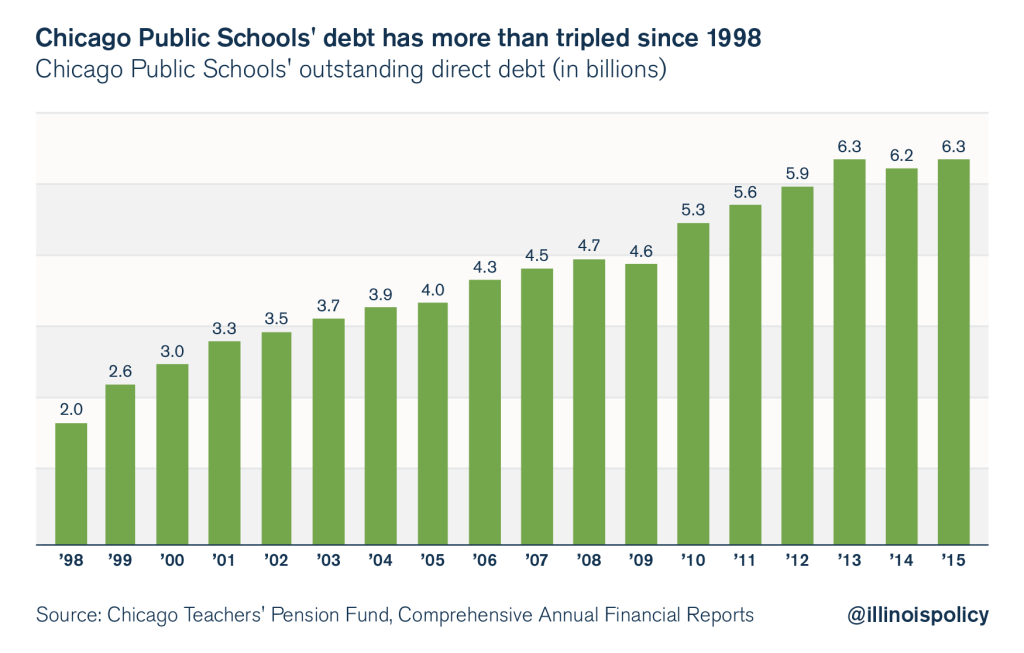 Beyond borrowing costs, the massive debt owed to teachers' pensions is the single biggest crisis facing the school district. The Chicago Teachers' Pension Fund is already basically insolvent. It has over $9.5 billion in debts and only half the money it needs to pay out future benefits to teachers.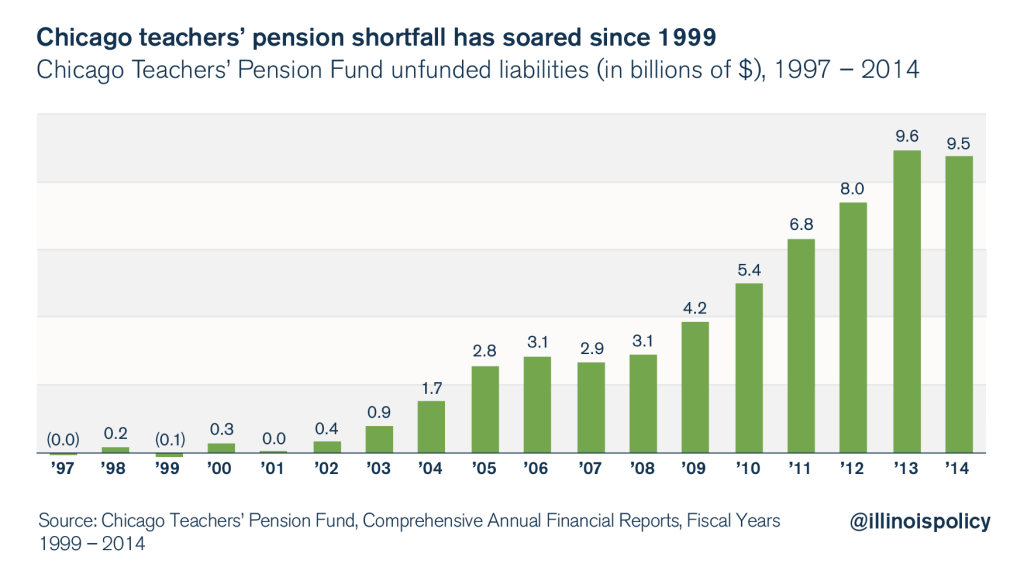 Just like the last teachers' contract in 2012, Chicagoans are paying the price for school district officials negotiating an agreement that residents cannot afford.
If CPS and city officials want to avoid repeating the disasters of 2012 – pinks slips for teachers, school closings and skyrocketing compensation costs – they must find ways to reduce expenditures and seriously reform the way the district operates.
Moving new teachers into 401(k)-style retirement plans, offering optional 401(k)-style plans to current workers, and negotiating additional reforms with CTU are vital first steps in that process.