Fact-checking Rahm: Mayor deflects attention as Chicago shrinks
Despite Mayor Rahm Emanuel's spin, residents are fleeing Chicago, showing they feel they are better off elsewhere.
Chicago was the only major U.S. city to lose population from July 2015 to July 2016, due largely to mass out-migration, according to U.S. Census Bureau data released May 25.
But instead of acknowledging the severity of Chicago's out-migration plight, Chicago Mayor Rahm Emanuel tried to spin a May 26 U-Haul report to claim the city is thriving.
The problem is, the U-Haul report didn't show whether Chicago was growing, shrinking or something in between.
U-Haul prices do show, however, that there's high demand for Chicagoans to move out – which means Emanuel left out an important piece of the puzzle.
The price for a one-way, 20-foot truck rental moving from Chicago to Houston, Texas on July 1, for example, is currently $1,733, but the same rental making the opposite move would only cost $707.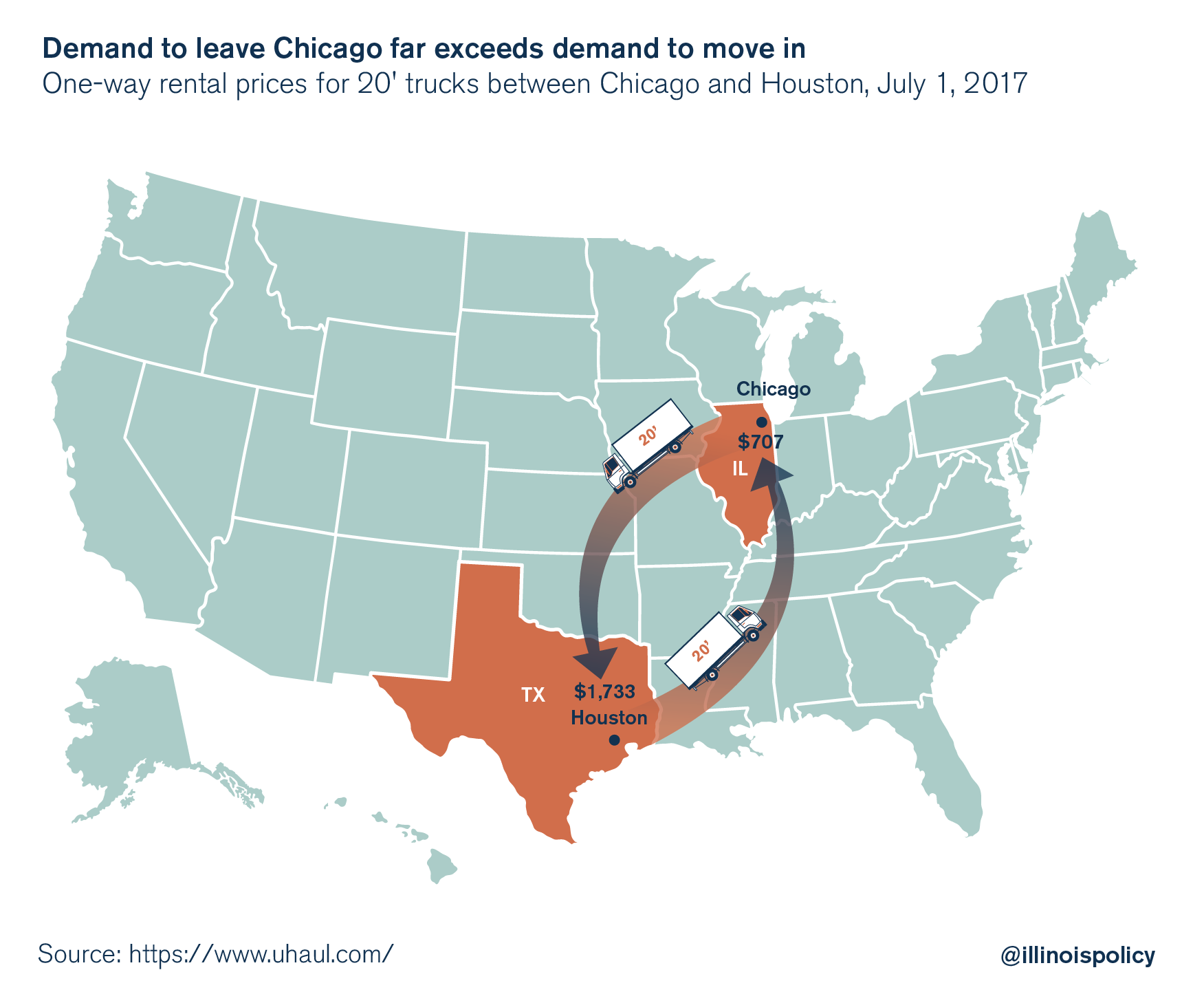 That same supply-and-demand trend also holds true between Chicago and other popular destinations such as Denver, Colo., Nashville, Tenn., Charlotte, N.C., Orlando, Fla. and Indianapolis, Ind. These rental quotes provide market-based evidence that demand to move out of Chicago far exceeds demand to move in, which drives up outbound rental prices.
Official government data mirror that demand. In fact, Chicago's population declined by 8,638 people from July 2015 to July 2016, according to U.S. Census Bureau data. Cook County also lost more people than any other county in the U.S. over that same period – and its population declined by 21,324. Those declines were due to significant net losses of residents to other states.
It's not hard to guess why Chicago is depopulating. Massive tax increases in recent years placed further financial strain on already overburdened Chicagoans. What's worse, Emanuel's historic tax hikes have yet to fully phase in. And as the tax burden swells, even more Chicagoans will likely decide they can no longer justify shelling out more taxes to pay for the city's legacy debt, which consumes much of the city's tax dollars.
Illinois is also home to the nation's highest black unemployment rate – and nearly 50 percent of Illinois' black population lived in Chicago as of the most recent census in 2010. Poverty, crime and joblessness plague the city's South and West sides, making Chicago a particularly tough place for the city's black population to call home.
Given these facts, it's no surprise Chicago's black population is leading the way out. Majority black neighborhoods Englewood, West Englewood and Austin saw their combined black population drop to 135,831 residents in 2015 from 188,992 in 2000, according to the Chicago Sun-Times. But Emanuel tries to avoid this inconvenient fact.
Denying Chicago's shrinking population by promoting cherry-picked and one-sided reports only delays the difficult conversations politicians like Emanuel prefer to avoid.
People are increasingly showing they are better off living outside Chicago because they are choosing not to live there. This mass net out-migration should signal to lawmakers that current conditions are driving out population.
The mayor and City Council need to make Chicago more competitive for population in the areas they can control. Adopting economic reforms that give Chicagoans a break from sweeping taxation and removing policy barriers to black and youth employment would be good places to start.