Illinois has lost 195,000 millennial college students since 2000
Illinois lost more millennial college students than any other state except New Jersey between 2000 and 2014, and Illinois' loss of young people appears to be accelerating.
Illinois lost an estimated 195,000 millennial college students to other states, on net, from 2000 through 2014, according to official state-to-state student migration data from the National Center for Education Statistics, or NCES.
Droves of high school graduates have been ditching Illinois to attend college in other states since at least the turn of the century – and those losses aren't being offset by young college students moving in.
Illinois' poor economic conditions – such as skyrocketing tuition costs, a weak job market and crushing property taxes – put up high hurdles for college students and graduates trying to break out on their own. And high school graduates seem to be skipping out of Illinois early to avoid those problems altogether after college.
Illinois' young college student loss rate seems to be accelerating
Illinois lost freshmen college students who graduated from high school within the past 12 months, on net, for each year of available NCES data (even-numbered years) dating back to 2000. These data look specifically at millennials (the only generation of students who graduated from high school for years 2000-2014).
Over the eight even-numbered years from 2000 through 2014 for which NCES tracked data, Illinois lost 102,000 millennial college students to other states, on net. What's worse, Illinois' loss rate seems to be accelerating: Illinois lost 10,000 millennial college students, on net, to other states in 2000, compared with 14,000 in 2010; 16,000 in 2012; and 17,000 in 2014.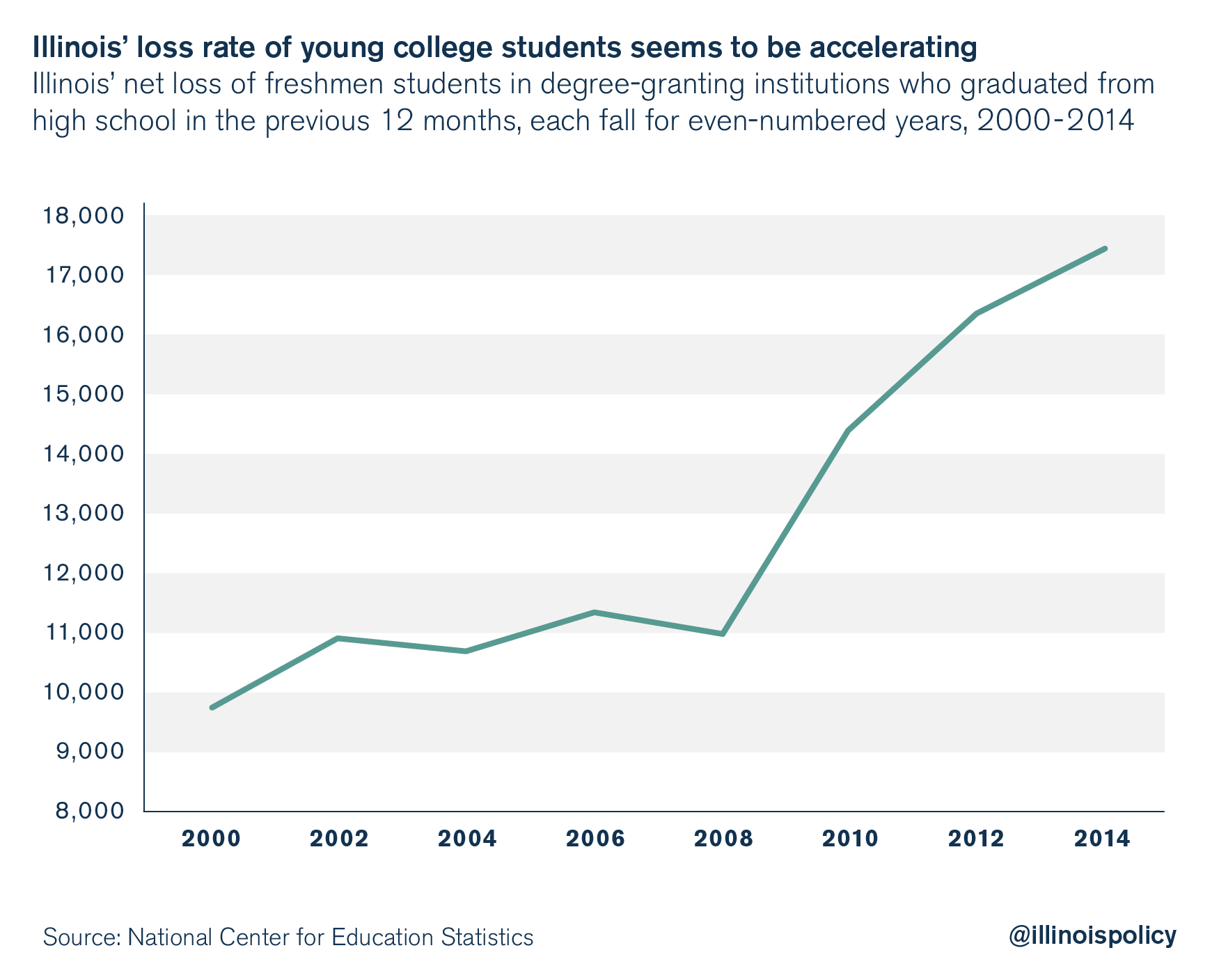 The average annual net loss of millennial college students was 13,000 over the eight even-numbered years of available data. Based on that average, Illinois lost an estimated total of 195,000 millennial college students, on net, over the entire 15-year period.
And given current trends, Illinois can expect to lose even more young college students in coming years.
Why can't Illinois compete for young college students?
College-bound students across the country tackle the same questions when deciding on a university; yet, Illinois' millennial college student net loss to other states was worse than every other state's except New Jersey's.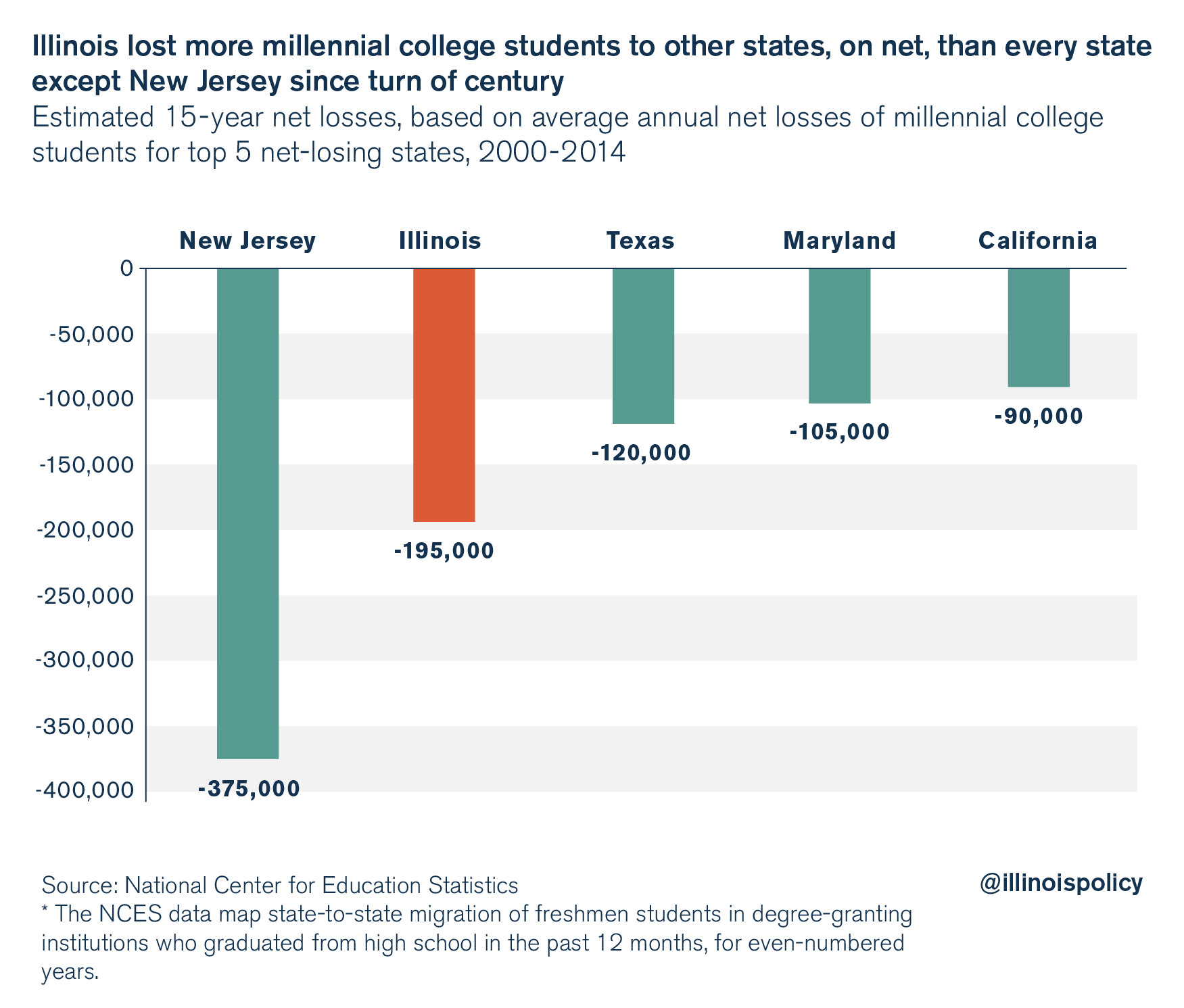 Illinois' second-worst-in-the-nation net loss can't be chalked up to high school graduates wanting to leave home. If that were the case, then all states should break even, as that desire wouldn't be unique to Illinois' college students.
Geographic relocation doesn't explain it, either. Millennial college student migration trends in Illinois' neighboring states – which have similar topographies and climates – don't resemble Illinois'. In fact, Michigan was the only neighboring state to suffer a net loss for this demographic group: a much smaller estimated 7,500 millennial college students from 2000 through 2014. Meanwhile, Indiana took the lead with an estimated 105,000 net gain.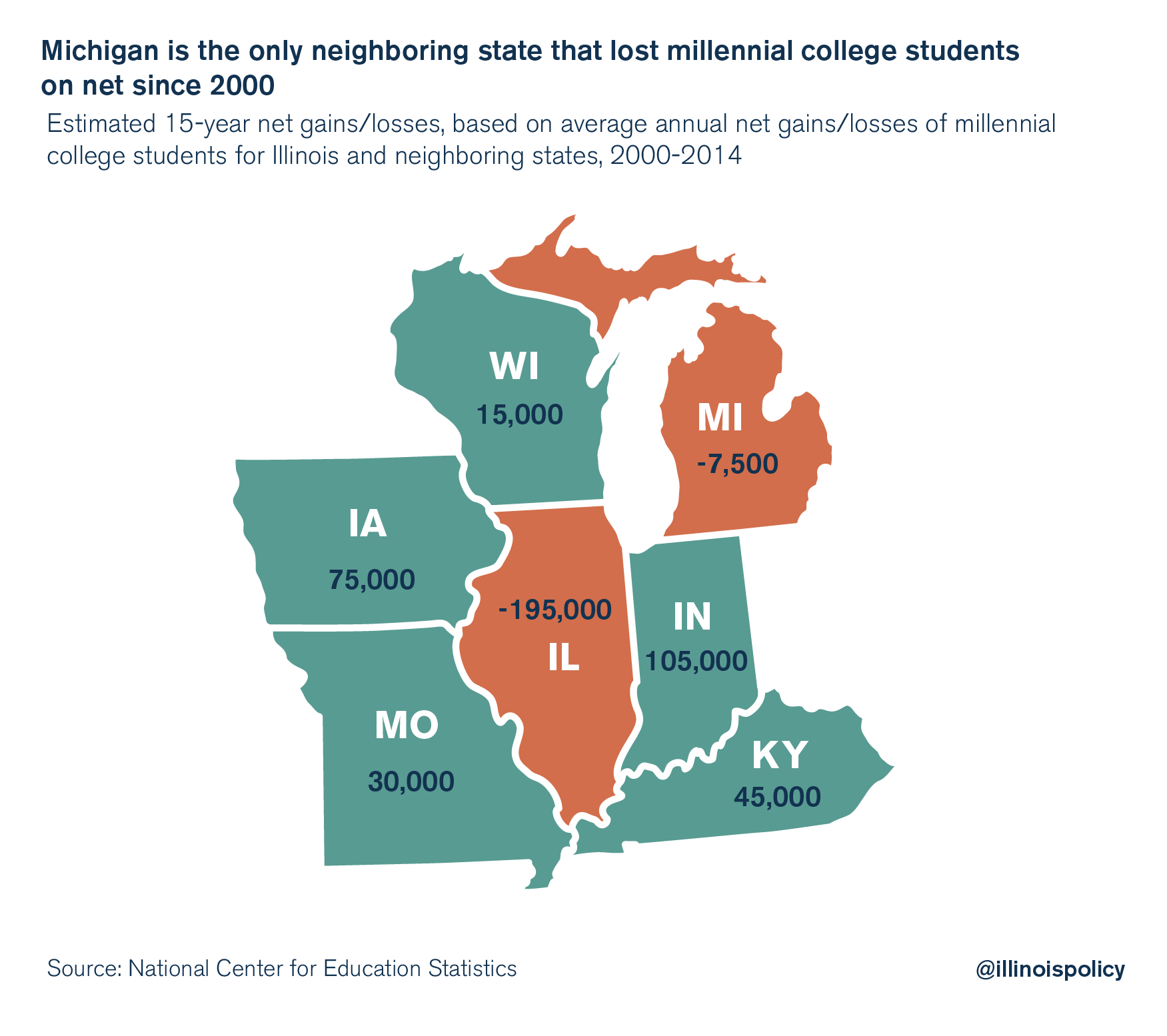 Overall economic weakness is likely a better explanation. That's because living in Illinois isn't in college students' or recent college graduates' best interest.
Tuition at Illinois' public colleges and universities grew as much as 100 percent between 2006 and 2016. The majority of state spending on higher education now goes toward retirement costs instead of the classroom. And as public universities prioritize pensioners over students, they're shifting the burden of operational funding more heavily away from the state toward students.
Additional hurdles trip up young Illinoisans after college. Illinois still has fewer people working compared with the state's pre-recession peak; post-recession personal income growth has been painfully sluggish; and state income taxes mean workers take home less pay.
At the same time, sky-high property taxes and anti-growth policies have hurt home values and prolonged the housing crisis in Illinois, which could scare off young buyers.
Young people choosing colleges might not be too concerned about pension costs or high taxes. But they do care about access to jobs, income growth potential and cost of living once they have their degrees.
Becoming youth-friendly
As high school graduation ceremonies pepper gymnasiums across the state this spring and graduates look forward to embarking on their next chapters, policymakers should be acting to stop Illinois' young college student brain drain.
No doubt, many high school graduates in the class of 2017 will be leaving Illinois come fall semester. But commonsense reforms would better position Illinois to hang on to young college students going forward.
Policymakers must address Illinois' cost drivers and economic weaknesses, or young college-bound people will continue to flee the state. And many won't return as college graduates.
Fixing the pension crisis, mistakenly used as a justification for constant tax hikes, would prime the state for economic growth; enacting Right to Work and fixing cost drivers in the state's workers' compensation system would create a friendlier business environment and usher in jobs and personal income growth; and enacting a property tax freeze would protect home values and make Illinois a more affordable and secure place to call home.
The youth exodus is likely to continue as long as Illinois remains a high-cost, low-growth state. But these basic solutions would help tackle those weaknesses and reverse the trend.