5 reasons why Illinois politicians should reject a Chicago Public Schools bailout
Until CPS passes necessary spending and pension reforms, giving any additional money to the system will only reward officials' mismanagement and reckless behavior.
Thanks to Illinois House Speaker Mike Madigan and Senate President John Cullerton, more than 2 million children and their families are wondering whether Illinois schools will open next year.
Madigan and Cullerton won't agree to a stopgap budget deal that funds all schools next year until they get a special $400 million bailout for Chicago Public Schools, or CPS. That bailout is part of a plan put forward by Senate Democrats to spend an additional $860 million on education.
Without that bailout, Madigan and Cullerton may yet scuttle the budget deal that's also meant to fund social service agencies and grants for low-income public university students.
By contrast, the governor has already offered a compromise bill that fully funds education in Illinois for the first time since 2009. In addition, Gov. Bruce Rauner's offer ensures that no school district, including CPS, receives less money than it did last year. The plan the governor backs increases education funding by more than $240 million.
Madigan and Cullerton are wrong to insist on a CPS bailout. Chicago politicians and leaders have proved time and time again they don't deserve a bailout. CPS and Chicago Teachers Union, or CTU, officials have been complicit in the district's financial collapse.
The state's leaders should instead focus on a compromise deal that doesn't include a bailout, freeing them to work with the General Assembly and Rauner on other education reforms, including funding formula reforms.
CPS and CTU officials don't deserve to be bailed out
Most Illinoisans instinctively don't want to bail out a CPS managed by Mayor Rahm Emanuel and CTU President Karen Lewis. Illinois taxpayers know money for a Chicago bailout won't make it to the classroom and the kids – it will go straight to the CTU.
This is election time, and neither Emanuel nor Madigan wants a CTU strike before the elections in November. That's why they need to appease CTU now.
Appeasing CTU is exactly what happened in 2012 when CTU went on strike for a week. Emanuel gave in to CTU demands for more pay even though the district was already facing a $1 billion budget deficit and an $8 billion teacher pension shortfall.
Even more damning is CPS officials' handling of the district's teachers pension system. From pension pickups to pension holidays, district leaders shorted teacher retirements by more than $5 billion. CPS used that money to prop up teacher salaries. That's pushed Chicago teachers' pay to the highest among the nation's 10 largest school districts, according to the National Council on Teacher Quality.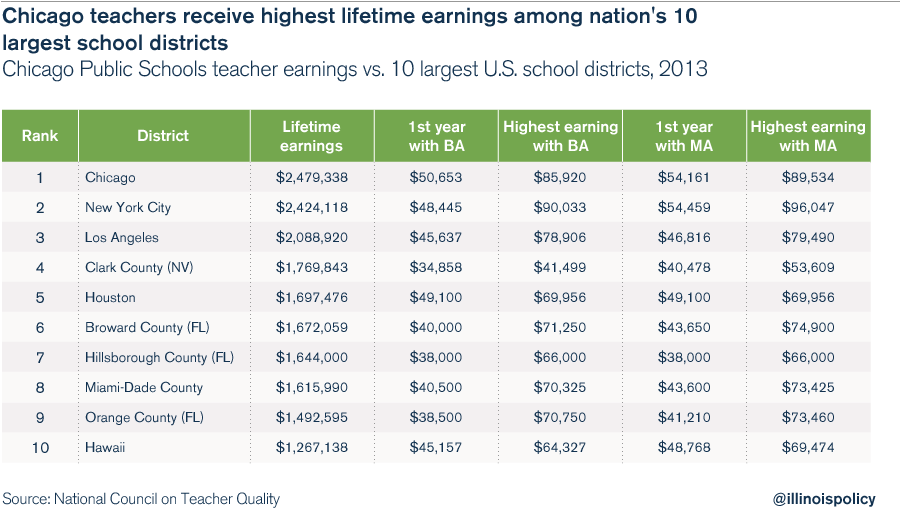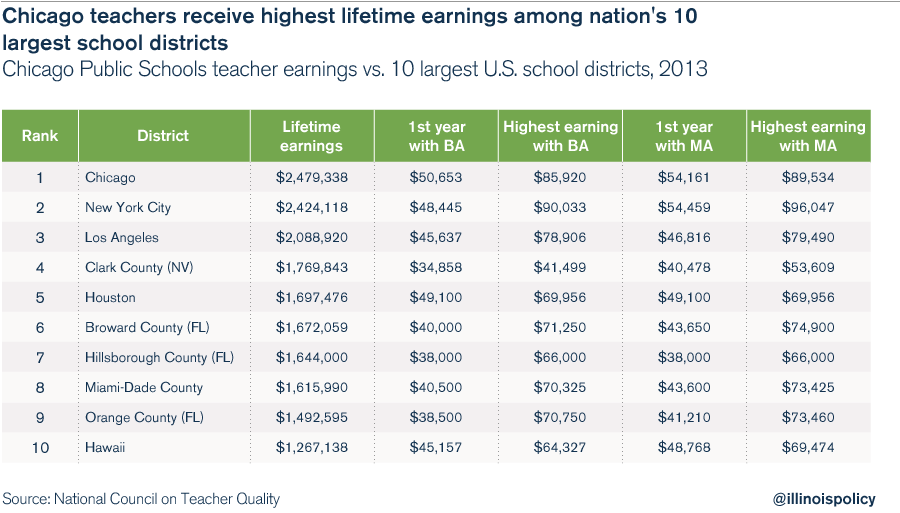 Now officials want more money with no strings attached. They aren't offering spending or pension reforms, increased accountability or performance-based educational standards. They just want more money, and that's not fair to all Illinoisans.
CPS hasn't enacted any real spending reforms
CPS and CTU officials want a bailout, but they haven't pursued any real spending reforms.
In particular, they haven't reformed a particularly egregious and expensive benefit: teacher pension pickups.
Since 1981, CPS has paid the vast majority of what teachers are supposed to contribute toward their own pensions. Over the last decade, CPS has spent more than $1.2 billion on these pension pickups. Had teachers made their own pension contributions, CPS could have spent that amount on the district's pension contributions instead.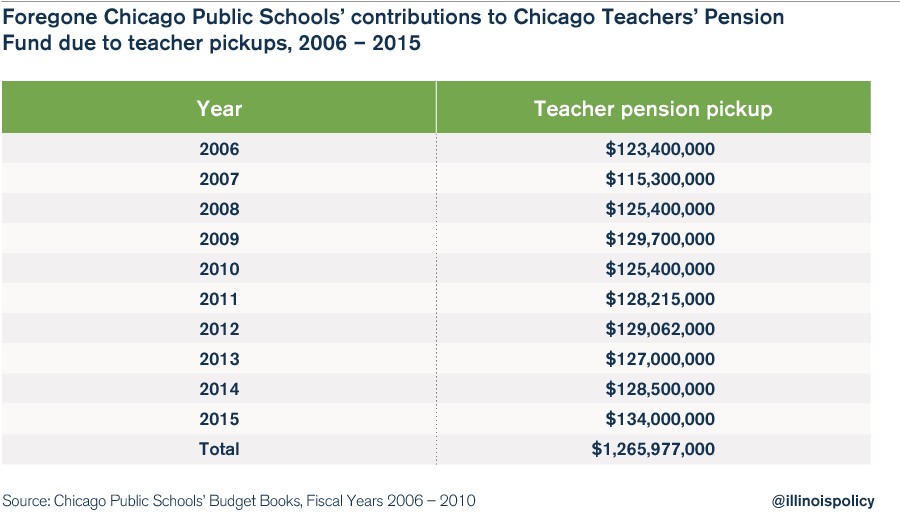 Nor have CPS officials made changes to their teachers' salary schemes, moved new workers into 401(k)-style plans, or ended the district's irresponsible borrowing practices.
Springfield can't afford to bail out CPS
Even if the Illinois General Assembly wants to bail out CPS, it shouldn't. The state has an education crisis that's arguably worse than Chicago's.
When measured on a per-student basis – an appropriate, apples-to-apples comparison – the Illinois Teachers' Retirement System's, or TRS's, shortfall is 56 percent higher than Chicago's. TRS has a shortfall of $37,000 per student, while Chicago's shortfall totals $24,000.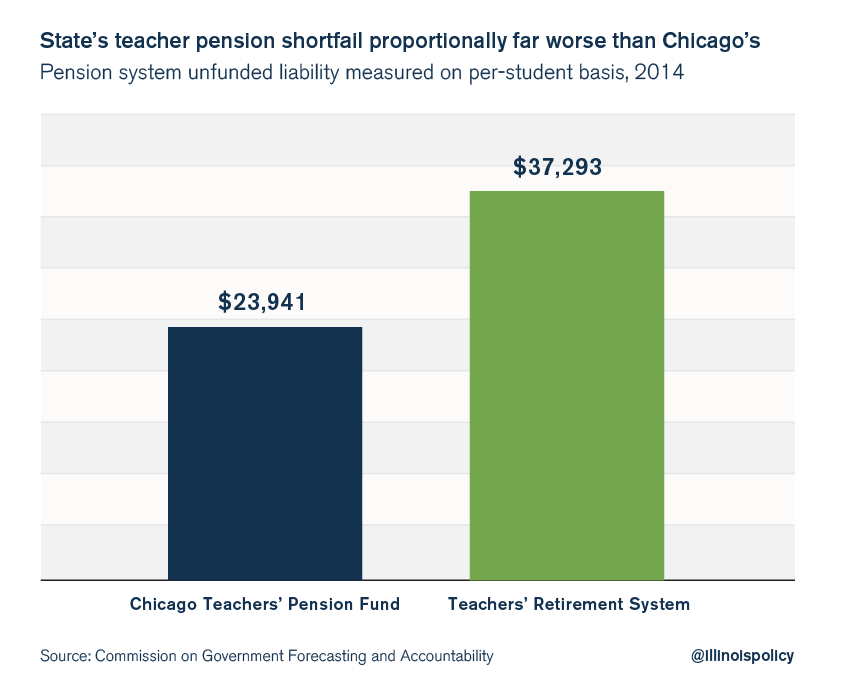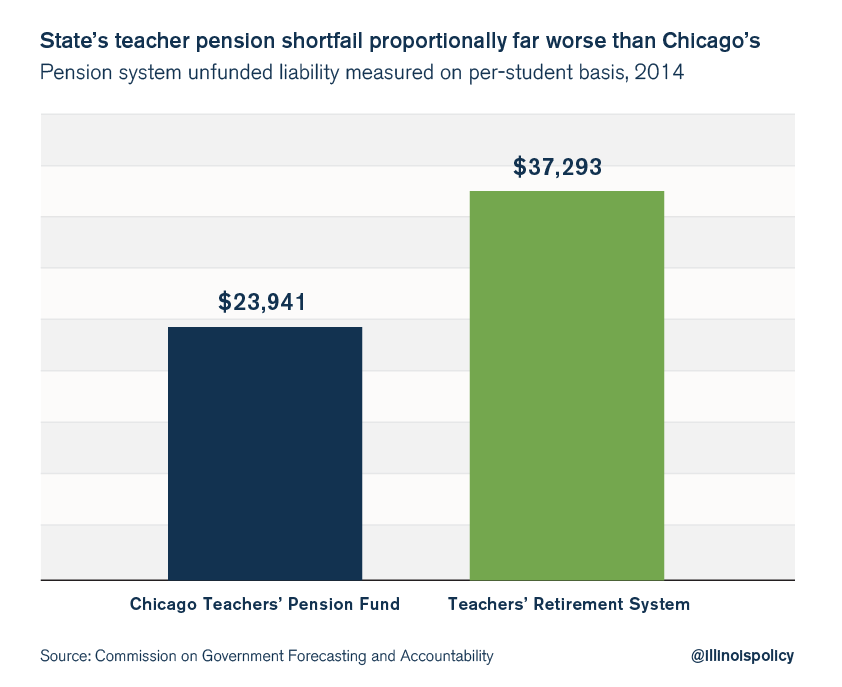 Real education reform means pension reform – not bailouts
Until pensions are reformed, there can be no real solution to the state's and Chicago's education funding crises.
Skyrocketing pension costs are siphoning off the majority of tax dollars that should be dedicated to the classroom. In fact, in the last five years, Illinois teacher pensionsconsumed 89 cents of every new dollar spent on education.
And while underfunding of pensions has aggravated the crisis, that's not the main driver.
Instead, it's the growth in accrued pension benefits. According to the Illinois Department of Insurance, the total accrued pension benefits for TRS members have grown at the incredible pace of 9.1 percent annually since 1987, to $104 billion in 2014 from just $10 billion in 1987.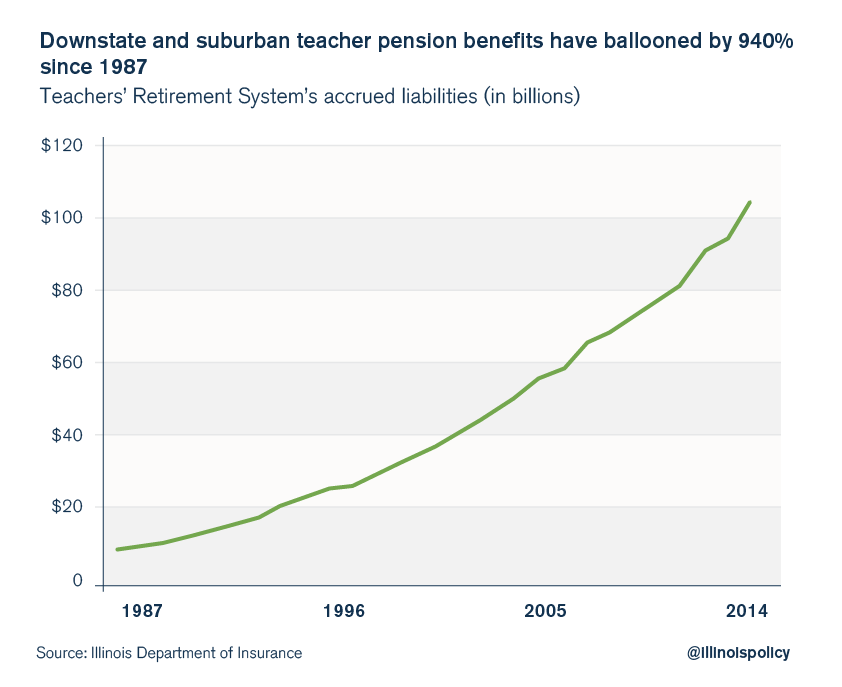 That growth rate far surpasses the growth rates of state revenues, inflation, gross domestic product and taxpayer incomes during the same period.
A pension cost shift – not a bailout for Chicago – is the real solution
Madigan and others argue for a Chicago bailout because the state pays for the annual teacher pension contributions for all other school districts, but not Chicago's.
But having the state pay for Chicago's pension contributions going forward isn't the answer. Instead, the state should stop paying the employer contribution of teacher pensions for all school districts. Individual teachers are not state employees, and the state should not pay for their pension costs.
A pension cost shift means making individual districts responsible for paying the annual pension costs for their own employees. Madigan himself has proposed this before, saying: "The state of Illinois should not be paying for the pension costs of employees of local governments."
Illinois needs reforms, not bailouts
Madigan and Cullerton are wrong to insist on a bailout for Chicago. Until CPS passes necessary spending and pension reforms, giving any additional money to CPS will only reward mismanagement and reckless behavior.
A clean stopgap budget is a temporary solution to the state's budget crisis. It will help the 2 million children and families currently on the line – the ones Madigan and Cullerton are supposed to be looking out for.