Billions in unpaid health care bills shine a light on overly generous benefits
State workers receive a platinum-level health care plan at a heavily subsidized cost, while Illinoisans in the private sector paying for those plans see their own premiums skyrocket.
Illinois' Commission on Government Forecasting and Accountability recently highlighted that as of the end of September, the state is $5 billion behind on paying its bills for state government worker health care costs. That's a big chunk of the $16 billion in unpaid bills the state has racked up as a result of years of overspending. This has resulted in some health care providers demanding government employees pay their health care costs upfront, as they have lost confidence in the state's willingness and ability to pay.
Most politicians will blame this mess on the recent state budget impasse. Of course, the impasse made things worse. But that's not the real problem.
The real problem is that the state's health care benefits have grown to the point taxpayers can no longer afford them. And lawmakers have done nothing to rein in those costs.
Unsurprisingly, the state's new 2018 budget did nothing to end the overspending trend. The "balanced" budget, which permanently raised taxes by a record $5 billion annually, is already in the hole by at least $1.3 billion.
Nor did the budget do anything to rein in state worker health care costs. Lawmakers have ignored calls to enact reforms proposed by the Illinois Policy Institute and others, which would make employee health care more affordable for taxpayers.
The average total compensation for a state AFSCME worker equals nearly $110,000 a year. That's largely driven by the highest state worker pay in the nation. But health care benefits granted to state workers also contribute significantly to that total.
In 2016, Illinois taxpayers subsidized 77 percent, or an average of $14,880, of state workers' annual health care costs. That means state workers received benefits equivalent to a platinum-level plan offered through the Affordable Care Act, at a bronze-level cost.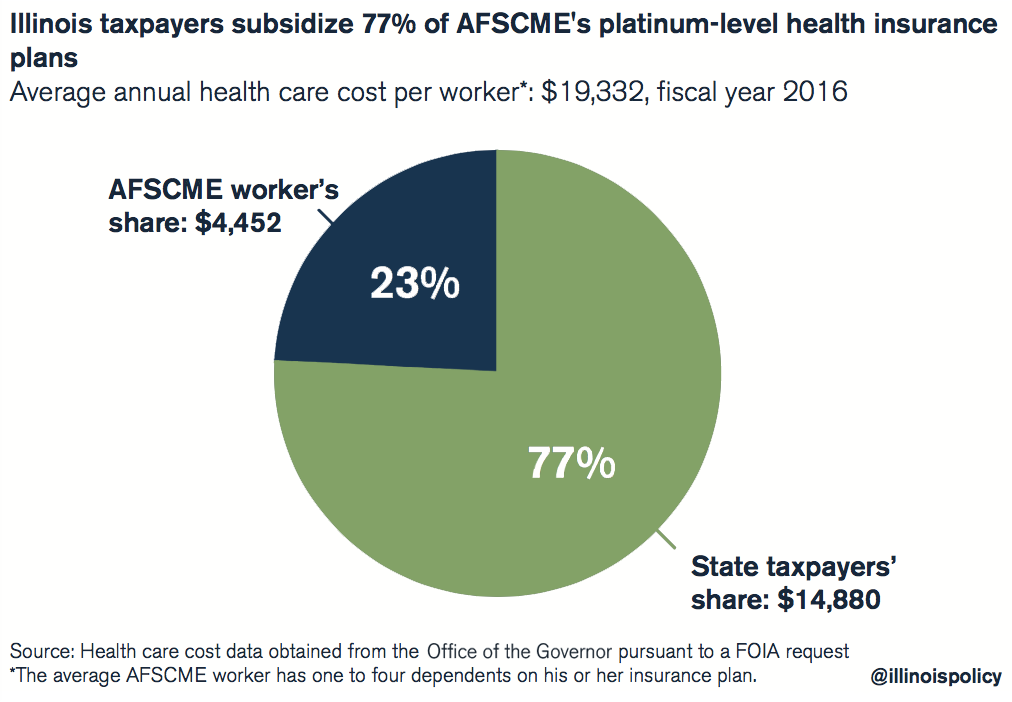 Those benefits continue to burden taxpayers at a time when private sector workers are paying ever more for their own health care. Illinoisans are expected to see their premiums increase again next year, this time by up to 35 percent.
State workers receive even more robust health benefits when they retire
Taxpayers currently subsidize 100 percent of the health insurance costs for retirees who worked 20 or more years for the state. That benefit is worth $200,000 to $500,000 per employee in today's dollars, depending on when the worker was hired, how long he or she worked, and when he or she retired.
To put that into context, an ordinary worker in the private sector would need to have $200,000 to $500,000 at the time of his or her retirement just to purchase the same retiree health insurance that most state workers get for free.
State workers also receive top-tier salary and pension benefits
Illinois state workers receive the highest wages of any set of state workers in the country when adjusted for cost of living. In 2014, Illinois paid its state workers more than $59,000 a year on average, far more than its neighbors and nearly $10,000 more than the national average. More specifically, state AFSCME workers on average receive a base salary of more than $65,000.
And when they retire, career state workers (those who work 30 or more years) will on average receive $1.6 million in pension benefits over the course of their retirements. That's on top of  Social Security benefits, which nearly all state workers also receive.
That combination of high salaries, heavily subsidized health insurance, free retiree health care and million-dollar pension benefits costs taxpayers on average nearly $110,000 in total compensation for state AFSCME workers annually.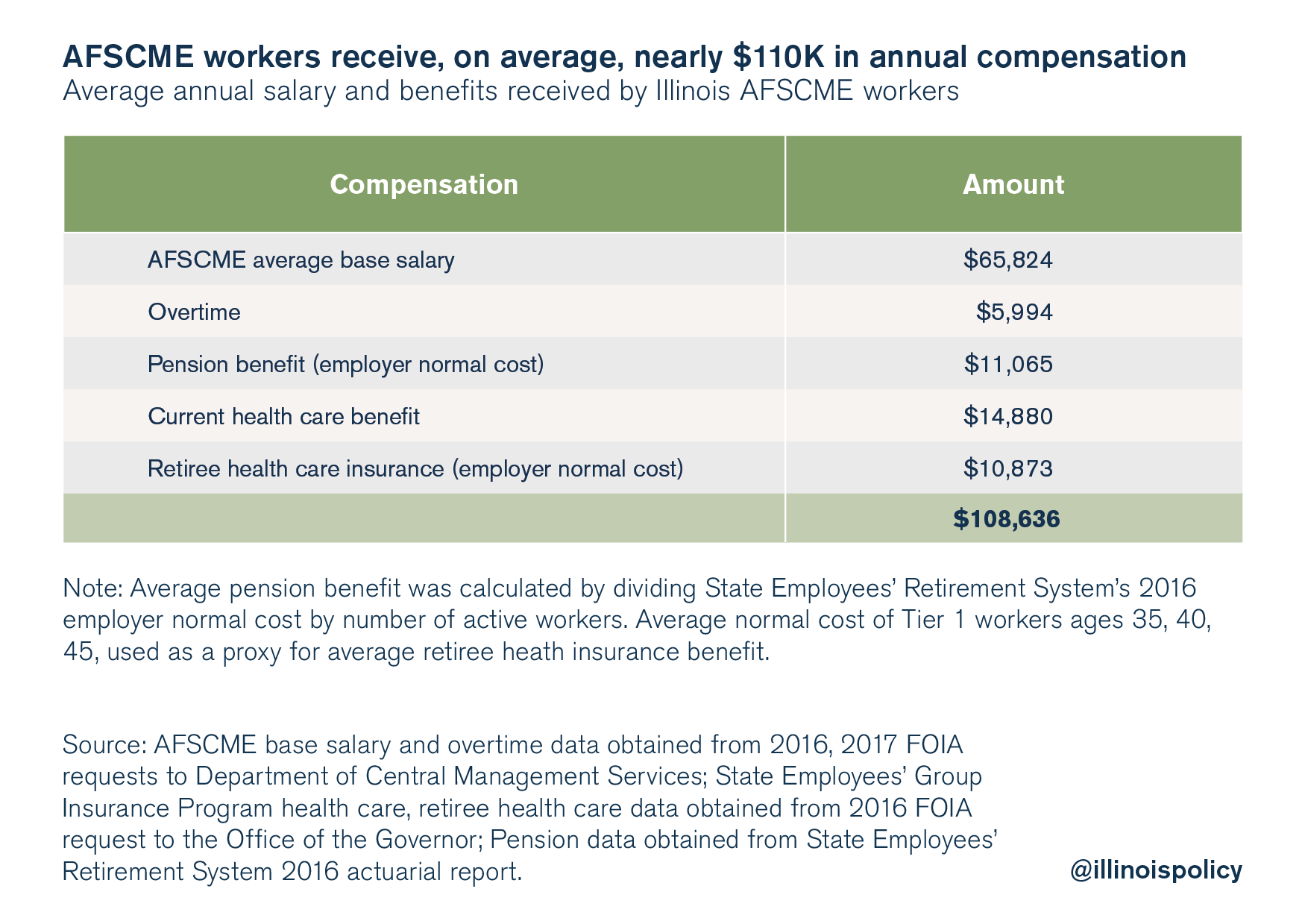 Fixing financial dysfunction
The state continues to struggle financially in spite of a promised return to normalcy that proponents of the recent multibillion-dollar income tax hike made to Illinoisans in the wake of the 2018 budget.
After all, the two-year budget impasse was blamed for everything from the fiscal crisis in higher education to the state's poor economy.
But just three months later, the state's dysfunction continues. The "balanced" budget is already in the hole by at least $1.3 billion, and the deficit is expected to grow. Illinois politicians are looking to raise taxes on Illinoisans yet again. Several local governments and universities remain stuck with junk and near-junk-level credit ratings. And even the state's own credit rating remains on a precipice – it's only one notch away from junk status.
Meanwhile, the American Federation of State, County and Municipal Employees and others continue to demand more unaffordable benefits. AFSMCE has called for four-year raises ranging from 11.5 to 29 percent, a 37.5-hour workweek, five weeks' vacation and enhanced health care coverage, for example.
But it's clear that Illinois won't be able to get its fiscal house in order without significant changes that lower the cost of government to a level Illinoisans can afford. The state needs comprehensive pension reform, changes to collective bargaining, and prevailing wage and workers' comp reforms, among many other solutions.
It's the only way Illinois will get its finances – and its unpaid bill backlog under control.